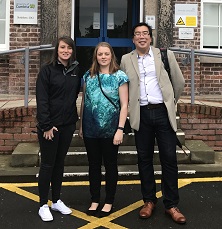 Christian Chow got in touch back in May to ask whether it would be possible to have a tour of the Fusehill campus to see how things have changed in the ten years since he graduated.
On Saturday 10th June at 12 noon I met with the group outside Bowscale building. Christian was joined by two of his classmates, they all started together on their Physiotherapy courses in 2004, graduating 3 years later in 2007.
The year they graduated the University of Cumbria was formed, so this cohort of students were still St. Martin's College graduates, but still of course a valued group within our Alumni Association.
We toured the buildings with the help from our security team who kindly opened up for us. First stop was Blencathra building and the two classrooms that the group used to spend most of their time. They were excited that the room remained familiar, and they were keen to point out the doors to offices of the lecturers they remembered.
Next stop the new STEM labs, which have only been on site in the last couple of years, so a new addition to the group which they were keen to see. The library followed, then Calva Bar, in which many happy memories were recounted.
It was a pleasure to meet this group ad to help them reminisce about their students days at Fusehill Street.
Why not pop back and visit us yourself?
We are always delighted to welcome our alumni back to campus, and that's no matter what campus it was you called home. Whether you studies with us when we were St. Martin's College, Charlotte Mason or Cumbria Institute of the Arts we will provide a friendly warm welcome.
All of our campuses are open access and you are more than welcome to make a visit and look round the grounds anytime you wish.
If you would like to arrange a campus tour and see what has changed inside the buildings then drop us an email alumni@cumbria.ac.uk, as much notice as possible is appreciated and campus tours will be subject to availability of staff.
Reunions
Perhaps you are considering a larger scale get together with many of your classmates? Venue hire at any of our campuses is free of charge to alumni groups who book with the Alumni Association. We can help you with all aspects of the reunion event from the catering, decorations, and of course tracking down your fellow classmates. Visit our reunion pages here for further information.
Joanne Lusher, Alumni Relations Officer