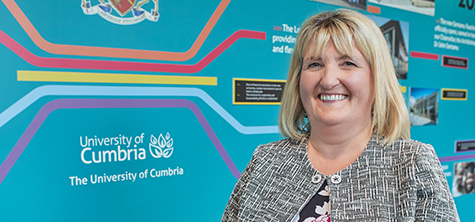 A professor at the University of Cumbria has been appointed chair of council at the Royal College of Occupational Therapists (RCOT).
Professor Diane Cox started her term on Monday 17 June at the Royal College's Annual Conference in Birmingham.
Elected on 4 June by an overwhelming majority of over 1500 votes, Diane becomes the Royal College's 19th Chair of Council, replacing Patricia McClure.
Her priorities will include shaping the governance, 'strategic intentions', priorities and policy-making of the Royal College. Highlighting the need for recruitment and retention in the workforce and influencing policy and decision makers.
Diane will take up the new role while retaining her responsibilities as Director of Research and Head of Graduate School at the University of Cumbria.
Commenting on the announcement Diane said:
"I have been overwhelmed by the positive response to the news of my appointment.
"Representing and responding to the views of over 33,000 members and the council, is a great responsibility and an honour.
"The role is a demanding one, and I look forward to working with my colleagues in the interests of this valued profession."
Diane brings considerable experience in occupational therapy and higher education, as well as a long-term involvement with the Royal College.
Julia Scott, CEO, Royal College of Occupational Therapists said:
"I am delighted that Professor Cox has been now taken the helm as our new chair of council and I welcome her to the role.
Diane has been involved in the work of the Royal College for some years and has always been a great supporter of the organisation.
"Her career in academia spans twenty years and she will bring invaluable experience to her new role. I know she will be an excellent ambassador for all our members, and lead the council with energy and positivity.
"I look forward beginning our work together to promote the profession."
Professor Julie Mennell, Vice Chancellor for the University of Cumbria responded to the news:
"We are delighted Diane's expertise and standing has been recognised, as a leading figure in the field of occupational therapy.
"Our academics and research place a significant emphasis on informing professional as well as industrial practice and Diane is a prime example of this."