How to become a nurse?
If you're considering nursing for your future career or you're unsure what kind of medical field you want to go into with your chosen degree, then the best way to start your journey is with a clear map of the road ahead.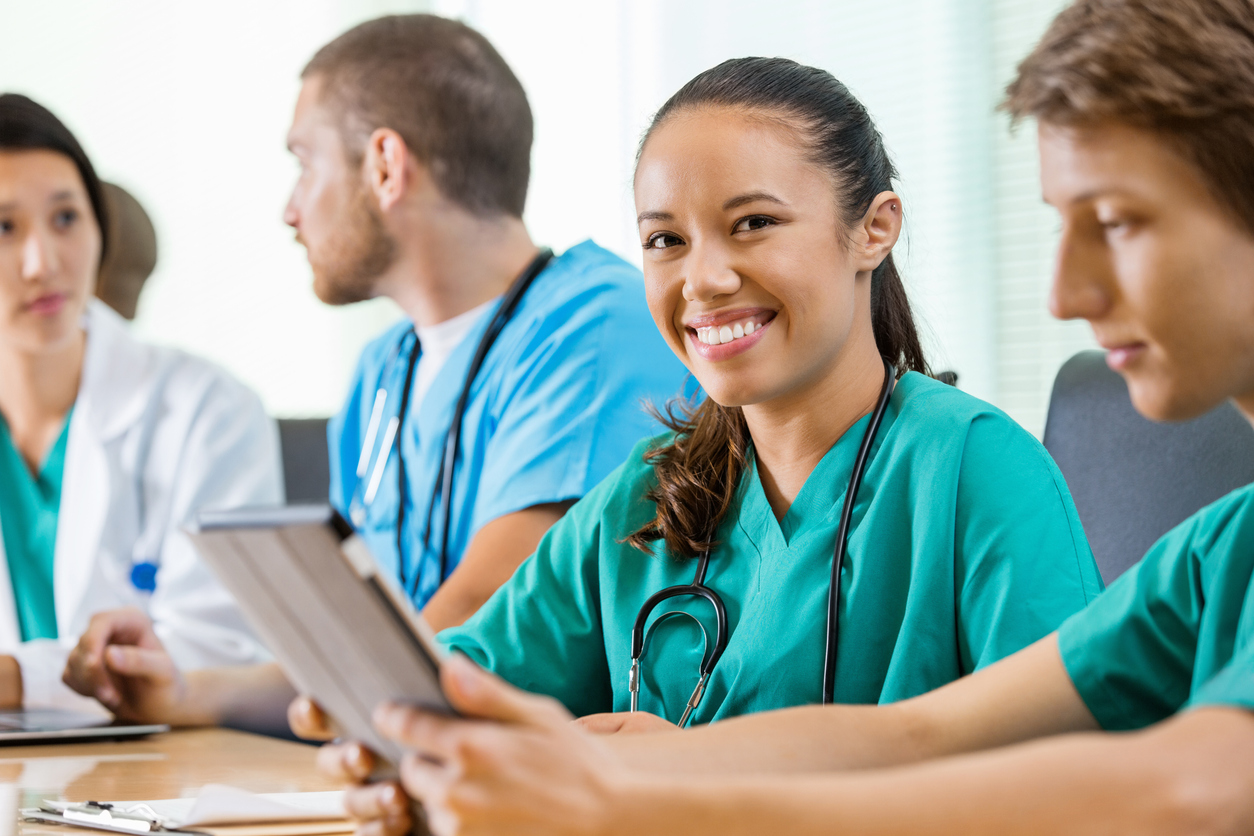 The journey to becoming a nurse: what you need to know
From the entry requirements to get onto your chosen course, through to the alternative paths and career options for qualified nurses, we have all the information you need to help get you on the right track and start your dream career with your best foot forward.
If you have any questions about nursing, finance and applying to university, please call the enquiry line on 0333 363 4108 or email enquirycentre@cumbria.ac.uk.
Entry requirements for nursing
If you think nursing is the right choice for you, the first step to becoming qualified is meeting the entry requirements in place to qualify. These requirements ensure that going into the medical profession is the right fit for you, and offer you the first goal to work towards in the process of training to become a nurse.
As a highly competitive and ever-evolving field, a successful undergraduate nursing degree candidate is usually an individual who holds relevant GCSEs, including Maths, English and one or more Sciences. This is usually in addition to three or more A-C graded A-levels, or an equivalent level 3 course. The higher your existing qualifications, especially in relevant sciences or healthcare subjects, the more qualified you are to move on to an undergraduate nursing degree.
For those who already hold a degree in another topic, this qualification can be transferred into a nursing undergraduate certification through a conversion course. Foundation courses are also available as an alternative to A-levels, which adds an extra year onto your study period.
What if I don't have the relevant qualification?
Don't worry, there are several options available and we can help you by creating a tailored route into nursing plan that will point you in the right direction so you can achieve your ambition.
Give the team a call on 0333 363 4108 or email enquirycentre@cumbria.ac.uk.
Deciding your nursing speciality
Once you've completed the needed entry requirements to consider nursing as your future career, it's important to decide what area of nursing you'd like to specialise in. Generally, early training at an undergraduate nursing degree level will offer insight into general nursing. After the basics, additional modules or specialisations are required to move into some regions of nursing or types of nursing qualifications.
The four main areas of nursing are:
Each area of nursing listed above holds its own unique challenges and variations. For a student who wants to work with children with mental health, both children's nursing and mental health nursing could be relevant, for example. In this case, dual field degrees – that allow for the study of two career paths within nursing – might be the ideal choice for you.
Speaking with your chosen careers advisor can provide you with greater insight on the right path for you, especially if you have a specific type of nursing career in mind. If you haven't spoken to a career advisor give us a call on 0333 363 4108 or email enquirycentre@cumbria.ac.uk to get free, no obligation advice and support. This is even more important if it is one of the more niche areas of training and development so will require specific study.
Deciding where to study
Choosing where to study for your nursing degree is personal to every student. Many things can influence your decision on your chosen University. The first thing to consider is whether your degree is part of the curriculum, especially if you're looking to specialise in a certain area of nursing beyond the norm. From there, you can then take a closer look at which Universities relevant to your degree would be the best fit for you.
Alongside the success level and approval rating of the Universities you shortlist, it's also important to consider that you'll likely be living on-site full time. This means it's important to pick a campus that fits your lifestyle as well as your topic of study. For example, if you prefer living in towns or cities, then opting for a University set in one might be the best fit for you as opposed to a more rural location.
As nursing degrees are in part vocational, you should also be aware of where you will complete practical training, known as placements, for your degree. Most Universities are paired with a teaching hospital for medical qualifications and degrees, so knowing the workplace you will be in should also factor into your overall decision.
Applying for and accepting an undergraduate nursing degree place
As with all other University applications, applying for a degree in nursing is done through the UCAS service. This service enables you to submit your formal application, in addition to details about yourself, including your educational history and qualifications. You are also able to complete a written statement to let the University know why you'd be a good fit for their course.
This written statement should give your shortlisted Universities an insight into why you want to study nursing and your motivation and goals behind completing a degree in your chosen field. At many sixth forms and colleges, tutors are on hand to help you create the best personal statement you can to begin your educational career.
Before completing your UCAS forms for your chosen Universities, you can also visit campuses on open days in the year before your application. This will give you further insight into the University you're applying to, and it allow you to write more relevant and compelling statements about why the campus is the right fit for you.
For many Universities, your application is followed up with an interview. This is then followed with a conditional or unconditional offer if you're awarded a place. The type of offer will depend on whether you have already received your qualifications, as certain grades are often a requirement. This process is similar to a job interview, and it's the best chance an applicant has to impress the University and gain a place on an undergraduate nursing degree. As a highly competitive field, showing your best self is very important to those applying to train in nursing.
Financial support for nurses
Once you've received an offer, you can then apply for your student finance, to cover both the costs of your course and your costs of living during the time you are studying. As nursing is a high-intensity course, some additional financial support may be offered. Speaking to an advisor about bursaries and scholarships will give you insight into the funds available to new nursing students. Our staff here at the University of Cumbria would be happy to speak to you about your future so give the team a call on 0333 363 4108 or email enquirycentre@cumbria.ac.uk.
Learn more about NHS bursaries, university scholarships and bursaries.
What to expect at University
When you've accepted your place at your University of choice, you can then look forward to beginning your undergraduate nursing degree in the September term. When you've moved and settled into your new accommodation, and covered all the introductory meetings and tutorials, you'll then begin learning the introductions to nursing in lectures and classes.
As a degree that has a combination of practical skill development and learning alongside research and lecture-based study, first-year students will spend more time in an academic environment. This includes learning the basics of nursing through academic research as well as learning procedures and nursing requirements in a safe environment.
As nursing students progress through the years, their work will become less classroom-based and instead involve more fieldwork. This will include placement within medical environments such as hospitals or medical centres for hands-on training. Thanks to this combination of varied environments, there are several different ways that your degree grade is scored as a whole. Our student nurses at the University of Cumbria are involved in a diverse work scheme.
For undergraduate nursing degree students, graded work may include supervised training evaluations, placement evaluations, coursework and exams, the combination of which makes up your full grade for your nursing degree.
Career options for nursing students
When you graduate from your undergraduate nursing degree and register at the nursing and midwifery council, you're free to go on and forge a career for yourself based on your new knowledge and insight. There are many career paths available beyond just nursing in general. Here are just a few of the paths you could take:
Often considered the standard form of nursing, adult nursing comes with its own set of challenges. With such a broad role, it's possible to work as an adult nurse in all kinds of locations. This could include anything from travelling abroad with a charity to working in a local GPs office. Mental Health nursing can also fall under this title as a speciality.
Another specialised area of nursing, children's nurses work with a wide range of patients under the age of 18, from babies through to teenagers, supporting both medical and mental health care in many cases. For graduating nurses who enjoy working with younger patients, this career path might be the ideal place to start.
Health visitors
An alternative to working in medical practice, health visitors have a much more mobile and varied workday thanks to their position. They are often associated with the medical support and care of older people and new mothers in the community, in addition to other essential tasks.
Nurses who are looking to specialise into a highly rewarding and competitive field may find midwifery a good fit. This career offers a unique way to use nursing skills in a specialised environment. Midwifery focuses on caring for mothers and their brand-new babies, making this high-pressure role an excellent career path for certain nursing students to follow.
Another high-challenge alternative to a traditional nursing career, opting to further train as a paramedic allows the use of your skills in life-or-death environments. Responsibilities could include assisting in medical care in many varied situations, from sudden illness to injury and more.
In addition to direct career paths, student nurses can also consider using their expertise to work in another industry altogether. Nursing graduates have in the past gone into the mental health field or even into work as a manager or teacher. Often, after several years of training, students find they excel or love to work in a particular area or type of nursing, helping to make their final career choice that bit easier.
Alternative pathways to nursing
For those who don't think an undergraduate nursing degree is the best fit for them or their lifestyles, there are alternatives available. For those already holding a degree, it may be possible to convert that existing qualification into a nursing degree. Overall, this requires less time investment and more hands-on experience.
For those who prefer not to be in full-time education, nursing apprenticeships are currently being trialled by the NHS across the UK. These apprenticeships provide the training and insight needed to become a qualified nurse over a more extended space of time. Apprenticeships do still require part-time University study to complete but are far more field-based.
For those interested in nursing but unsure if they have the skill set or education level required to advance, nursing associate qualifications are also being tested in the UK. This role offers a position in the healthcare industry to work alongside qualified nurses. This apprenticeship can then count towards a future degree in nursing should you choose to continue your education.
Want to become a nurse? - Start today
With so much research and information at your disposal, you can start learning about what it takes to become a trained, qualified nurse today.
We are a university offering a number of nursing courses so if you want to pursue a degree in nursing or just want more information about the degree requirements and content of our nursing degree at the University of Cumbria, speak with the team on 0333 363 4108 or email enquirycentre@cumbria.ac.uk.
Thinking about becoming a Nurse?
Get access to our interactive 'Routes into Nursing' tool to find the right specialist nursing course for you.
Enter your name and email address below to start your journey.