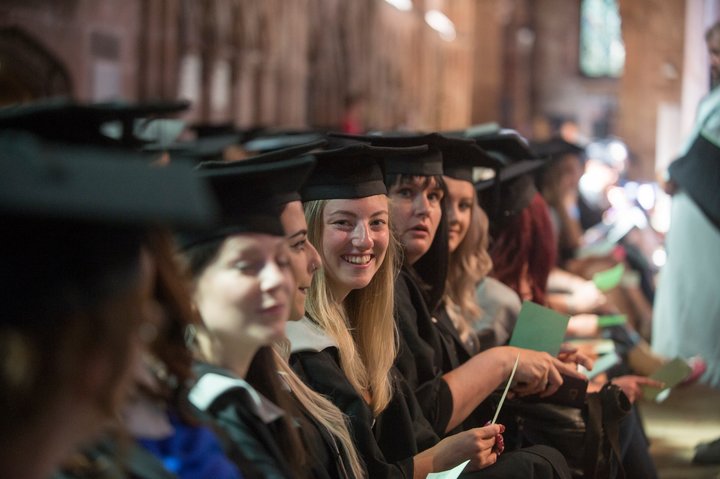 The student support team at University of Cumbria come across a wide range of similar questions and concerns every year – from potential students and their parents or guardians.

There's always someone available to answer your specific query, or to discuss a topic that leaves you apprehensive or confused. Whether that's during or after your application to the University, or when you start your course.

Parents and students can contact us to ask questions – 24 hours a day – using our online contact form or call us during office hours.
However, we thought it would be useful to provide an overview of some of the issues that are regularly raised, and topics that are currently stimulating debate.
Selecting a university
Our team helps you every step of the way in applying for, accepting and taking up University places. However, for all the nuts and bolts involved, we also understand that one of the main ways students select a university has more to do with emotion that statistics and hard facts!
It's important to be able to "see yourself" at that higher education choice.
Students report that one of the biggest factors in their decision to apply to University of Cumbria, was knowing that "it felt right". It's why we offer as many opportunities as possible for students (and their friends and family) to attend open days, visits and campus exploration.
This programme gives you chance to soak up the atmosphere here. You can check out the wider location, and see if this university matches your preferences and gives you a positive "vibe". Visits in person also mean that you can meet the staff at University of Cumbria and sit in the student catering, welfare and leisure facilities. From this first hand experience, we hope you will be able to imagine your future self, enjoying everyday life here.
Get in touch to set up a personal visit if no pre-planned dates are suitable.
Incidentally, we hold regular events for school children from the region, to give younger potential students a chance to picture themselves in one of our locations too!
Applying and offers of places
When you're ready to apply to University of Cumbria, this guide can help you choose.
However, there are various areas of stress and concern tied up in the process of applying for Universities. The headaches don't always stop when you get an offer of a place, either! University of Cumbria works to smooth all this out and to put your fears and confusion to rest.
For example, waiting for a decision can feel like torture. We work closely with all sixth form colleges – making individual contact if necessary - to speed up reference research. This is because each college has its own priorities and systems, and we don't want that particular detail to leave you "biting your nails".
Nor do we leave you in the dark once your application is sent it. University of Cumbria's communication excellence includes regular email updates, so you know what's happening. If you don't hear from us for a while, you will hopefully know that it's because the assessment process is underway.
One of the most contentious questions on university application processes, is the value assigned to BTECs. Some students find this education route is their best option, instead of A Levels.
University of Cumbria is a highly inclusive higher education choice and delivers courses that meet a wide range of academic abilities and records. This includes Foundation Degrees, which offer a level of confidence to students who want to take an initial step before undergraduate study programmes. Check the entry requirements for your degree, then contact the University to discuss your best path.
Conditional and unconditional offers
Conditional and unconditional offers are another thing that raises red flags with some students – and their parents! There are various myths and misconceptions about how conditional and unconditional offers of university places work, including theories about "hidden agendas".
The main message is, put all that to one side and approach your University of Cumbria application with an open mind – because that's exactly what we use to assess applications!
There is no trickery or manipulation involved. When University of Cumbria wants to see a certain level of attainment, we set students a target (conditional offer). Setting these targets helps to avoid anyone taking up a place and feeling over burdened or overwhelmed by their course.
When we feel the student has already provided evidence that they can meet their course targets, we make an unconditional offer. It's that simple. University of Cumbria regularly accepts university applications post-exam results – through UCAS Clearing – when course places are available too.
Keeping parents informed
There's a balancing act, between too much information and too little. University of Cumbria makes sure parents have enough information to hopefully feel comfortable with their young person's choices. What we don't do, is bombard everyone with massive amounts of unnecessary detail!
If we miss anything you need to know, we can be contacted by telephone or email. One of the big areas for confusion, is work experience needs and expectations. Not least as parents and students can have very different ideas on this topic. Please be assured, University of Cumbria's course tutors and work experience organisers liaise with employers and students to find best match.
Keeping students informed, and social media
We all know that when it comes to major (and minor) life decisions, students share, research and seek opinions on social media. That's fine, until you start letting the application progress of your peers put you into a state of panic! Particularly if this then puts you under pressure to make a hasty decision about your future.
Your application to the University of Cumbria will be processed with equal importance as any other. However, as each potential student is assessed on their individual merits, it's not an exact science. Some applications take longer than others, so two students who submit forms on the same day could receive their decisions at different times.
If in doubt, or you're starting to be concerned, drop us a line or give us a call.
One of the core values of the University of Cumbria is the honest and open relationship we have with students. We pride ourselves on healthy two-way communications. There is no such thing as a "silly question" and we will always find time to put fear and confusion to rest as soon as possible.
This honest communication policy also means we don't use hard-sell techniques, manipulative marketing ploys or keep you "out of the loop".
Financial matters
We offer online information about Student Finances and such issues as bursaries, grants and allowances. You can also contact our student support team to discuss your specific questions.
This can be one of the biggest areas of concern, for anyone considering applying to university, but also for students who are already enrolled, or studying! Yet, students are not always comfortable asking for help.
The big take-home here is, University of Cumbria welcomes financial queries and we are always happy to discuss your personal situation in a nonjudgmental, confidential and helpful manner.
For example, we know some students struggle to find deposits for accommodation, particularly if student loans take a while to pay out. You must raise such worries with us, rather than letting it put you off applying to University of Cumbria.
There is nothing our team hasn't heard before, and we can look at potential solutions to meet financial hardships and worries.
Unfortunately, there are some things we don't have any control over. The criteria and application process for student finance is something that the UK Government oversee. You can progress your application and read more here.
We know that one area of concern when making applications for student finance, is whether calculations should (or should not) including the financial status of step-parents you live with. This is the sort of thing the University is unable to influence, as we simply implement rulings passed down by the Department for Business, Innovation and Skills (BIS) when it comes to student finance.
That's not to say we won't chat to you about this though, if it's an area of personal concern!
Student welfare, safety and privacy
The UK media – and social media - have regularly featured bad news stories and startling statistics and anecdotes that could possibly influence your decisions about University.
One of the most serious national issues being discussed is the mental health support provided to young people.
The University of Cumbria is never complacent on this topic and continues to advance and update its Student Services. If you or a friend or course-mate are struggling in any way, there is always nonjudgmental and confidential help available at this University.
We also take the whole issue of your privacy – and safety – seriously too. This includes protecting you physically using trained professionals who patrol our campuses.
Also, we adhere to the General Data Protection Regulation (GDPR) in providing the highest possible standards for our data management and data security. This protects your online information and provides you with control over how personal information is stored, used and disposed of.
Remember, if your question or concern is not covered here, contact us for a confidential chat. The more questions people ask, the more often we can update this page with new general information that provides peace of mind.