"Teaching – it's the best profession in the world"
Steafan was PE specialist with the Irish Football Association, now he is planning to go back and make a difference in his local schools.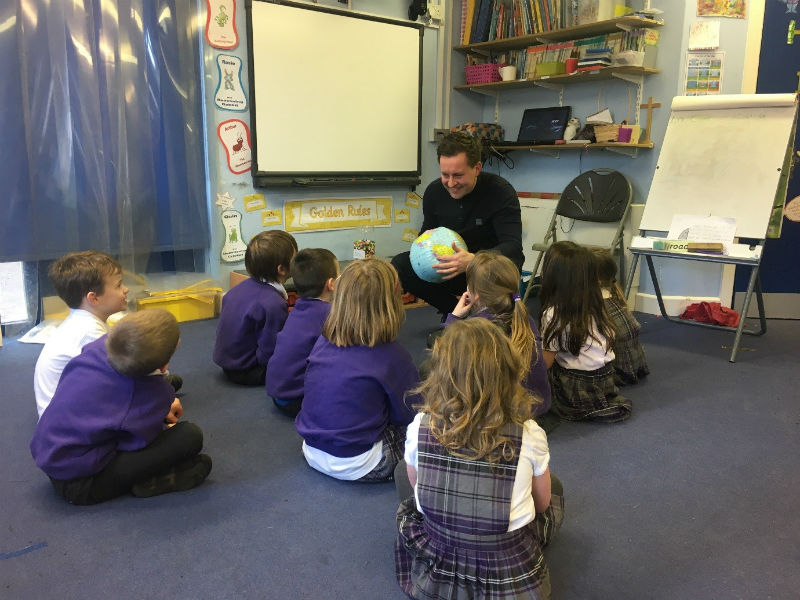 Steafan Deery loving life in the classroom at Arkholme primary school, in north Lancashire
University of Cumbria PGCE student Steafan Deery had a privileged career in his native Northern Ireland.
He was PE specialist with the Irish Football Association, a role created by NI's Department of Education to tackle child obesity and support teachers in delivering effective games lessons.
Before that, he worked for his local authority in Tyrone as Gaelic games officer, developing the sport in primary and secondary schools across the country.
Steafan has a masters' degree in sport and exercise psychology and a big ambition, to be a seriously good primary school teacher because, in a nutshell, "it's the best profession in the world".
With a wife and three sons, the youngest just six months old, back home in Strabane, becoming a full-time student again took some thinking about.
Steafan turned down two other PGCE offers to study at UoC, even though the logistics take some sorting. There's no denying, it's a challenge. Weekday study in Cumbria, followed by weekends at home supporting his family, isn't easy, but he says it was absolutely the right decision.
"I'm loving every minute of my time here," he says. "In the long-term this is going to be very beneficial for myself and my family, even though it's pretty difficult at times right now."
"My former role was under threat and twice I'd faced redundancy. That made up my mind, it was time to move on. I don't think there's any other career that matches teaching. Being surrounded by youth keeps you young and energised and no two days are ever the same.
"UoC was absolutely the right choice. Tutors are brilliant. From the first day they have tried to make things as easy as possible for me, going above and beyond their roles. It's that connection with the tutors that will make you an effective teacher."
Steafan says it's the wide variety of content and creative delivery by lecturers that have influenced his teaching style.
"Students feel more prepared and competent to teach through the modules provided, alongside School Embedded Learning topics and the gradual increase in teaching time and expectations as the year progresses."
His first placement in the Cumbrian village of Orton was the best introduction to teaching you could get, he says.
"I taught years 5 and 6 and they certainly made a lasting impression on me. I had so much support and that really helped me to grow during me time there. I'll definitely be back to visit!
"Life is good at the Lancaster campus, it's small, and you're always bumping into people from your course, including tutors, so you build good friendships, which makes it easy for a mature student like myself.
"UoC will play a huge part in how my life now unfolds. I've always wanted to be a PE or primary teacher and hopefully I will get a job where I can spend the rest of my career contributing to the local community back home."
For now, Steafan continues his weekly juggling act. He missed his five year-old's nativity play and first parent teacher meeting. Matthew, 14, will be at university himself before too long and the baby changes almost every day.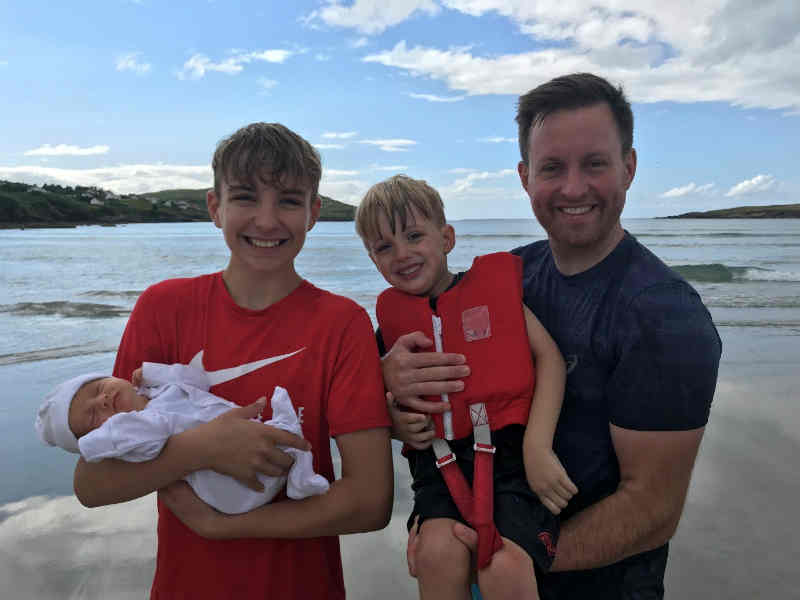 Steafan with sons Mathew, holding baby James, and Tom at favourite weekend haunt Portnoo in Donegal.
Wife Ciara is a teacher, currently on maternity leave, and a massive support as she keeps the family going.
"She's brilliant, but it's very hard for her. It's the first time we've been apart since we were teenagers and this is a big shock to the system. We make the most of our weekends and know it's a short time until I've finished.
"I'm hoping to work as close to home as possible. In my last job I always enjoyed seeing a child progress in their chosen discipline, whether that was football, athletics, or whatever. As a teacher, I want to see what they become as people.
"My ultimate ambition is to retire from teaching with the same passion and enthusiasm on my last day that I will have on my first."
Steafan urged others who felt they had a vocation and were able to connect and make a real difference to children's lives to think about a PGCE course at University of Cumbria. Could there be a better place to study? Absolutely not, he reckons.