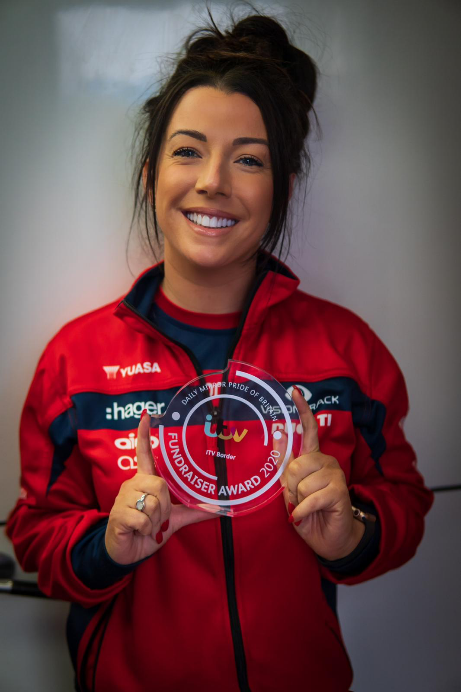 Shona's Story
Business Management
Class of
I started studying at Keswick school in 1999 and left in 2006. I enjoyed my time at school, especially the social side with my friendship groups. If I'm honest, during my GCSE's I wasn't particularly interested in academia and I didn't put in as much effort into my studies as I could have, so I was determined to improve and achieve better results in my A-Levels.
I studied English Language and AVCE Business Studies (2 A-Levels) for my A-Levels and I achieved grade A's and B's, which I was pleased with. After this, I started a degree in Business Management at the University of Cumbria.
There were two different things which inspired me to raise money for nurses and care workers during the coronavirus pandemic. A couple of years ago I had my own personal experience with the NHS and I decided it was the right time to give back to the health and care service, to try and help the amazing members of staff who work there.
As well as this, at the start of lockdown, I saw all of the videos of nurses crying on social media because they couldn't buy food in supermarkets after busy shifts. I thought this was the time to try and help the staff to have access to food and care packs during what would be the most stressful times in their careers.
I originally started to raise money for this cause as an office collection at work, then I set up a JustGiving page and that evening a friend uploaded some pictures of what I was doing on social media and it took off.
During the fundraising, I had a new sense of energy. At the beginning, the parcels were delivered anonymously, but people started to say who the care packs were from so we left notes saying where they had come from.
The main challenges I encountered were some of the negative comments online – they can be difficult to ignore sometimes but you have to think of the bigger picture and all of the people you are helping. The logistical side of distributing the care packs was also quite challenging and relied on a lot of organisation. At that point in time, people couldn't visit my house so I did all of the packing myself whilst working full time.
In total we raised over £30,000, this included efforts from other fundraising in the community which was all pooled together.
Around midway, through the fundraising, I changed strategy from donating care packs to paying nurse registration fees. I noticed that more people in the community had started donating food and I was conscious that food may be wasted or that there could be an overlap in what was being donated. I had a think and thought what would make the biggest difference to individuals? I knew that nurses had not received a pay rise this year, so the nurse registration fee was an extra cost that we could help support.
My marketing plan changed to adapt to paying nursing fees. I used social media to promote the change and asked people to nominate a nurse they knew, to be put into the pool of names and be selected to pay their registration fee. I created an Excel database to keep track of the names of individuals and keepsake cards were created to be given to each nurse to act as a memory.
Studying for my business management degree at the University definitely helped my approach to fundraising. When I studied for my degree I was working fulltime for Dior Beauty, so I had to manage competing demands and I was familiar with balancing all of the commitments. During my fundraising I woke up at 4:30 am every day to prepare the care packs before starting work, worked a shift in my current role and then delivered parcels after my work-day finished – so I had to carefully manage my time to make the most of each day.
My degree and roles at work also gave me insight into account management and sales control, providing insight of what is going in and leaving. I also had the experience of creating spreadsheets showing spends and reconciliations – which supported my fundraising efforts.
I feel totally overwhelmed, it was completely unexpected and I was really shocked when the TV crew knocked on my door to tell me. At the time I deactivated social media when I knew I was nominated as it made me question why I deserved this level of recognition over someone else. I am so incredibly grateful and would like to say a huge thank you to everyone who has taken the time to nominate me. This is a once in a lifetime experience and something I will always remember.
I think if you are planning to do your own fundraising, definitely go for it as you can make a real difference to people's lives – even small gestures can make a huge difference to people in these challenging circumstances we're currently experiencing. Try your best to be organised and start working early in the morning – it means you can get more done and be more productive during the rest of the day. Use your own ideas for your fundraising, even if people doubt your efforts, stick with your original plan and believe in what you are trying to do.
I would use social media to your advantage, it's a great tool to reach a wide audience and the online donation platforms can be accessed by almost everyone. Try to be confident and ask companies for support, many are really generous and willing to help good causes. Don't be afraid to ask for help, and most importantly try your best!