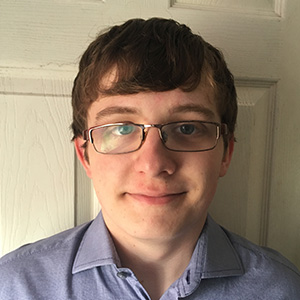 Tyler Harris
Class of 2017
Tyler, from Corby, studied English Literature, English Language and Biology A-levels at Brooke Weston Academy. He was the first generation of his family to attend university.
"I chose to study at the University of Cumbria primarily for its class sizes. Law courses are very popular and are usually large class sizes but UoC's class sizes mean that I get better contact time and everyone knows me as an individual rather than another face in a big crowd. Another reason I chose UoC was because I have always loved Cumbria and would one day like to consider moving up here permanently."
On why he chose law, "I have always wanted to be a part of the justice system in some way ever since I was a young boy watching Scooby Doo. As I grew up I thought about being a forensic scientist because I good at science. Eventually I set my sights on going into law because it was a good compromise of the analytical approach that I was good at in English Language and the Sciences and the research and the forming of arguments that I enjoyed in English literature."
My time at university has easily been some of the best years of my life.
"I love how versatile the course is. During my time studying on the course, I have covered a wide range of subject areas ranging from Criminal Law to Intellectual Property Law. This range has allowed me to get a feel for what I want to do after the course. For example, when I first started the course, I knew I wanted to be a lawyer but I did not know whether I wanted to be a solicitor or a barrister. From my experiences in mooting (formal legal debates) and the Legal Institutions module in first year I was able to decide on becoming a solicitor."
"My time at university has easily been some of the best years of my life. It has changed my life completely as it has given me the opportunity to fulfil my goal of being a part of the justice system and has also allowed me to meet new people from all different backgrounds."