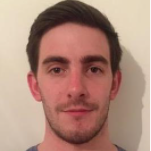 Liam Dervey
After an Injury stopped Liam from being able to go into full-time military service, the rehabilitation he received whilst recovering inspired him to become a Physiotherapist. Find out more about Liam's choice to study Physiotherapy.
Why did you choose the option of university when leaving the military instead of going directly into work?
I'm a serving Army Reservist and have been since 2008. I suffered a knee injury that cut-short my career and prevented full-time service. The rehab I received whilst recovering from this injury inspired me to become a Physiotherapist and study at the University of Cumbria.
Why did you choose Cumbria?
I was brought up in Carlisle and having lived away for some time was keen to return. I liked the idea of attending a university with smaller class sizes and a more close-knit environment, which has proven to be the case. Being close to the Lake District is a huge bonus too!
What was the most difficult thing you've overcome in your education journey so far?
The most difficult thing was juggling the workload, placements and the upheaval of the Covid-19 pandemic. Learning to work from home and adapt my learning styles was very challenging.
What was the breakthrough moment for you when things began to fall in to place or become easier?
The epiphany for me was realising that the staff are on my side. Every time I've asked for help or assistance it has been forthcoming and made me feel that although it has been a struggle at times, it's not a struggle I've had to undertake alone.
Lecturers and tutors are always happy to give advice about a variety of topics and take the time to get to know you personally.
What are your top tips/plan for anyone else thinking of going to university?
Go for it! If you don't try, you'll never know.
Get work experience if possible and make sure your application stands out
Start your application early and leave plenty of time for writing your personal statement
How has it been studying at the University of Cumbria?
Studying at UoC has definitely given me more confidence, particularly in practical skills and with things like presenting. My favourite part of physiotherapy is getting in the labs and practicing with friends on the course, then using those skills on placement. One thing I particularly liked about UoC is the close-knit nature of the course.
What are your next steps at the end of your course?
Studying Physiotherapy at UoC has enabled me to secure a place on a graduate entry medicine course, which I start in September. Although I'm sad to be leaving, I'm looking forward to what lies ahead!