Our DipHE course is a gateway to a full BA (Hons) English Literature degree, so if you're successful in your foundation year, you can transfer onto the full three-year programme if you wish.
Based at the University of Cumbria's beautiful Ambleside campus you will study English Literature surrounded by the iconic scenery which inspired some of Britain's greatest writers – including Wordsworth, Ransome, Potter and Ruskin.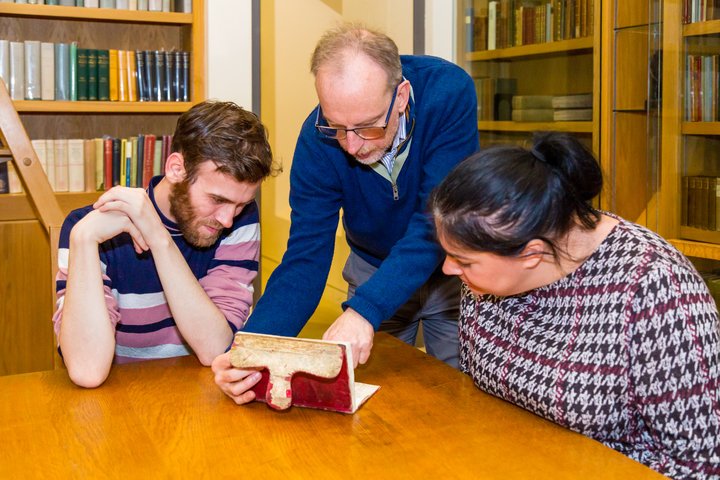 You'll explore the development of English Literature from the Renaissance to the present in global and regional contexts, in a landscape which has been a source of inspiration to generations of poets and writers, and which is now a UNESCO World Heritage Site.
This is not your average English Literature course – it's much more. You will consider how literature helps us reflect on key contemporary concerns, including the current environmental crisis.
Curious about what happens on our course or a lover of all things to do with English Literature?
Partners & Memberships
The programme team have links with a number of key literary organisations in the region. We use these connections to enhance and enrich your studies in a variety of way, not only through field trips but also by giving you the opportunity to develop projects in your final year which relate to the cultural heritage and creative industry sector.
Your Career with an English Literature Degree
A DipHE in English Literature suits a range of careers demanding high-level analytical, interpretative, written and oral communication skills. Most of the students enrolled on the DipHE programme progress onto and complete the full BA (Hons) English Literature degree. Recent graduates from the BA have gone into teaching, lecturing, the cultural heritage sector, and work with major national organisations and companies.
Many English Literature graduates use their degree as the basis for further study and training in order to pursue high level 'graduate' work in a wide variety of fields. For the latest on what English graduates see the publication 'What do graduates do?'.
Why choose University of Cumbria
This is not your average English Literature course – it's much more.
You'll write essays, just as you would on any other English Literature degree, but in addition you'll also develop the skills required for the contemporary workplace by scripting and recording a mock radio programme, designing a webpage, and even submitting a 'job application' assessed by academic and careers staff.
Unique opportunity to study a rich body of literary and non-literary texts within the geographical landscape which inspired them
Excellent working relationships with literary and cultural organisations such as Brantwood and the Wordsworth Trust
Your studies are enriched by field trips to places which inspired some of Britain's greatest writers
Taught by tutors who all research and publish in their specialist areas
Small class sizes enable us to guide and work closely with you throughout your studies
Opportunities to get involved with local literary festivals and Cumbria's rich cultural scene
Boost your job prospects by developing contemporary communication skills
You'll study at the University of Cumbria's Ambleside campus in the heart of the Lake District National Park. Here you will explore critical ideas about the relationship between the creative imagination and place, and about literature and the environment. You'll have the opportunity to visit some of the specific locations which have inspired and which continue to inspire writers, as well as to engage with cultural heritage organisations.
Course Study Options
This course is also available as a full bachelor's degree.
Course outline
Course summary
Year 1 - All students follow a common pathway in the first year, providing a solid foundation for the study of English Literature and developing a range of skills in critical and cultural analysis.
You'll have the opportunity to study a wide variety of texts drawn from different cultures, regions, and socio-historical contexts, and to explore the treatment of literature and literary topics within the contemporary media industry.
Year 2 - You'll develop a more in-depth understanding of major shifts in the development of an English literary tradition, focusing on significant literary periods, contexts, and developments.
This will be coupled with increasing your knowledge of the development of English Literature, which will also equip you to cover the National Curriculum, should you be interested in teaching at a later stage.
Plus, you'll examine how literary texts live on today by applying knowledge of literature to real-world contexts. You'll visit and study regional cultural heritage sites to gain insights into the cultural heritage industry. You'll also develop a deeper awareness of environmental debates through literature.
And, you'll have the opportunity to develop new skills including designing and producing a webpage.
Modules
Year one
Compulsory modules
Texts and Contexts
Introduction to Literary Studies
Texts and Readers
Travels in Poetry
Literature in the Media
Reading for Writing
Year two
Compulsory modules
Early Modern Writing
Texts in the World
Research Skills for English
Literature and the Environment
Optional modules (subject to availability and demand)
British Romanticism: Literature in an Age of Revolution
Literature in the Victorian Period
Gothic Literature
Literature and Film
Shakespeare
Poetry and Place
Programme Specification
Assessment, Feedback, and Teaching and Learning methods
Timetables
The teaching timetable should be available from the end of August. Access to the timetable is through the Student Hub – you will be able to access the Student Hub after you have completed online registration. The teaching day is 9am to 6pm, Monday to Friday; please keep your other commitments open until confirmation of your teaching timetable, and bear in mind that many courses will offer placements or fieldwork which sometimes extends into the evenings and weekends.
Entry requirements
Have a question about our entry requirements?
Entry Requirements
56 - 72 UCAS tariff points - to preferably include an A-level in English Literature.
Find out more about qualification options from the UCAS tariff table.
Please check selection criteria for any additional entry requirements.
Selection Criteria
Apart from looking at predicted grades, we read the UCAS form carefully, paying particular attention to personal statements.
We value applicants with non-traditional entry profiles and welcome informal approaches to discuss how other qualifications and experience may be relevant to an application for a place.
The programme seeks to widen access by means of a flexible admissions policy and applicants who do not present the normal entry requirements may be required to submit a short piece of work to enable us to assess their aptitude for the programme.
Application information
Full-time courses
Apply online through the Universities and Colleges Admissions Service (UCAS), between September and January; they will send your application on to us. Applications submitted after this date will be considered late and the course you have applied for might be full by this time; however, we will consider you for alternative suitable courses.
Their website provides all the information you need about universities, courses, locations, entry requirements and financial support. You are allowed to select up to five course choices. You need to use the correct UCAS campus and course codes as not all courses are offered at every campus. You will be asked for the following information when you apply online:
Institution code name: UoC
Institution code: C99
Campus location:
A Ambleside
B Brampton Road, Carlisle
E University of Cumbria at Energus, Workington
F Fusehill Street, Carlisle
L Lancaster
T University of Cumbria in London
Y University of Cumbria at Furness College, Barrow-in-Furness
Part-time courses
Applications should be made online directly to the university; visit our website or contact enquirycentre@cumbria.ac.uk for details and guidance. There is no official closing date but we would encourage you to apply as early as possible, as many courses are competitive.
What makes a good application?
We consider all aspects of your application, not simply your qualifications and grades. We look at your academic background and performance, relevant experience (particularly for professional courses where some voluntary or paid experience is required) and your reference. Above all, we look for motivation, commitment and potential-evidence that you can benefit from study at higher education level.
Make sure you include:
Relevant qualifications/evidence of ability: check our website for the specific entry requirements required for each course. Tell us your previous academic results and your projected grades.
A supportive reference, from an employer or your school or college.
A good personal statement.
Explain clearly what attracts you to the course and tell us about your wider interests and experience. If you are applying for a course that incorporates professional training and placements, you should include any relevant experience or visits you have made in the workplace. Highlight your individual strengths and qualities, personal skills, capacity for teamwork, contribution to the community and your enterprise, originality and determination. Select some activities which bring out these qualities.
What next?
When we receive your application, we will send you an acknowledgement and if you are successful at this stage you will get either an offer (with an invitation to visit the campus to which you have applied), or an invitation to interview on a particular date. If we are not able to offer you a place on your chosen course we will usually try to offer you a place on a similar course and will contact you to discuss this. Alternatively, if we think you are suitable, but cannot offer you a place on your preferred campus because of the level of competition, we will offer you a place at another campus if one is available.
And if I accept?
The admissions team will contact you and send further information from February onwards about accommodation, and from May/June onwards about preparing to join the university. If you have any other queries, please telephone the admissions offices for information and advice on 0845 6061144.
Deferred entry
We welcome applications for deferred entry on some courses. If you have specific plans during your year out, indicate these on your personal statement as they may be relevant to your course and could enhance your application.
International students
Applications for full-time undergraduate study are made through UCAS. Please see the international pages of our website for full details of our entry requirements (including English-language skills) as well as contacts for advice and support.
From 2009 the UK Border Agency introduced a Points-Based Immigration System (PBS) for students coming to the UK from outside the European Economic Area (EEA). Students entering higher education will need to obtain a Confirmation of Acceptance (CAS) plus finance confirmation to obtain a Tier 4 student visa. UK education providers are licensed by the UK Border Agency. When students apply for their visa (or entry clearance) they will need a valid Certificate of Acceptance of Studies from the university. Please note that a CAS is not a guarantee that a visa will be issued.
See the following websites for further details:www.ukba.homeoffice.gov.uk/studyingintheuk
Additional costs
Students will be issued with reading lists in advance of each year of study indicating primary texts which you will need to purchase. In addition two key fieldtrips are included in the programme - a visit to Brantwood and a visit to Dove Cottage. Students contribute to the costs but the remainder is subsidised by the department.
Additional costs
Resources and facilities
One of our most important resources is our location within the Lake District National Park, a beautiful part of England with a rich literary heritage. The programme team have long standing arrangements with key literary organisations in the region, including Brantwood and the Wordsworth Trust, and we use these excellent working relationships to enhance your studies.
The campus has a friendly and lively atmosphere and offers an ideal environment for your studies. There are lots of opportunities to explore the surrounding landscape which has inspired so much great literature. Regionally there is a vibrant literary and arts scene with many various cultural programmes and events, including the Kendal Mountain Literature Festival and the Words by the Water literature festival at Keswick. Ambleside also has its own independent cinema and bookshop.
Further afield, the county offers a wide range of culture, history, and experiences, and your graduation ceremony will take place at Carlisle's spectacular medieval Cathedral.
Awards and recognition
English Literature staff were awarded a Vice-Chancellor's Teaching Excellence Award for 2011, making English the top-rated teaching team in the university's higher education provision for the academic year 2010-11. The award citation said that tutors "demonstrated a highly innovative and adventurous approach to the design of a single honours English degree, taking a usually traditional disciplinary area and introducing elements which address a range of agendas to enhance the engagement of students with English in the world and the development of skills and attributes for employability and further study."
Programme Leader, Dr Penny Bradshaw's new critical edition of Ann Radcliffe's Observations during a Tour to the Lakes was runner up for Lakeland Book of the Year in 2015. Penny is an Editorial Board Member for Romanticism: Life, Literature and Landscape (a digital resource published by Adam Matthew Digital and Adam Matthew Publications using archives held by The Wordsworth Trust) and she reviews for Green Letters, the journal of the Association for Literature and the Environment.