Our DipHE course is a gateway to a full BA (Hons) English Literature degree, so if you're successful in your foundation year, you can transfer onto the full three-year programme if you wish.
Based at the University of Cumbria's beautiful Ambleside campus you will study English Literature surrounded by the iconic scenery which inspired some of Britain's greatest writers – including Wordsworth, Ransome, Potter and Ruskin.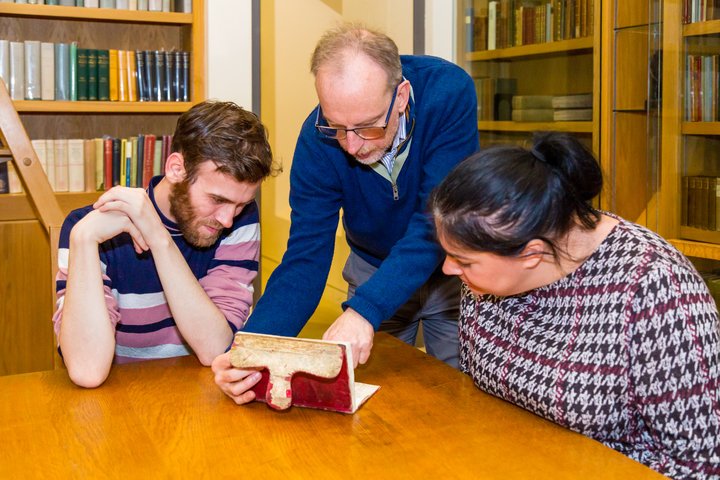 You'll explore the development of English Literature from the Renaissance to the present in global and regional contexts, in a landscape which has been a source of inspiration to generations of poets and writers, and which is now a UNESCO World Heritage Site.
This is not your average English Literature course – it's much more. You will consider how literature helps us reflect on key contemporary concerns, including the current environmental crisis.
Wondering what it's like to study English Literature? Watch our on-demand taster session where our lecturer Dr. Penny Bradshaw discusses the classic that is Emily Bronte's Wuthering Heights.
Watch Wuthering Heights Taster Session
You can also stay up to date with what is happening in our English Literature course by following us on Twitter:
Partners & Memberships
The programme team have links with a number of key literary organisations in the region. We use these connections to enhance and enrich your studies in a variety of way, not only through field trips but also by giving you the opportunity to develop projects in your final year which relate to the cultural heritage and creative industry sector.
Your Career with an English Literature Degree
A DipHE in English Literature suits a range of careers demanding high-level analytical, interpretative, written and oral communication skills. Most of the students enrolled on the DipHE programme progress onto and complete the full BA (Hons) English Literature degree. Recent graduates from the BA have gone into teaching, lecturing, the cultural heritage sector, and work with major national organisations and companies.
Many English Literature graduates use their degree as the basis for further study and training in order to pursue high level 'graduate' work in a wide variety of fields. For the latest on what English graduates see the publication 'What do graduates do?'.
Why choose University of Cumbria
This is not your average English Literature course – it's much more.
You'll write essays, just as you would on any other English Literature degree, but in addition you'll also develop the skills required for the contemporary workplace by scripting and recording a mock radio programme, designing a webpage, and even submitting a 'job application' assessed by academic and careers staff.
Unique opportunity to study a rich body of literary and non-literary texts within the geographical landscape which inspired them
Excellent working relationships with literary and cultural organisations such as Brantwood and the Wordsworth Trust
Your studies are enriched by field trips to places which inspired some of Britain's greatest writers
Taught by tutors who all research and publish in their specialist areas
Small class sizes enable us to guide and work closely with you throughout your studies
Opportunities to get involved with local literary festivals and Cumbria's rich cultural scene
Boost your job prospects by developing contemporary communication skills
You'll study at the University of Cumbria's Ambleside campus in the heart of the Lake District National Park. Here you will explore critical ideas about the relationship between the creative imagination and place, and about literature and the environment. You'll have the opportunity to visit some of the specific locations which have inspired and which continue to inspire writers, as well as to engage with cultural heritage organisations.
Course Study Options
This course is also available as a full bachelor's degree.