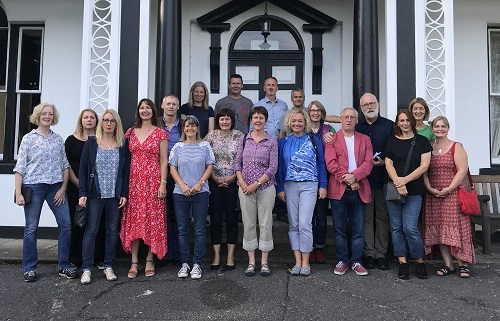 On Saturday 25th August 2018, a beautiful, warm and sunny evening in late summer, 22 classmates met up at our Ambleside campus to celebrate 30 years since they graduated together from Charlotte Mason College.
Joanne Lusher, alumni relations officer, greeted the group outside the Beehive building where a party had been set up complete with nibbly finger food, drinks and of course, bunting!
The group took the opportunity to have a campus tour in the last of the evening light. Joanne led the group to show how things have changed in the last 30 years since most had been on campus.
The most obvious change, which shocked some, was the disappearance of the airport lounge. This flat roofed, one story building connected Scale How to the Percival Lecture theatre and was the hub of the campus when the group were students. In 2014 after a period of uncertainty for the campus, major building works took place to breathe new life into the site at Ambleside and to make the most of the historic buildings and beautiful grounds. The airport lounge was knocked down to allow new steps right through the middle of the campus, opening it up and improving the appearance and view.
One place that many of the group were keen to visit was the cottages, Ashfield, Beechfield, Hazeldene and Heathfield right in the heart of our campus. The cottages were home to many of the group and we were very lucky to be permitted a peek inside. During term time and often over the summer these cottages are booked out for students or other visitors so this was a rare treat. The group enjoyed reminiscing about who lived where and exactly how they managed to fit a table into the tiny kitchen of Ashfield.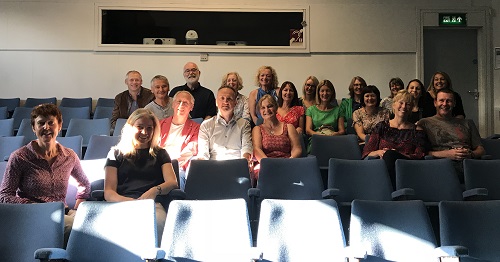 Next up on our tour was the Percival Lecture Theatre, a room that all more recent Ambleside alumni are very familiar with. Although according to the class of 1988, they could have sworn it has got smaller!
Our tour finished up with a visit to Millet to see the Frederick Yates murals and a shocking surprise in the barn, which is virtually unrecognisable these days.
The class of 1988 partied the night away in the Beehive, sharing drinks, music and many a tale from their happy Ambleside student days.
If you are considering a reunion with your classmates from the Ambleside campus, or perhaps you just fancy a campus tour for old times' sake, get in touch with Joanne Lusher, Alumni Relations Officer alumni@cumbria.ac.uk or telephone 01228 616391 to discuss.