It's Time to Celebrate Your Achievements
And Say Hello to the Future
Graduating from university will be one of the proudest moments of your life. It's a moment to recognise your huge achievement when all the hard work you have put into your degree over the last few years will finally be rewarded. This moment marks the beginning of the rest of your life, no matter where you decide to go.
And, no matter what you do, the University of Cumbria is here to support you. Upon graduation, you become a member of the alumni association, keeping you connected to Cumbria and each other.
Find out everything you need to know and do in the lead up to graduation.
Essential Information
Key Dates
The summer graduation ceremonies 2022 will take place in the week commencing Monday 18 July. For those graduating in November 2022, dates will be announced soon.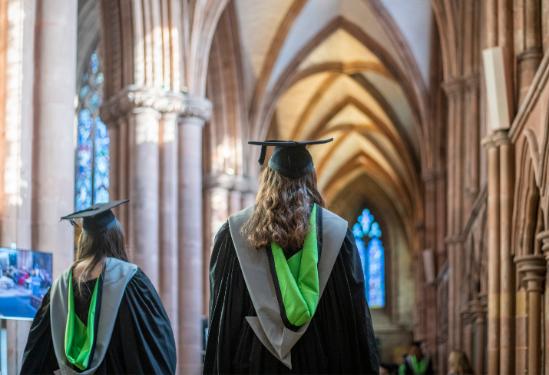 Tickets
Graduating students need to only book tickets for their guests. This can be done via ICON from 25 May to 8 June for the July 2022 ceremony. Students can book tickets for two venues, including Carlisle Cathedral, where guests will be in attendance of the live ceremony, and Tullie House, where guests can watch a live stream of the event from down the road.
After the deadline, the booking system will close, and you will not be able to register your attendance.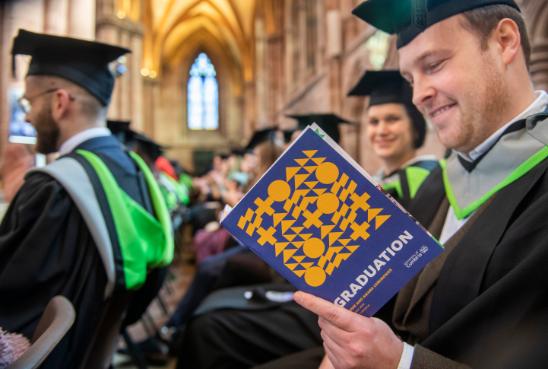 Invitations for graduation will be sent via email. Students may book through ICON at the same time as booking guest tickets.
Next ceremony deadline: 8 June 2022.
Find out more about non-attendance on our booking information page.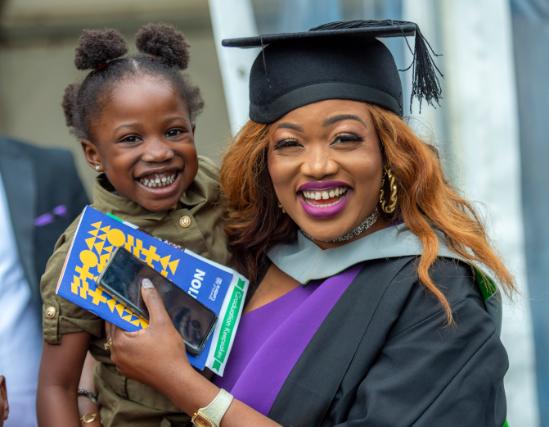 Gown Hire
Graduation is a special occasion, an exciting occasion marking your achievement at the University of Cumbria. For the event, students are required to wear full academic dress, including the gown, hood, and mortarboard.
Gowns can be hired from our supplier, Ede & Ravenscroft at least 21 days before your ceremony.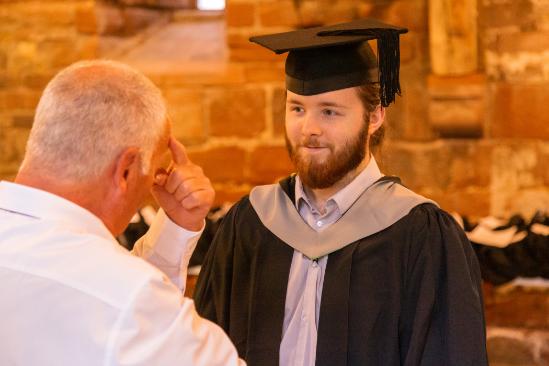 On the Day
You will start your day by collecting your tickets and gown from the Fratry. Following this, graduates will line up and march through Carlisle centre, arriving at Carlisle Cathedral for a ceremony commemorating your achievements.
The schedule for your graduation day will be published one month in advance.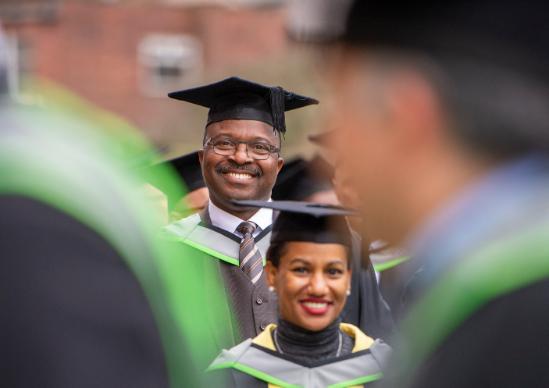 Photography
Following the graduation ceremony you will have the opportunity to have professional photography captured by Ede & Ravenscroft. These will take place in the Crown & Mitre Hotel.
We recommend you book your photographs at least 10 days before the ceremony.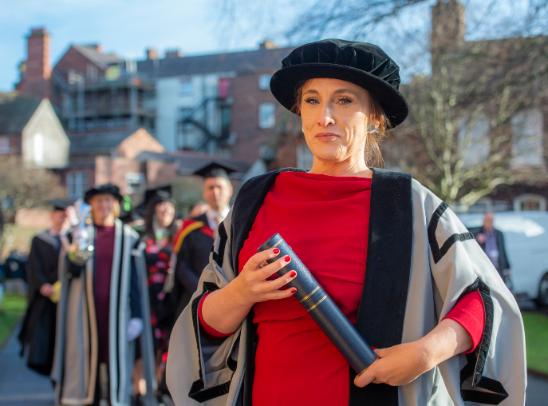 Accessibility
When booking your place online, we ask that you please indicate if you or your guests have any accessibility requirements. Our team will be in touch to discuss support for mobility aids, visual and hearing impairments.
Find out more about requesting accommodations on MyCumbria.
Frequently Asked Questions
How do I know if I am eligible to graduate?
Can my family attend from abroad?
How do I get to Carlisle?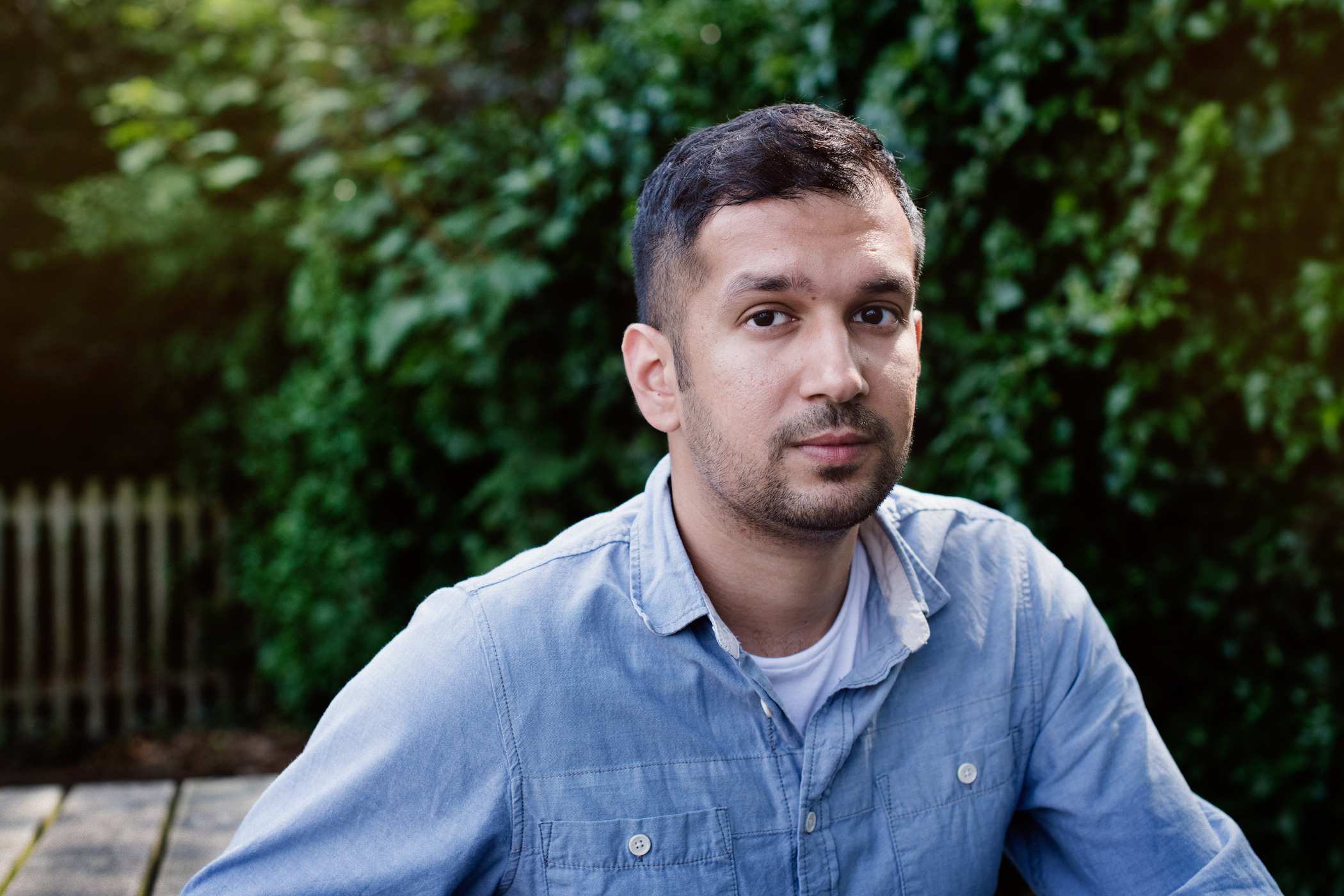 What Happens After Graduation?
You become a member of the University of Cumbria alumni community, a network of over 50,000 graduates worldwide, on graduation day and your relationship with us will continue for life. Our aim is to keep you connected to Cumbria and each other.
Join the Cumbria Network
You receive support from the careers and employability service for up to three years after graduation. Make appointments, book events and workshops, gain CV and application feedback and search the online jobs board.
Activate your graduate account on My Career Enriched
Continue your studies, eligible graduates could receive up to 20% discount on taught courses.
Browse our range of postgraduate courses
Experience Carlisle

Carlisle Cathedral

The jewel of the Northwest, Carlisle Cathedral sits in the city centre. Celebrating its 900th anniversary in 2022, the stunning architecture will be host to numerous degree award ceremonies in April, July, and November.

Across the grounds, graduates will find the Fratry where the day will begin.


Discover Carlisle Cathedral
Carousel skipped
Celebrate Your Achievements