Make an impact collaborating with us at the home of change-makers
Exploring, researching, discovering and protecting is what we do. Ensuring you learn from experts, preparing you for accelerated career prospects and a future to be proud of and enjoy. World-renowned research. A progressive approach to placements. With all this and more, there has never been a better time to join us.
This is the home of science, conservation, forestry, and outdoor studies. If you have a curiosity about the natural world, wish to pursue a career in science, or spend your future working in the great outdoors - we have some ideal course options to get you started.
Based at our Ambleside (Lake District) and Carlisle (Fusehill Street) campuses, our courses in Science and the Environment take advantage of excellent facilities and locations. Explore and study a diverse environment with unique habitats, wildlife, and flora.
More than just a degree, we prepare you for your future career. 96% of our graduates are in work or further training within six months of graduating (HESA, 2020).
Choose Your Pathway
Use left/right arrows to navigate tabs
Stay Focused. Go Far.
I had an amazing opportunity to take part in a two-week field trip with the university. This allowed me to gain some hands-on skills working with a self-led project in small groups. I chose to work with aquatic vertebrates and see if fisheries are sustainable. This further ignited my passion for marine conservation and along with the previous experiences allowed me to realise

I feel that my course has opened up a wide range of areas to specialise in both within forensics and the greater scientific field...During the first year, I set up and chaired the forensic science society. We organised talks from people in the industry such as DigTrace that improves upon footwear analysis, social events and trips to museums.

)">
I really liked the professional feel of the programme and the lecturers. The three years I spent at the University of Cumbria were great! During the course I was able to find paid opportunities in international youth expedition leadership and led expeditions to Cambodia and Borneo.
)">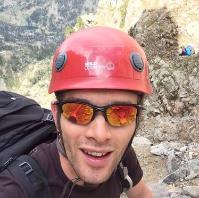 Andy Eccles, Outdoor Leadership
Our Locations

Fusehill Street, Carlisle

Fusehill Street is our home of innovation, a place where students of science have access to high-end lab facilities. This campus is only a short drive away from the beautiful Lake District, where you will discover stunning landscapes and research plant life.


Discover Fusehill Street

Our Locations

Ambleside, the Lake District

Nestled in the heart of The Lake District National Park, our Ambleside Campus is the only university campus in the uk located in a UNESCO World Heritage site.



Studying here, you'll get unrivalled access to 912 square kilometres of stunning landscape - with more than 150 high peaks, 52 lakes and tarns with unique habitats and wildlife to discover. a spectacular landscape shaped through the endeavour of humankind over thousands of years.


Discover Ambleside
Carousel skipped