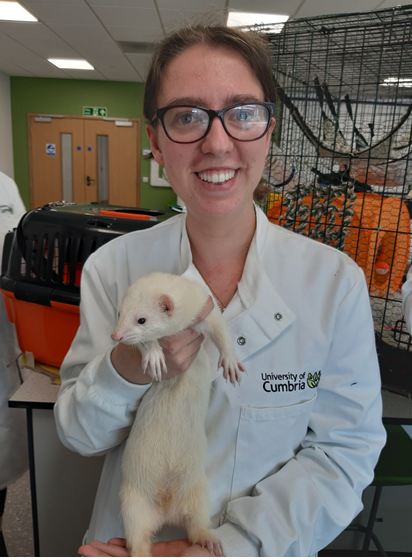 Sophie Babbs
BSc (Hons) Zoology
Hi, my name is Sophie Babbs and I have just graduated with a first class BSc (Hons) Zoology degree with integrated foundation year at the University of Cumbria.
Why Zoology? Is Zoology a good course?
My passion for wanting to help animals in one way or another was ignited when I started volunteering in a rescue centre as a teenager. Then during college, I got the opportunity to go on a two week animal conservation trip to South Africa. Part of this trip was completing a Padi Scuba-diving course. Looking at wild marine animals that are unseen to most people was such a magical feeling. This trip and my prior experience made me realise that I want to pursue a career in animal conservation. So for these reasons I decided to apply for a Zoology course. I knew it would give me a strong and diverse breadth and have the opportunity to work with a range of species in the future.
Why Cumbria?
One of the main reasons I chose the University of Cumbria was due to the gorgeous location. Carlisle has great transport links with the Lake District, Cumbrian coast, Scotland. Within Carlisle itself there are Bitts and Richmond parks, and the rivers Eden, Petteril, and Caldew. All of these allowed me to complete many projects and gain experience, such as river surveys, and mapping a conservation area. The course also offered lots of hands-on experience with lab practicals and field trips, all of which allowed me to gain vital skills and knowledge which can be applied throughout my career.
Another reason I chose the University of Cumbria was due to the compact size of the university, which was the main reason that drew me to the university in the first place. This meant that the class sizes were small, and I got more one on one help from the lecturers when it was needed, which was excellent. This also meant that it helped me gain a much higher quality degree, than I would have if I was at a larger university.
Building up my skills at the University of Cumbria
During my second year, I had an amazing opportunity to take part in a two-week field trip with the university. This allowed me to gain some hands-on skills working with a self-led project in small groups. I chose to work with aquatic vertebrates and see if fisheries are sustainable. This further ignited my passion for marine conservation and along with the previous experiences allowed me to realise I want to pursue a career in marine biology and conservation in the future.
I have also independently volunteered* in a few other countries, Borneo and Belize to develop my skill-set, knowledge, and experience where possible. These helped me to explore a range of other conservation areas and experience things I would not normally have been able to experience which was a magnificent feeling. It also solidified that conservation was definitely what I wanted to go into.
With this future career path in mind, I decided to complete my dissertation research at the Lake District Coast Aquarium, on thornback rays, which helped me to gain more knowledge for the specific area I am wanting to go into. This was a great opportunity to have with the help of the university, and I am honoured to have the chance to work with them.
What to do with a Zoology degree?
All of this knowledge I have learnt throughout my BSc Zoology degree is transferable to my future career in marine biology and conservation. From the following November I start an internship with Sharklab Malta, for 6-months, before I apply for a MSc in a marine biology and conservation related subject. All of this would not have been possible if I had not gone to the University of Cumbria, which has paved the way for an excellent career.
Visit our Zoology programmes in the Institute of Science and Environment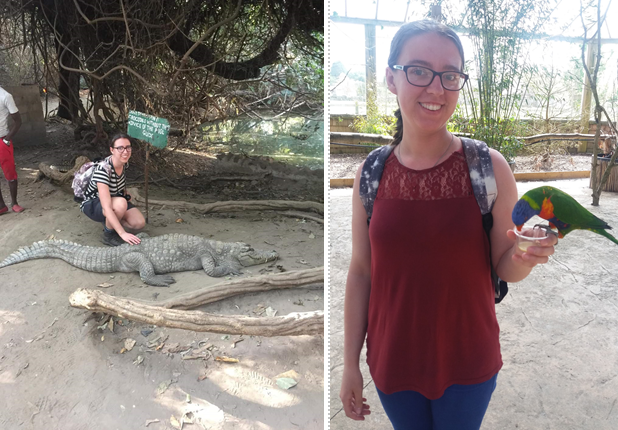 Sophie with a crocodile and an exotic bird

<![endif]-->