Where Beauty Inspires Brilliance
Nestled in the heart of The Lake District National Park, our Ambleside Campus is the only university campus in the UK located in a UNESCO World Heritage site.
Studying here, you'll get unrivalled access to 912 square kilometres of stunning landscape - with more than 150 high peaks, 52 lakes and tarns with unique habitats and wildlife to discover. A spectacular landscape shaped through the endeavour of humankind over thousands of years.
We have some exciting and unique facilities on campus, including our own bouldering wall, impressive science labs, and an equipment hire department for hiking, mountaineering, sailing, kayaking, canoeing, and climbing. after a day of learning, action, or adventure, the SU bar, "The Struggle", is the perfect place to meet friends and catch up on Lake District life.
Our compact and friendly campus is just a short walk away from Ambleside town centre and a short bus ride away from iconic towns like Grasmere, Keswick, and Windermere with great restaurants, quirky bars, and top Lake District attractions to discover.
Be inspired. Be adventurous. Become part of a vibrant, exciting community here at the University of Cumbria in Ambleside.
Take a tour of our Ambleside university campus
Take a look around our Ambleside campus from the comfort of your own home. Venture through the storehouse, defeat the bouldering wall, and grab a virtual bite to eat at The Barn café.
A walk through our Ambleside campus
Use left/right arrows to navigate tabs
Fantastic facilities at the foot of the fells
The Ambleside campus is a place of inspiration, our teaching buildings are named after the people and places that have shaped what we do best.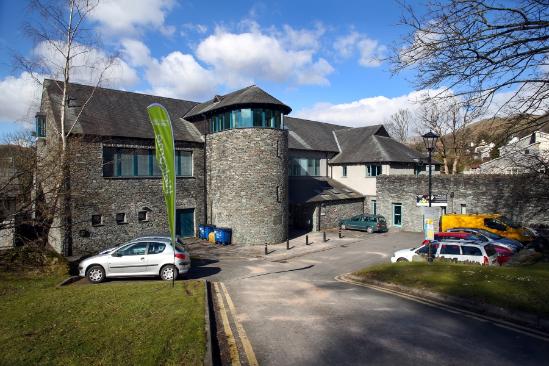 The Library
Ambleside has a fantastic flexible learning space based in the Barn Library with additional study space in the nearby Charlotte Mason Building.
Find out more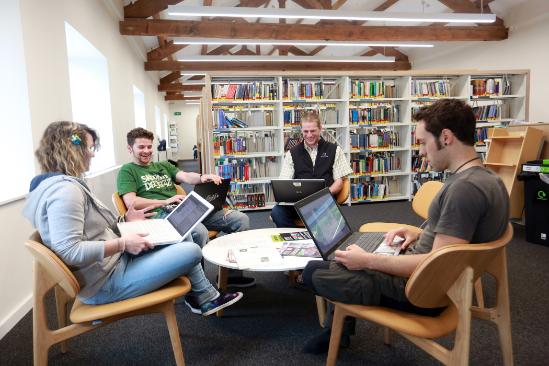 Ambleside Student Union
The Ambleside Students' Union is at the heart of our campus, organising a range of events that help you meet new people, develop your interests, and make the most of your student life. From Freshers' week right through to Graduation, they're here to support your growth as you explore the natural beauty and community here in the Lake District.
Find out more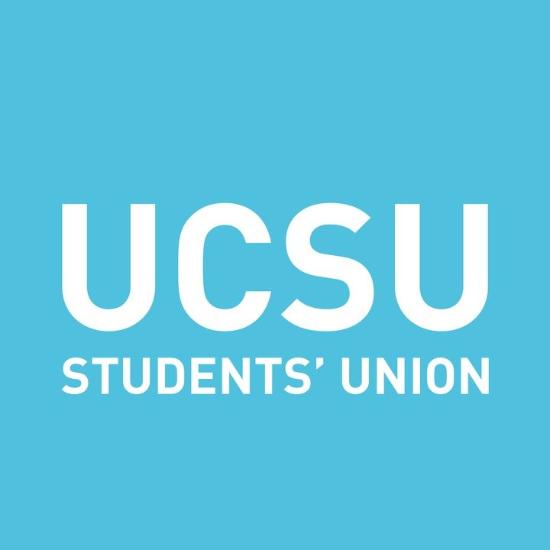 The Struggle
Named 'The Struggle' after the iconic Kirkstone Pass, a short stretch from campus famously known for its steepness, reaching this bar is the perfect end-of-day challenge for adventurers. Race your friends to the top and then relax in a space dedicated to student socials and affordable drinks.
Find out more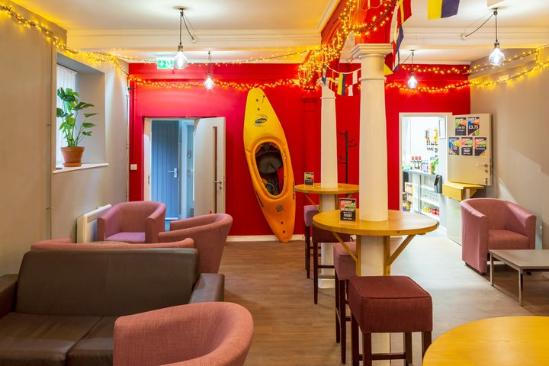 The Barn
Located at the centre of our campus, The Barn is the perfect place to warm yourself up after a fun adventure. Serving a range of hot and cold drinks, snacks, and meals, The Barn's light, peaceful atmosphere is ideal for studying or relaxing.
Find out more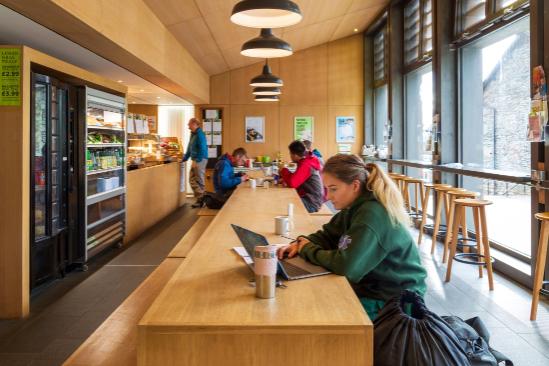 Stockghll Gym
Looking for an indoor workout? Our very own on-campus gym is an affordable price for all students with all the equipment you'll need to get fit for the Fells.
For more indoor adventures, our campus benefits from having its very own rock climbing wall. Fitted with crash mats, you will find staff and students demonstrating their skills, practising new climbing techniques, and teaching each other the ways of the wall. Societies and students are welcome to book the Bouldering Wall to use in their leisure time.
Find out more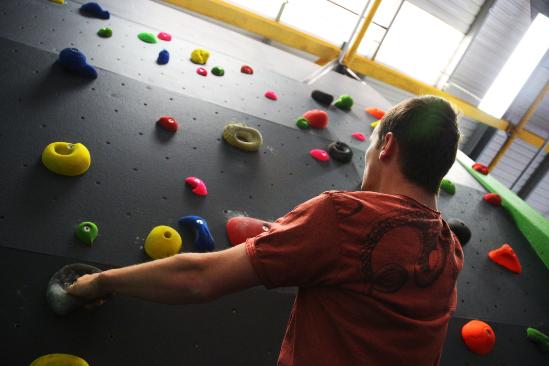 Nature Reserve
The Ambleside Campus Nature Reserve sits behind our halls of residence on Rydal Road. It comes from a collaboration between the student-led Biodiversity on Campus Group and the Ambleside Campus Management team.
Together, they have crafted a management plan to aid in the development of the Nature Reserve. There are plans for interpretation, habitat creation, and improved accessibility so that the space may serve as a wonderful resource for our Institute of Science and Environment students and an oasis for all to enjoy.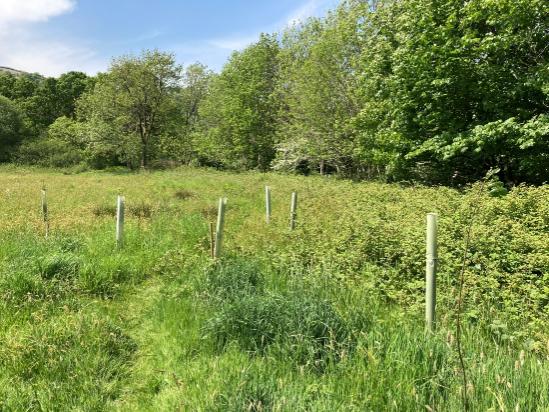 Facilities For Hire
Low Nook has been recently refurbished as part of the Growth Hub development and offers a mix of long-term office space, hot-desking, and business incubation space.
The Beehive can be used for lectures, networking events, receptions, meetings, hot-desking, and much more.
The Barn Cafe offers great catering facilities and a place to meet contacts for informal meetings.
The Percival Lecture Theatre can be used for large conferences, lectures, and presentations.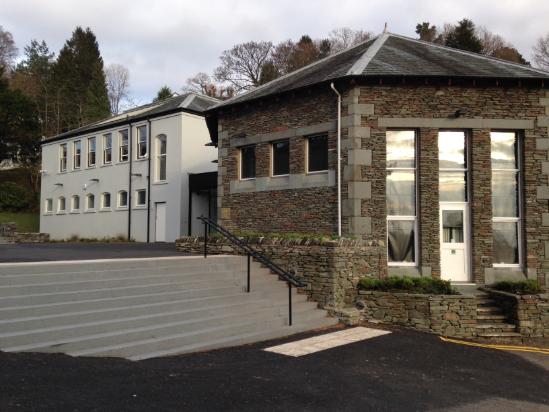 Three reasons why we love our Ambleside campus
We are the largest provider of outdoor study degrees in the whole of the UK. The choice of courses we have, backed by outdoor expertise and partners who all share our passion to live, love, and protect the great outdoors provides a fantastic platform for so many careers.
The outdoors might be spectacular but indoors our student accommodation is the perfect place to unwind, with modern open-plan living spaces next door to our campus. We have invested millions of pounds into building accommodation students can call home.
The Lake District National Park is a place where the world stops to take a breath. Beautiful scenery, fresh air, the deepest lakes, highest mountains, and longest coastlines. We are so lucky to call it our home.
Discover our lake district-based courses
THE ADVENTURE CONTINUES: Rhiannon Pritchard
The location of the course I was interested in was a big draw, studying in the beautiful Lake District National Park allowed me access to my hobbies such as climbing, walking, kayaking etc, thus allowing me to gain valuable experience for qualifications such as mountain leader award, single pitch award and local cave leader. All of this whilst achieving a degree…what more could you want?

Rhiannon Pritchard, Outdoor Leadership Graduate

Rhiannon, from South Wales, worked as an activity instructor around the UK and France before coming to university.
Where to find our Ambleside campus
University of Cumbria
The Barn, Rydal Road,
Ambleside,
Cumbria
LA22 9BB
Discover our other campuses