A Place Where Creatives Teach Creatives
To the creators, entertainers, rule breakers and change-markers, this is your home, your campus, your place of discovery.
Sitting right on top of Hadrian's Wall and surrounded by beautiful parkland and rolling green lawns, our Brampton Road Campus is full of history, and buzzing with excitement, creativity and the sense of endless possibility.
Fully dedicated and equipped for everything arts and culture, Brampton Road is home to our Institute of Arts. Located minutes away from the sights and sounds of Carlisle city centre, it's also a train ride away from the stunning English Lake District, another UNESCO World Heritage Site.
Studying here you'll be part of a community of like-minded creatives exploring, teaching and refining their natural talents. From fine artists, performers, producers, and illustrators to filmmakers, graphic designers, photographers and games designers, whatever your ambition, we've got your back. Follow the path of our Graduates and you too can become a Pixar or Disney animator, BBC producer, Conde Nast designer, TV presenter or award-winning artist.
Step into the vibrant world of culture, exploration, challenge, and excitement. This is where your passion becomes your career.
Take a tour of our Brampton Road campus
A campus full of creatives inspired by the historic city of Carlisle. Take a tour of our art studios, media suites, and all the facilities you could want or need.
A Walk Through Brampton Road Campus
Open Space, Open Mind
Home to our Graphic Design and Illustration Studio, this open plan space is at the very heart of our Brampton Road Campus. Each Graphic Design and Illustration student is allocated their own workspace, which they can personalise and work in throughout the year. There are also hotdesks available for anyone studying or working on campus.
To the sides of this studio, you will find our art supplies shop and Reprographics Department.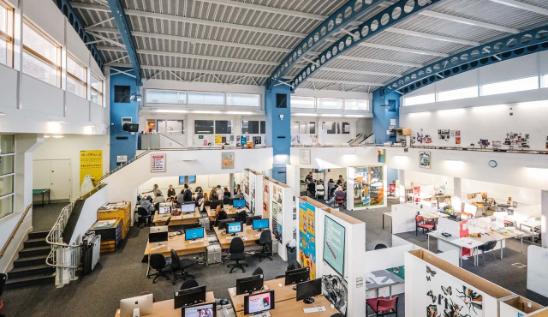 Fine Art Studios & Workshops
Alongside a live drawing studio and an array of workshops, our fine art students enjoy access to a dedicated studio where each student is allocated their own workspace. Bright and open plan, this space works as a blank canvas for our artists and it is set up so that their creativity may run free.
Our professional-standard workshops are fully equipped and available to all students studying at Brampton Road. They include 3D printing; a ceramic studio; woodwork workshop; a metal workshop; and a stitched textiles and print-making workshop.
In each workshop, you will find our technicians who are always on hand to train and support with the use of equipment.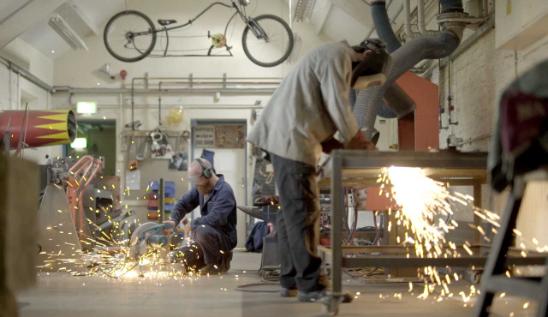 Stanwix Theatre
Just off The Refectory Cafe in the heart of our campus, our award-nominated Stanwix Theatre boasts two fully equipped, purpose-built performance spaces.
This is the premier venue for all our Performing Arts courses at the University of Cumbria and runs as a professional theatre, attracting external productions and directors from around the world.
Find out more
Vallum Gallery
Opened by globally acclaimed artist and former student Conrad Atkinson, our Vallum Gallery is home to a number of in-house and external exhibitions each year.
As a student, you may see your work displayed on the walls of this gallery while you study with us.
Find out more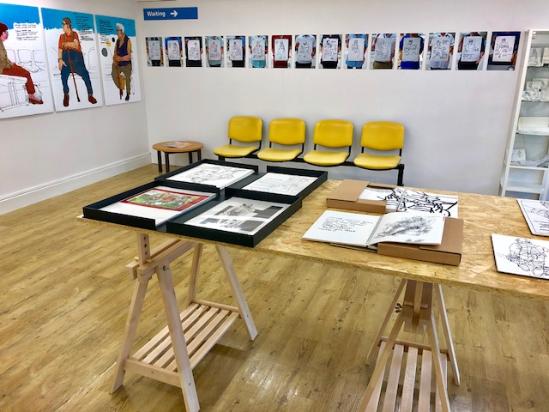 Games Design Labs
For our Games Design students, we have three Games Design Labs, each equipped with high-end PCs and industry-standard software including the Unreal Games Engine, Substance Painter for texturing and 3ds Max for 3D modelling. Here, you will find technicians and lecturers on hand to support you when using the specialised hardware and software.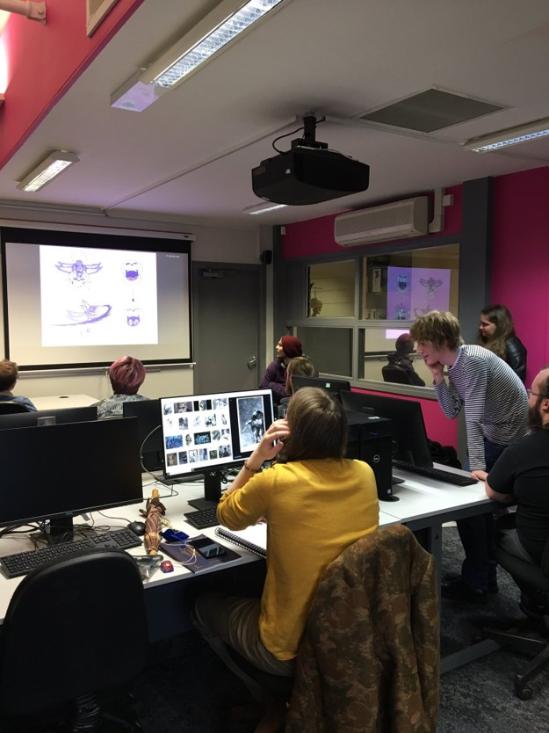 Photography Darkroom and Studios
For Photography and Media students, Brampton Road is home to a state-of-the-art black and white darkroom, a Colenta colour processor, and three shooting studios fully equipped with backdrops and lighting. We also boast a dedicated professional photography print room where computers are highly calibrated for colour.
When using these spaces, you will find our photography technicians are always on hand to help and support you when using the equipment.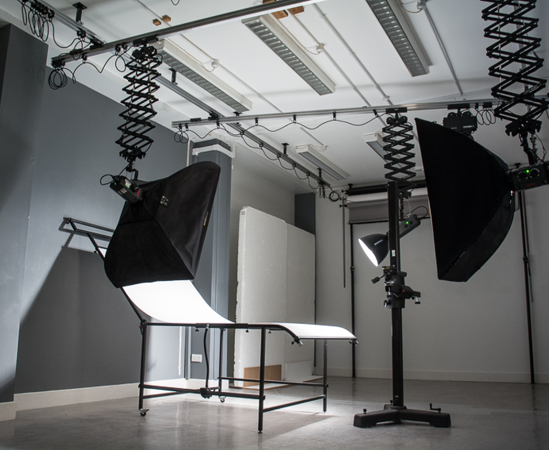 Media Suite, TV Studio and AV Department
Our Wildlife Media and Film and TV students have access to the Media Suite, TV Studio, and our AV (Audio Visual) Department. Students can book and use everything, from the studios to high-quality cameras, drones to lights, and microphones.
Our Media Arts Department also boasts a Mobile Broadcasting Studio with the capability to broadcast worldwide.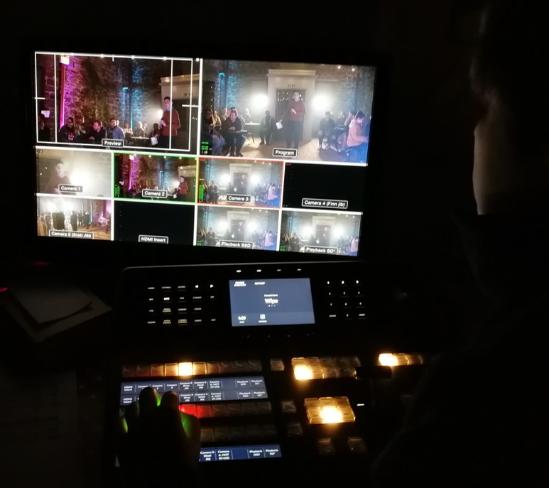 The Library
A key paragraph of copy for each section. With or without links depending on resource as the page develops sub page content over the next few months.
A key paragraph of copy for each section. With or without links depending on resource as the page develops sub page content over the next few months.
Three Reasons Why We Love Brampton Road
From Photography and TV, to Fine and Performing Art, our facilities at Brampton Road are incredible spaces, designed to encourage freedom of expression, whatever your chosen artistic discipline. All our fantastic workshops, studios, and stages are open to all of our students regardless of their course.
From drones and cameras to computers, printing, and machinery, our students have access to an array of equipment and software. Our campus is fully equipped to help you explore your artistic voice.
The Brampton Road Campus overlooks the beautiful River Eden in Carlisle and is surrounded by parkland. We're only a short walk away from Carlisle city centre, a vibrant place by day and lively by night, and a short trip away from the English Lake District, one of the most beautiful places in the UK. It's so beautiful that it has inspired the works of famous artists, poets, writers, and musicians.
Exciting Courses, Unique Facilities
Why Our Students Love It Here
I chose to come to Cumbria because I have been visiting the Lake District all my life with my family and I love the area. I can get out into the Lakes and film or do some photography of the beautiful landscapes...everything is accessible and you don't have to wait for ages. That appealed to me most because you get to know the tutors and other students well and aren't treated like a "number".

Natalie Boyne, BA (Hons) Film and Television
Where to find our Brampton Road campus
University of Cumbria
Brampton Road,
Carlisle,
Cumbria
CA3 9AW