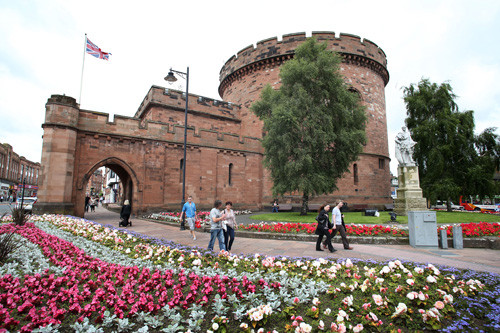 Get Involved
Love the idea of getting involved in local traditions, discovering seasonal events, and getting stuck into everything that Cumbria and Carlisle have to offer? If you're serious about getting immersed in the Cumbrian culture, taking a look at the range of events, festivals, and hobbies on offer is the perfect way to really feel at home and make Carlisle your own.
Stick these in your calendar
Carlisle's rich and vibrant culture is filled with special events and local traditions. The Ireby Music Festival is a popular live music event, held every May in the village of Ireby just 18 miles outside of Carlisle – ideal for a day out soaking up the sun. In June, the Cumberland County Show is the perfect example of a country event, with dog shows, vintage vehicles, livestock, and plenty of locally sourced food and entertainment to enjoy.

A popular choice for many students, the Carlisle Food Fest in July hosts cuisine from all over the world. Plus (there may even be some celebrity chefs in attendance)! In November, the Carlisle Fireshow is another showstopper with a 30-foot bonfire, a fairground, and an incredible fireworks display. November is also home to the popular Beer Festival, which takes place in the city centre and celebrates local breweries in the best way possible – by drinking, eating, and enjoying live music. What's not to love? And of course, in November you also have the Christmas Light Switch On.
Get stuck in with local clubs
Whether you already have a hobby you love or you're looking to pick up something new, Carlisle has got you covered. There are plenty of social groups and hobbyists in the area looking for new members. From book and film clubs to walking and hiking groups, climbing and abseiling clubs to a local LGBTQ+ meetup and plenty of athletics-themed clubs, there's a lot to discover in Carlisle.

Don't see something you love? No problem. You can join the long list of students who have formed their own groups on campus. Whether you love D&D or are a big fan of fantasy novels, are really into knitting, or just looking to make a difference, there are plenty of new things to try!
What are the local traditions?
Creativity is at the heart of Carlisle's history. Thanks to the beautiful Cumbrian landscape, there are centuries of traditions surrounding poetry, artwork, jewellery, and music. If you're passionate about being part of a creative community, then Cumbria is an excellent choice. In particular, Carlisle is well-known for its food, drinks, and its incredible year-round events.

As for food traditions, there are some things you simply must try in order to have the true Cumbria experience. Cumberland sausages are high on the list, followed by Grasmere Gingerbread, Kendal Mint Cake, Damson Gin, and a locally crafted ale - all of which are worth a try, although we doubt you'll be able to resist going in for seconds.

As a varied and cultural place to live, Carlisle is a unique city with hundreds of opportunities waiting for you. Whether you're all about live music events or you prefer to find like-minded fitness enthusiasts, the surrounding areas of our Fusehill Street and Brampton Road campuses have plenty to offer. But don't take our word for it, come and discover for yourself by applying to one of our Carlisle-based courses.
Want to find out more?
You are ready to take that next step. Ready to make that life-changing decision and work towards your career goals. By downloading our prospectus you will have the world at your fingertips.

You can browse our 100+ unique course options and have access to finance and support information to get you started. Discover all of the courses available to you from Arts to Zoology – we're excited to see what you choose.