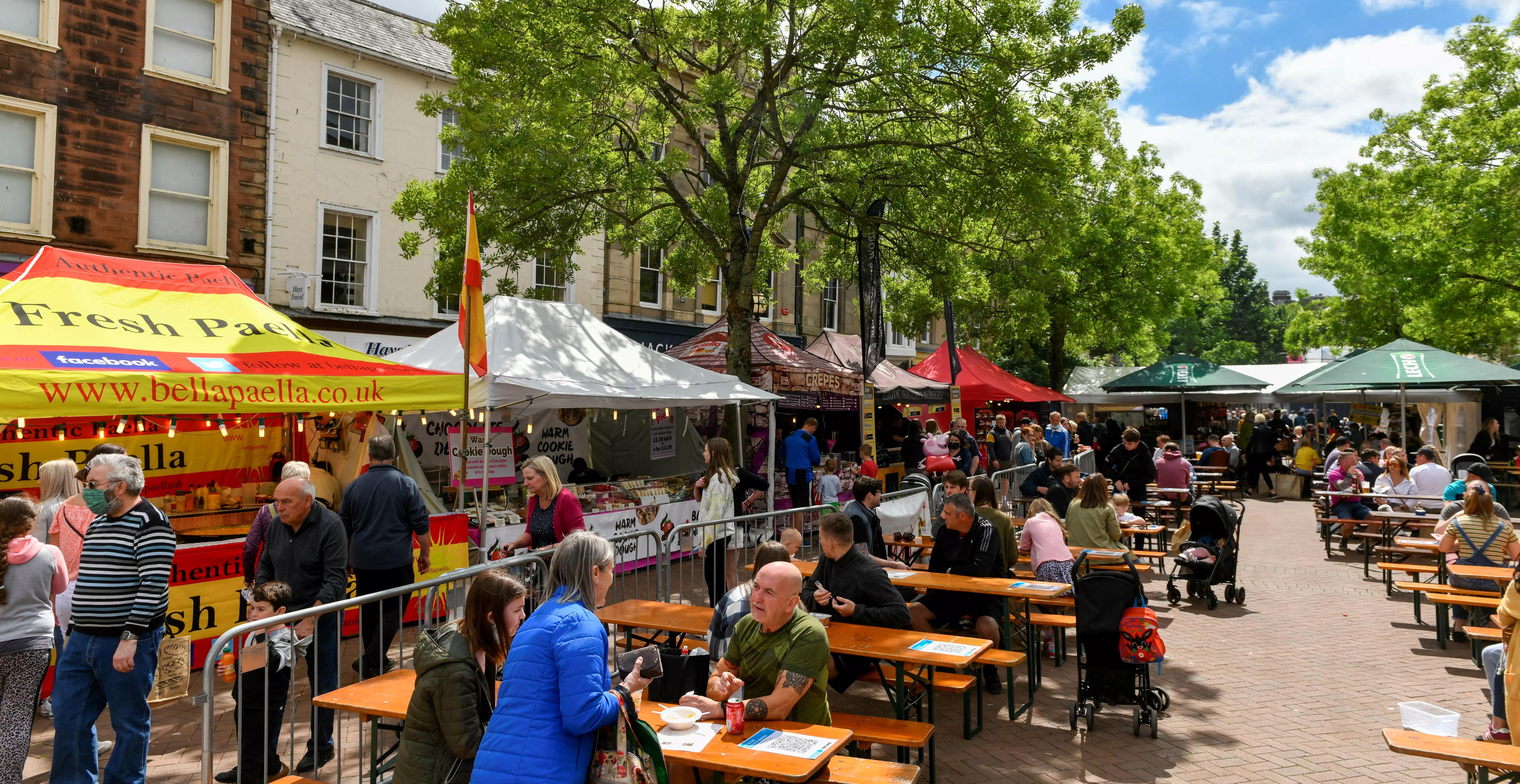 If you're all about getting out into the community, discovering local gems, and connecting with Carlisle's rich culture and history, here are just some of the things you can expect when you join us at either one of our Carlisle campuses:
Get Out and About
Located just a short distance from Carlisle's city centre, both our Fusehill St and Brampton Road campuses allow you to make the most of everything Carlisle has to offer, from cultural fun to incredible food and great nights out. If you're looking for a vibrant day and nightlife that is catered to students, then Carlisle is the place to be.
What's Nearby?
If you're interested in all things old-school, Carlisle's Historic Quarter might be the perfect option for you to explore. With Carlisle Castle, Carlisle Cathedral, Cumbria's Museum of Military Life and Tullie House Museum and Art Gallery all within walking distance of the city centre, you can soak in all the area's fascinating history. And if you love history, you will be thrilled to know that the historic Hadrian's Wall, a UNESCO World Heritage gem also known as the Roman Wall and the line of the Vallum, goes right through our Brampton Road campus! You can't see it from the surface, but it was excavated a few years ago and several artefacts were discovered. This is why our campus-based art gallery is called the 'Vallum Gallery' and our theatre is named the 'Stanwix Theatre'.
If you're a fan of the Arts, you have two treats just on your doorstep at our Brampton Road dedicated art campus. Our Stanwix Theatre produces and showcases over 100 performances a year by our Performing Arts students as well as professional touring companies and events; and our Vallum Gallery hosts several shows a year, including our very own Degree and MA shows. Nearby, The Old Fire Station is an excellent choice for live music and comedy nights; and The Sands Centre is another great spot to catch the latest musical, dance and theatre performances, and even pantomimes.
If shopping is more your thing, Carlisle's pedestrianised city centre, as well as the Lanes Shopping Centre, are home to a wonderful array of high-street and local, independent shops to explore and discover.
Interested in sports? Then Brunton Park, the home of Carlisle United, is just a few streets away from our Fusehill Street campus and is the best place to catch local games – as well as a range of seasonal events and activities throughout the year.
Where's good to eat?
Carlisle's rich selection of different cafes and restaurants, plus our on-campus options, offer plenty of choice for any foodie. From Greek to Indian, there are plenty of different options across Carlisle to try for yourself – and that's without getting into the incredible takeaways our students have discovered over the years.
Thin White Duke or The Old Bank are both excellent choices for proper pub grubs. Quarter Lounge is the place to be if you like grilled cuisine, and Coco Mills is the perfect place for brunching. They also offer a small but perfectly formed plant-based menu. Now, if coffee is your drink of choice, then Lanercost Tea Room located next to the tranquil Lanercost Priory offers light lunches and a delicious selection of cakes and sweet treats.
Where can I grab a drink?
If you're up for a night out, Carlisle is stuffed with traditional pubs and modern bars. There's always a new place to try – and with many bars and clubs offering live music, it might just be your best night out yet! Carlisle is well-known for its student nightlife, from grabbing a few drinks at the local bar or pub to heading home with cheesy chips and kebabs in hand.
Enjoy Carlisle's nightlife at The Lane Bar, Bar Solo, The Brickyard, or one of the countless other venues in Carlisle's centre.
Begin your adventure in the city of Carlisle. Book on an Open Day and apply to one of our Carlisle-based courses.
Want to find out more?
You are ready to take that next step. Ready to make that life-changing decision and work towards your career goals. By downloading our prospectus you will have the world at your fingertips.

You can browse our 100+ unique course options and have access to finance and support information to get you started. Discover all of the courses available to you from Arts to Zoology – we're excited to see what you choose.