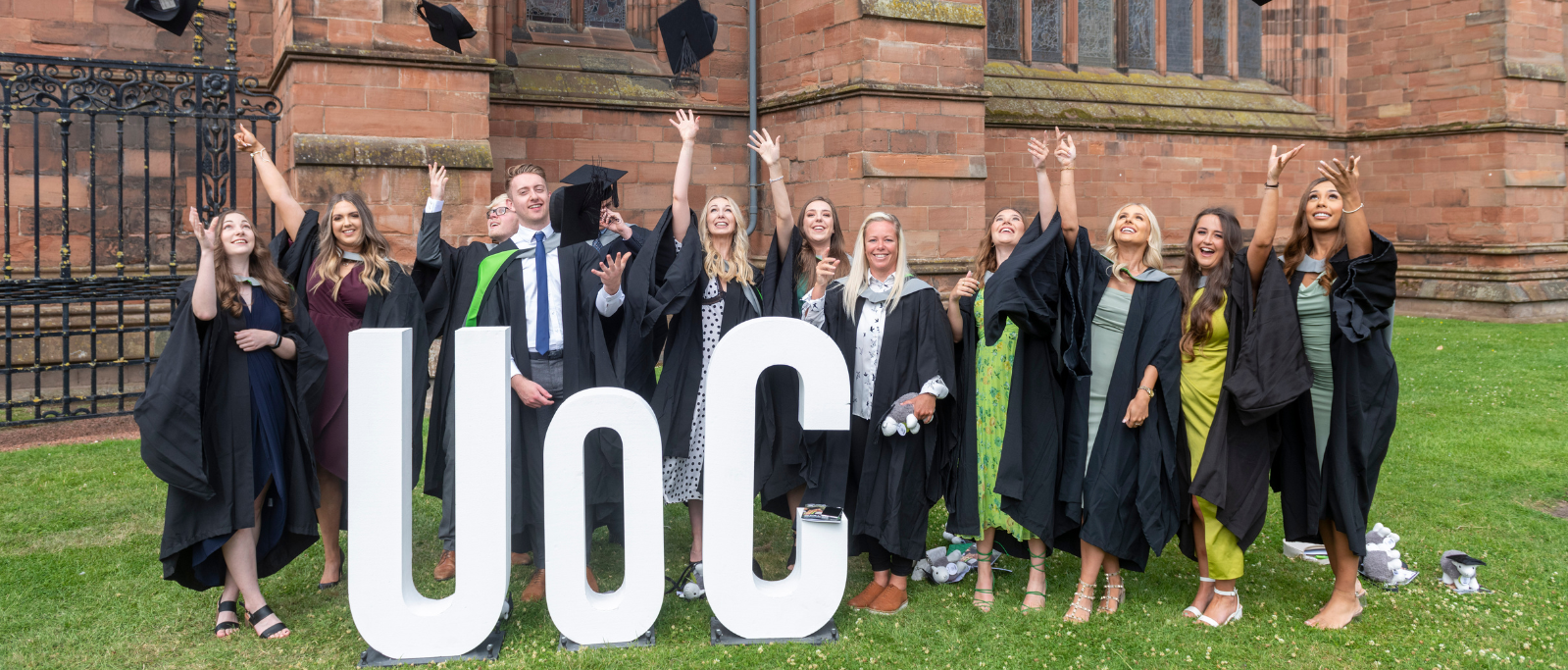 Catch up on the highlights, stories and considerable achievements of the class of 2022. Seven graduation ceremonies took place in glorious sunshine last month at Carlisle Cathedral, which saw us congratulating a total of 877 graduates.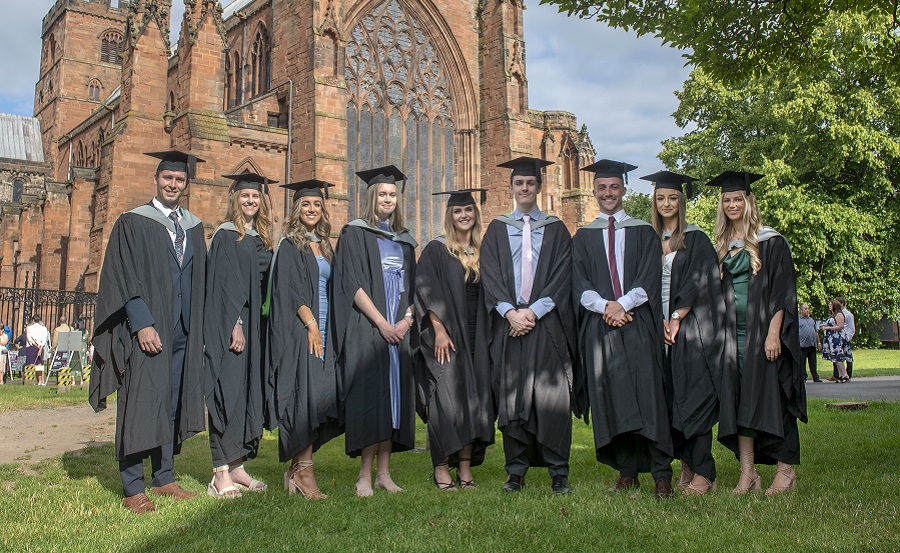 GRADUATION SUCCESS FOR FUTURE PROJECT MANAGERS
A cohort of Sellafield Ltd Project Management Degree Apprentices have graduated at Carlisle Cathedral.
These students are one of the first in the country to graduate with a Level 6 Integrated Degree in Project Management. The four-year degree apprenticeship is delivered in collaboration with the University of Cumbria.
During this time, they have completed a number of professional qualifications and training courses, such as the Association for Project Management - Project Management Qualification (APM PMQ). Their apprenticeship has involved a combination of academic learning and practical project experience across Sellafield Ltd.
Placements have taken place across the project professions including construction, commissioning and pre-operations, risk, project controls and project management.
The final stage of their apprenticeship was successful completion at the end point assessment which consists of a professional discussion and a work based project report.
Read the full story and watch our video of Simon Wittridge, Head of Project Capabilities, Sellafield Ltd congratulating the graduates HERE.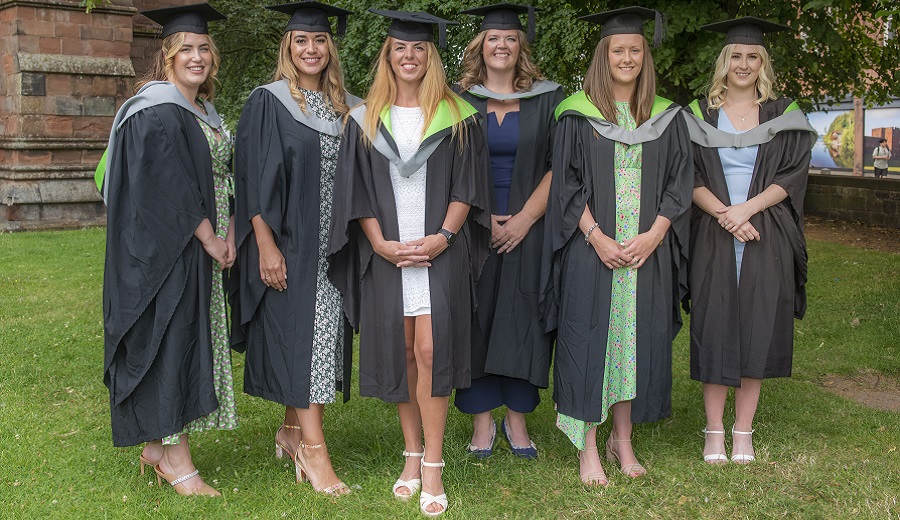 GRADUATION FOR PIONEERING NURSING APPRENTICES
The first students to complete a pioneering university-level apprenticeship to qualify as registered nurses are celebrating their graduations. 
As part of the drive to address the national shortage for nurses, the University of Cumbria and the University Hospitals of Morecambe Bay NHS Trust co-designed the four-year Registered Nursing Degree Apprenticeship that was the first course of its kind in the country when it was launched in 2018. 
Now the newly qualified nurses have been among the 800-plus University of Cumbria graduands to converge on Carlisle Cathedral for graduation ceremonies.
Read the full story and watch our video HERE of Cherish Otoo who was named Most Inspirational Student by the university's Institute of Health and Cherish was also the recipient of the university's Spirit of Cumbria award. This is given by the university to those current graduands who exemplify its values in being Progressive, Personal and Engaged and who are exceptional role models.

14-HOUR DASH FROM GERMANY TO MAKE GRADUATION
When her flight from Germany to the UK was grounded, there was no other option for Rena Bijman who did not want to miss her university graduation after achieving a first-class honours degree.
Rena, who lives in Dusseldorf, jumped in a car and made a 14-hour journey through the night to reach her ceremony that was being held the following morning in Carlisle Cathedral in north Cumbria, only 10 miles from the England-Scotland border.
Traveling more than 600 miles in total, Rena, driven by her boyfriend Julian Spelsberg, crossed Belgium and made it to the UK via the Channel Tunnel before heading to north west England – making it to Carlisle with minutes to spare.
Read the full story and watch our video interview with Rena HERE.
GRADUATION CEREMONY VIDEOS
Our ceremonies were filmed and streamed live online for friends and family at home. The video recordings have now been saved to Youtube. Watch yourself and your friends HERE.
PROCESSION VIDEOS
We filmed each procession of graduates as they made their way into Carlisle Cathedral. Can you spot yourself or your friends? Click on the boxes below to go to the videos.
GRADUATE STAFF SHOUT-OUTS
We asked our graduates if they would like to give any of their lecturers or support staff a shout-out and a message, watch the video of our graduates thanking their favourite members of staff.
THE BEST OF GRADUATION GALLERY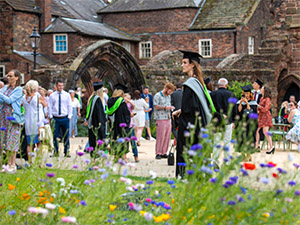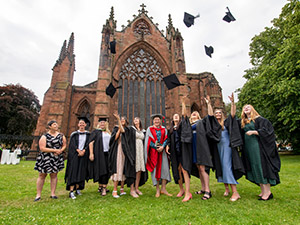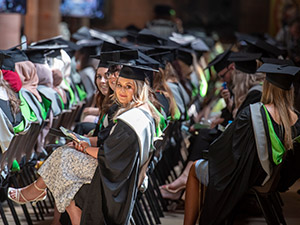 All the best photos from graduation week taken by our official university photographer can be found in the Cumbria Network. View them HERE.