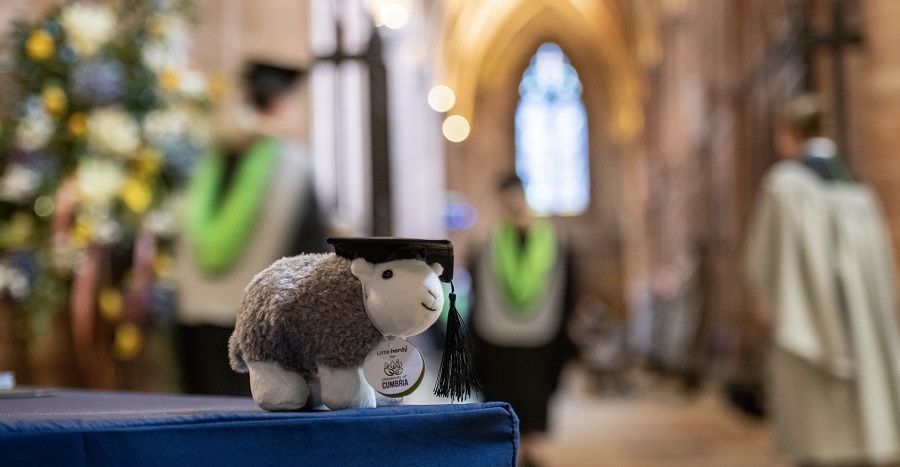 Catch up on the highlights, stories and considerable achievements of the class of 2022. Nine graduation ceremonies took place at the end of last month at Carlisle Cathedral, which saw us congratulating over 1,000 students.
Photo gallery - the best bits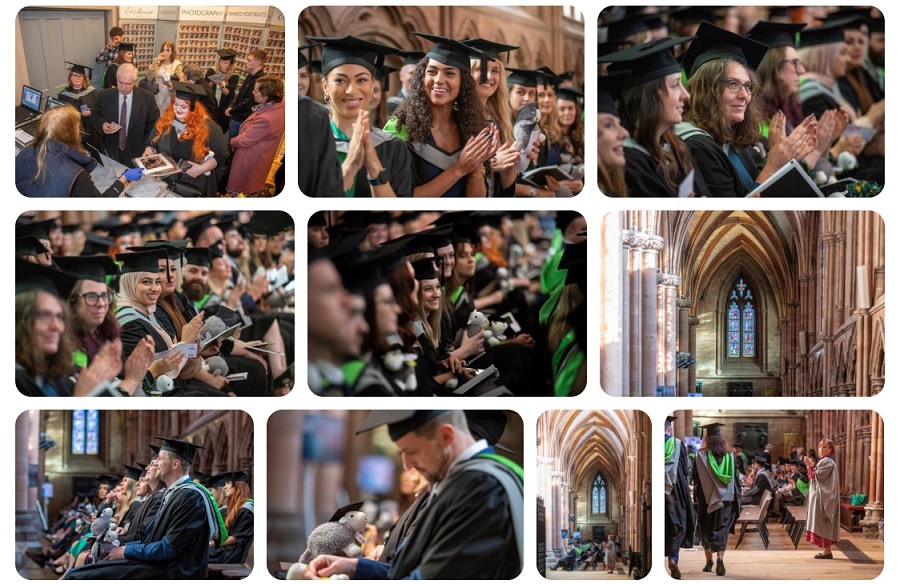 The very best bits of graduation week were captured by our official university photographer. You can see all the photos exclusively in the Cumbria Network. Register for your FREE account HERE, and you will find the full album containing 123 photos HERE, can you spot yourself and your friends?
Graduation procession videos
We filmed every procession as our graduands made their way into Carlisle Cathedral for their ceremonies. You can watch the processions here, click on the boxes below to go to the videos.
Mally Chung, alumnus and Honorary Fellow
TV & film production manager Mally Chung was made an Honorary Fellow of the University of Cumbria in 2012. Speaking here, he was among the guests at Carlisle Cathedral for the final day of our winter 2022 graduations supporting graduands.
Born and bred in Carlisle, where he lives with his family, Mally studied at the city campus which is home today to the University of Cumbria's Institute of Arts.
He works in locations around the world and has brought some of the biggest studios and creatives to Cumbria to film. From Star Wars to Bond and Doomsday to The Witcher, his resume has it all.
Watch to discover how he continues to work closely with the university, offering students past and present the opportunity to work in this creative industry and enjoy professional practice placements. Thank you Mally for your continued support.
Brian Higgins, Honorary Fellow
Award-winning music producer and songwriter Brian Higgins was made an Honorary Fellow of the University of Cumbria on 24 November 2022. It was bestowed upon him in recognition of his lifelong and outstanding contribution to the music industry. He has co-written and co-produced hits for artists including 'Believe' by Cher, and tunes for Kylie, Pet Shop Boys, Girls Aloud and many more.
Brian continued working towards his passion of having a career in the music industry whilst holding down a senior role at a publishing company. He only left his sales director role and became a producer full time once 'Believe' hit Number 1 in America.
In this message to graduands and students, Brian urges them to pursue their passions and to 'keep going'.
Read more about Brian here.
Professor Kath McCourt CBE FRCN, Honorary Doctorate
Inside Carlisle Cathedral's Border Regiment Chapel, Professor Kath McCourt CBE FRCN talks about being awarded an Honorary Doctorate by the University of Cumbria on 23 November 2022, for her outstanding global contribution to nursing, midwifery and education.
Read more about Kath here.
Marcia Reid Fotheringham, Honorary Fellow
Marcia was conferred as Honorary Fellow during our November graduation week due to her significant contribution to the public, cultural, community and charitable sectors in Cumbria.
Watch our video as Marcia shares her passion for Cumbria.
Read more about Marcia here.
Thank you! Graduations November 2022
Thank you to our partners and all those who have helped stage the University of Cumbria November 2022 graduations at Carlisle Cathedral between 22-24 November 2022.