Dr Raye Ng, PhD
Associate Professor of International Business
Institute of Business, Industry and Leadership
Business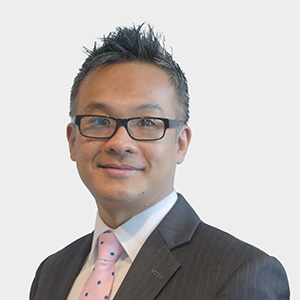 Biography
Dr. Raye Ng is Associate Professor of International Business. Raye has extensive experience in designing, validating, managing and delivering UK higher education programmes across the globe. Raye leads the Institute of Business, Industry and Leadership and advises across the University on Internationalisation of Curriculum.
He is a member of British Academy of Management, member of Academy of International Business, and Senior Fellow of Higher Education Academy.
Raye read BA (Hons) Financial Economics, MA in Geographies of Globalisation and Development, and PhD (Corporate Culture). Raye has a Postgraduate Certificate in E-Learning, and Postgraduate Certificate in Teaching and Learning in Higher Education.
His academic interests include:
International Business
Corporate Culture and Cross-Cultural Management
Chinese Economy and Society
Southeast Asian Economies
Internationalisation of Curriculum
Qualifications and memberships
PhD (University of Liverpool)
PGCert E-Learning
PGCert Teaching in Higher Education
MA in Geographies of Globalisation and Development
BA (Hons) Financial Economics
Senior Fellow of Higher Education Academy
Academic and research interests
Internationalisation of Curriculum
International Business
Corporate Culture
Cross-Cultural Management
Chinese Economy and Society
Southeast Asian Economies
Research supervision
Corporate Culture
Cross-Cultural Management
International Business
Publications
Ng, R. (2022) 'Engagement, Retention and Attainment of Widening Participation Students from Diverse Communities', Learning Teaching and Student Experience Conference Belfast, Chartered Association of Business School
Nazmul, MD., Ozuem, W., Bowen, G., Willis, M. and Ng, R. (2021) 'The moderating role of social enterprises in development of marketing strategies: Perceptions and Barriers', Sustainability, 13 (1)
Ng, R. (2021) 'Challenges and Opportunities of Creative, Innovative and Authentic Assessments for Lifelong Learning and Widening Participation student community', Teaching and Learning Conference 2021, British Academy of Management
Willis, M., Ozuem, W., Ng, R. (2020), 'Enhancing Online Brand Relationship Performance: Insights and Reflection', Ozuem O, Patten E, Azemi Y (eds) Harnessing Omni-Channel Marketing Strategies for Fashion and Luxury Brands, BrownWalker: Irvine
Ozuem, W., Willis, M. and Ng, R. (2020), 'Determinants of the characteristics of online brand communities and millennials: Towards a re-conceptualisation', American Marketing Association (AMA) Summer Conference 2020, San Francisco
Willis, M., Ng, R. and Chitran, V. (2019), 'The Relationship Between Custormer Participation and Online Brand Community and Consumer Loyalty', Interdisciplinary Journal of Economics and Business Law, Vol 9, pp 72 - 111
Ng, R. (2013), 'Entrepreneurship and International Students: learning to be structurally creative?', M. Bradley and M. Draycott (eds) Entrerpreneurship in UK Higher Education
Ng, R. (2011), 'International Business Etiquette', International Business Negotiations, chapter 12, E. Liu (ed), Beifang University Press, China
Ng, R. (2011), 'Cross-Cultural Management and Negotiation Modes', International Business Negotiations, chapter 13, E. Liu (ed), Beifang University Press, China
Ng, R. (2011), 'Researching International Business: The Qualitative Approach - Interviews and Participant Observations', Tan, H. P., (ed), Research-Based Teaching Design for International Business, chapter 15, Dalian Nationalities University Press, China
Tan, H. P. and Ng, R. (2011), 'Content and Language Integrated Teaching in International Business', Issues in English Language Teaching at Tertiary Level, The Hong Kong Polytechnic University
Ng, R. (2011), 'Reflection of qualitative methods in management studies research: auto-ethnography', The Academy of Marketing: Inquiry in Marketing Special Interest Group Symposium, Glyndwr University
Ng, R. (2011), 'Researching corporate culture in Singapore: positionality issues and multiple (re)presentations', Annual Symposium Ethnographic Research in the Social and Management Sciences: Ethnography: Theory, Form and Practice, Cardiff, UK
Ng, R. (2010), 'Chinese Capitalism and Globalisation', International Conference on Advanced Management Perspectives in Asia: Business and Management Issues in the Post Financial Crisis?, Xi'an Jiaotong- Liverpool University, Suzhou, China
Ng, R. (2007), 'Chinese capitalism in practice: case of the Lion City', Second Global Conference on Economic Geography, Beijing, China
Ng, R. (2007), 'Construction of Corporate Culture: The case of Singapore', Association of American Geographers Annual Conference, San Francisco, USA
Recent external roles
External Examiner: PhD, DBA, MBA