Gail Jefferson
Senior Lecturer/ Programme Lead 2017 intake
Institute of Health
Health and Wellbeing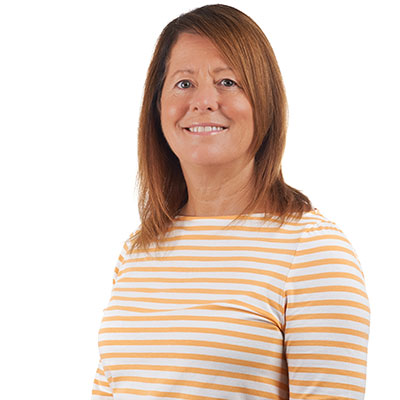 Biography
I am currently employed as Senior Lecturer for the Diagnostic Radiography Programme plus being Clinical Coordinator for all placement sites and Clinical Tutors. I am taking on the role of Programme Lead for the 2017 student intake with a new and exciting course. I primarily covering Medical Image Interpretation and Advanced Practice. I also teach anatomy via Radiology to Medical students at Lancaster University Medical School and provide in-house teaching at the Cumberland Infirmary for medics. I am employed as a Reporting Radiographer for North Cumbria Hospitals Trust and I also teach CPD for Health Practitioners externally.
I completed my PGD in Medical Image Interpretation and have been x-ray reporting for 19 years and am currently completing my dissertation for my MSc.
I got involved with Forensic Radiography early in my career due to the Lockerbie Air Crash and have remained actively interested and involved since then. I was a Founder member of the Northern Forensic Group which was then the Association of Forensic Radiographers. I remain the NW Forensic Radiography Coordinator for UKFRRT.
Qualifications and memberships
1986 - Diploma of the College of Radiographers
1987-1992 - Certificate of Competence in Mammography
1988-2003 - Post Graduate Diploma in Image Interpretation
Currently working on MSc dissertation
Member of the Society of Radiographers
Registered with HCPC (Health & Care Professions Council) RA28406
Academic and research interests
Radiographer reporting/Advanced Practice
Forensic Imaging
Excellence in Clinical Practice
Publications
2015 Clark's Positioning in Radiography 13E, CRC Press; A. Stewart Whitley, Gail Jefferson et al
Dec 2016 Clark's Pocket Handbook for Radiographers, Second Edition, CRC Press; A. Stewart Whitley, Charles Sloane, Gail Jefferson et al
July 2012 "Explorative study of the sensitivity and specificity of the pronator quadratus fat pad sign as a predictor of subtle wrist fractures", Skeletal Radiology 12/06/2012
Recent external roles
External Examiner, Robert Gordon University, Aberdeen; PG CPD Pathway, PG Image Interpretation/Advanced Practice
BIR (British Institute of Radiology) NW Education committee member
Member of IAFR (International Association of Forensic Radiographers)
Member of UKFRRT (UK Forensic Radiography Response Team)- North West Co-ordinator