Professor Frank Peck, PhD
Research Professor in Regional Development
Institute of Business, Industry and Leadership
Centre for Regional Economic Development (CRED)
Business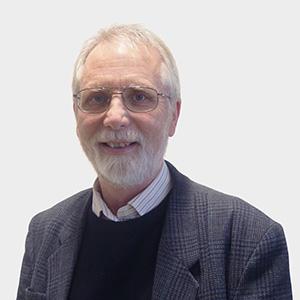 Qualifications and memberships
Bachelor of Arts (Dual Hons.) Geography and Economic History, Sheffield University
Post-Graduate Certificate of Education (PGCE), Sheffield College of Education
PhD on Industrial location and agglomeration economies, Sheffield University
Fellow of the Regional Studies Association and formerly Board Member
Academician of the Academy of Social Sciences (AcSS) for contribution to research and public policy in regional economic development (nominated 2009).
Member of Expert Groups for the European Commission (Cluster Strategies in EU Regions, Co-operation in Science and Technology in Europe)
Academic and research interests
Local and regional development strategies

Regional clusters, knowledge networks and regional innovation

Small business and entrepreneurship in rural areas

Local supply chains
Publications
Cowie, P., Mulvey, G., Peck, F. and Shaw, K. (2018) "Brexit: Implications for the rural north of England," Report commissioned by Northumberland County Council and the Institute for Local Governance.
Peck F (2018) "Review of Issues Related to Methods, Criteria and Indicators for Widening Actions" Report prepared for the European Commission, DG Research and Innovation, Unit B5 – Spreading Excellence and Widening Participation, June. DOI 10.2777/636491 ISBN 978-92-79-87951-7. Available at:
https://ec.europa.eu/newsroom/horizon2020/document.cfm?doc_id=54490
Peck, F. and Mulvey, G. (2016) "Cross-border collaboration in economic development: Institutional change on the Anglo-Scottish Border," Journal of Borderlands Studies. Published online at http://dx.doi.org/10.1080/08865655.2016.1257365.
Peck F., Parry S., Mulvey G., Jackson K., Cabras I. and Jackson J.(2014) "The role and significance of rates relief for supporting businesses in Wales," Environment & Planning C: Government & Policy, Vol 32, Issue 6, pp. 982 - 99.
Peck, F., Connolly, S., Durnin, J. and Jackson, K. (2013) Prospects for "place-based" industrial policy in England: the role of Local Enterprise Partnerships Local Economy 28 (7-8), 828-841. DOI.org/10.1177/0269094213498470
Ketels, C., Nauwelaers, C., Cassingena Harper, J., Lindqvist, G., Lubicka, B. and Peck, F (2013) "The Role of Clusters in Smart Specialisation Strategies," Report of the Expert Group on Clusters and Smart Specialisation, European Commission, DG Research & Innovation. DOI 10.2777/43211 ISBN 978-92-79-33233-3. Available at: https://op.europa.eu/en/publication-detail/-/publication/2fe44194-e5a8-42b7-ac14-9c9b8e157de3
Peck, F., Bell, F. and Black, L. (2010) Addressing the Skills Gap in Regeneration and Economic Development in Cumbria, Journal of Urban Regeneration and Renewal 4(1), 76-89. ISSN 1752-9646 (Online)
Peck, F., Mulvey, G., Jackson, K., and Cabras, I. (2010) "Evaluation of the Small Business Rates Relief Scheme in Wales" for the Welsh Assembly Government (2010) available at http://gov.wales/docs/caecd/research/101207-evaluation-small-business-rates-relief-scheme-en.pdf
Recent external roles
Board Member and Editor of "Regons", Regional Studies Association, 2009-2017
Member of Expert Group for Mid-term Evaluation of the EU COST Programme, Jan-April 2017
Evaluation Expert for European Institute for Technology, (EIT) Knowledge Innovation Communities funded by the European Union, July-November 2016
Expert Evaluator for European Union Horizon 2020 Proposals under Work Programme 2014-15 "Science with and for Society", Oct-Nov 2015
Expert Evaluator for European Union Horizon 2020 Proposals under Work Programme 2014-15 "Spreading Excellence and Widening Participation", May-June 2015
Advisor to PhD Programmes, Waterford Institute for Technology, Waterford, EIRE, "Regional Innovation in Europe" 2013 - present
Independent Expert Group on "The Role of Clusters in the Development of Smart Specialisation Strategies. Appointed by the European Union DG Research & Innovation , December 2012-May 2013
Expert Evaluator for European Union Framework Programme 7 "Regions of Knowledge 2", Transnational Cooperation between Research-Driven Clusters: December 2011 - March 2012