Professor Frank Peck, PhD
Research Professor in Regional Development
Institute of Business, Industry and Leadership
Centre for Regional Economic Development (CRED)
Business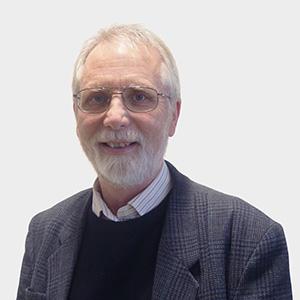 Qualifications and memberships
PhD, Sheffield University
PGCE, Sheffield City College of Education
Academic and research interests
As Director of the Centre for Regional Economic Development, Frank Peck conducts research on regional economies and provides consultancy services for external agencies and organisations involved in local and regional development.
Previous research includes publication on the regional impacts of inward investment, industrial restructuring and small business and entrepreneurship in rural areas.
More recent work has focused on the regional effects of public procurement and the employment impacts of contact centres in peripheral regions. Current directions focus on the following themes:
Regional clusters, knowledge networks and regional innovation
Local and regional development strategies
Research interests
Knowledge dynamics and competitive strategies in local supply chains
From RDAs to LEPs: New Priorities for the English Regions?
Fellow of the Regional Studies Association (FeRSA); RSA Board Member and RSA Editor of Regions 2008-12
Expert Evaluator for European Union Framework Programme 7: 'Regions of Knowledge 2' Research Potential and Transnational Cooperation between Research-Driven Clusters: Various calls for proposals, 2008-2012
Academician of the Academy of Social Sciences (AcSS) for contribution to research and public policy in regional economic development (nominated 2009).
Research contracts
PhD Research Supervisions
Keith Jackson - Independent retailers loyalty to voluntary groups
Simon Taylor - Business Strategy of Small Scale Social Housing Providers in Rural Areas
Kingsley Adinnu - Significance of local business knowledge networks in developing economies
Charles Dobson - Benefits of project management education and training
Ana Rivas Restrepo - Leadership style and subordinate commitment in the hospitality sector
Publications
Peck F, Mulvey G and Jackson K (2017) Cross-border collaboration in economic development: institutional change on the Anglo-Scottish Border Journal of Borderland Studies
Peck F.; Parry S.; Mulvey G.; Jackson K.; Cabras I., Jackson J (2014) 'The role and significance of rates relief for supporting businesses in Wales.' Environment and Planning C: Government and Policy 32(6) 982 – 999
Ketels C Nauwelaers C, Cassingena Harper, J, Lindqvist G, Lubicka B and Peck F (2013) The Role of Clusters in Smart Specialisation Strategies Report of the Expert Group on Clusters and Smart Specialisation, European Commission, DG Research & Innovation.
http://ec.europa.eu/research/regions/documents/publications/clusters_smart_spec2013.pdf
Mansfield L and Peck F (2013) Applying 'fair trade' to British upland agriculture, Outlook on Agriculture 42(3), 163-170
Peck F, Connolly S, Durnin J and Jackson K (2013) Prospects for "place-based" industrial policy in England: the role of Local Enterprise Partnerships Local Economy 28 (7-8), 828-841
Peck F. and Cabras I. (2010) The Impact of Local Authority Expenditure on Local Economies Public Policy and Administration Vol 26 (3); p.307-331
Peck F., Bell F. and Black L. (2010) Addressing the Skills Gap in Regeneration and Economic Development in Cumbria, Journal of Urban Regeneration and Renewal 4(1), 76-89
Peck F. and Cabras I. (2009) "Off-shoring in the contact centre industry and employment in the North West of England", Service Industries Journal Vol. 29, No.1-2, pp.173-184
Peck F. and Cabras I. (2009) "Impacts of Agglomeration on Call Centre Operations: Evidence from North West England", Regional Studies Vol. 43, No. 7, pp. 923-934
Peck F. and Brooks C. (2008) "Business growth and regeneration in rural areas: the role of producers of local products inn Cumbria UK" Northern Economic Review Vol. 38, pp. 15-37
Recent external roles
Board Member and Editor of "Regons", Regional Studies Association, 2009-2017
Member of Expert Group for Mid-term Evaluation of the EU COST Programme, Jan-April 2017
Evaluation Expert for European Institute for Technology, (EIT) Knowledge Innovation Communities funded by the European Union, July-November 2016
Expert Evaluator for European Union Horizon 2020 Proposals under Work Programme 2014-15 "Science with and for Society", Oct-Nov 2015
Expert Evaluator for European Union Horizon 2020 Proposals under Work Programme 2014-15 "Spreading Excellence and Widening Participation", May-June 2015
Advisor to PhD Programmes, Waterford Institute for Technology, Waterford, EIRE, "Regional Innovation in Europe" 2013 - present
Independent Expert Group on "The Role of Clusters in the Development of Smart Specialisation Strategies. Appointed by the European Union DG Research & Innovation , December 2012-May 2013
Expert Evaluator for European Union Framework Programme 7 "Regions of Knowledge 2", Transnational Cooperation between Research-Driven Clusters: December 2011 - March 2012