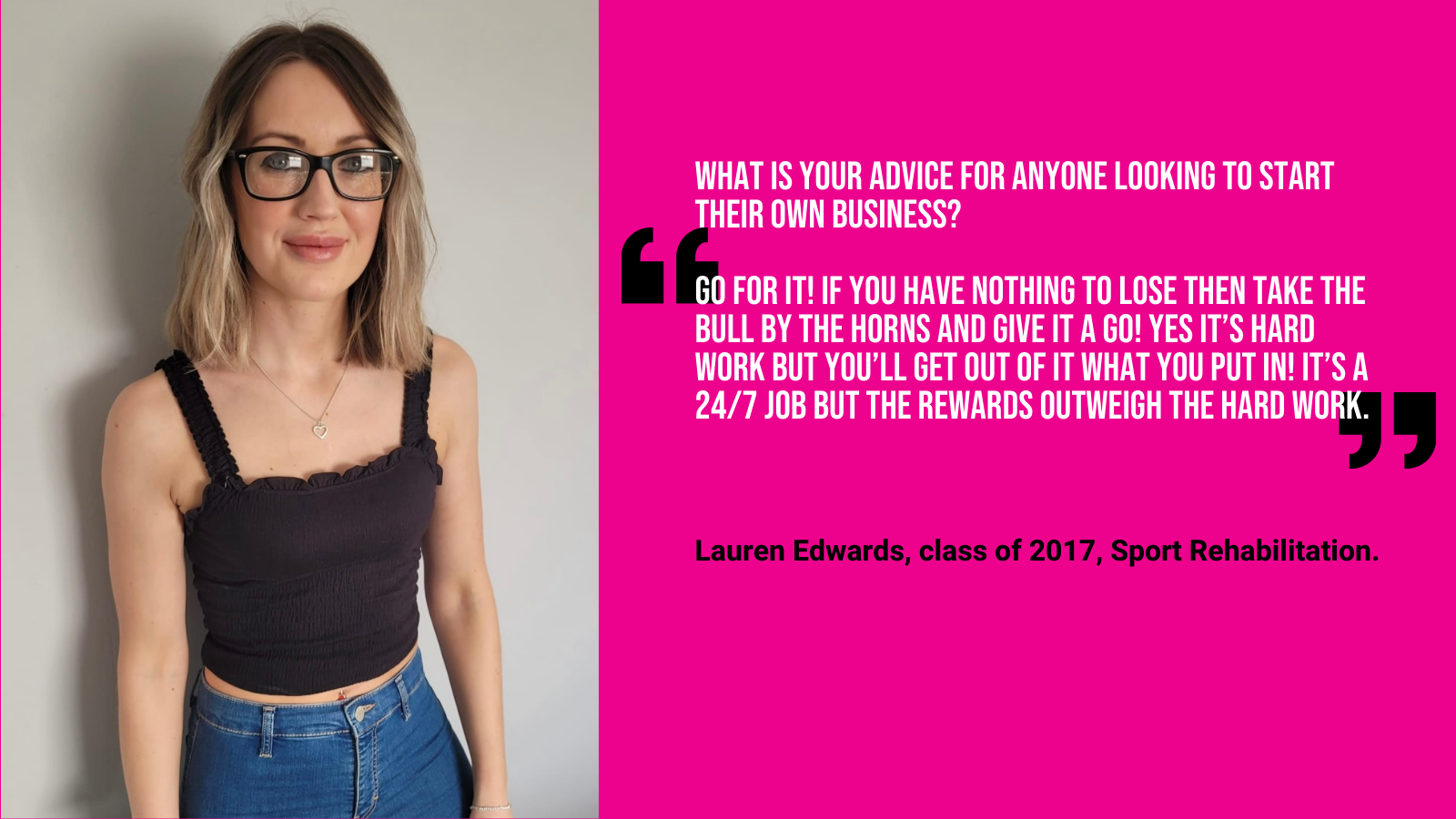 Lauren Edwards
Sport Rehabilitation, class of 2017
What did you study at University of Cumbria and why did you pick this course?
I studied BSc (Hons) Sport Rehabilitation. I chose this course having previously studied massage therapy and wanted to learn more about the human body.
How has your course helped your employability skills and prospects?
Having completed my required placement hours at a local professional football club I gained valuable skills and in a real-life scenario to put what I learnt at university into practice.
How has your course changed or informed your plans/approach to self employment or employability?
When studying I hadn't considered being self-employed, I wanted to be a part of a sports club, however, on graduating I realised I had learnt valuable skills at university that gave me the confidence to become self-employed.
Tell us about your business, what is the name, when did it start and what do you sell/provide?
I started up L.E Sport Rehab and Massage Therapy in 2017 after graduating from university. I began renting a room in a dance studio that was big enough for a massage bed and desk. I then progressed onto now renting my own building with two rooms. I provide injury assessments and sports massage therapy to clients.
Who is involved in the running and development of your business?
I run and develop my business alone including social media, website updates and answering phone calls and messages.
Who are your target customers?
My target customers are the general public; those who participate in sports/exercise but also those who have general aches and pains. I also work with amateur sports clubs.
How is your business developing, have you secured any major customers or contracts?
I am currently at full capacity of clients. I had to close my diary to new clients three months ago, I currently have a regular client base.
What are you most proud of?
I am proud of winning a local young enterprise award within months of starting my business. I was also a finalist two years running in a young entrepreneur award at a local business awards night. I am proud of myself for building up a client base and being so busy every working day.
What are your aspirations for the future of your business?
I look forward to broadening my skills to give clients more treatment options and to allow myself to help a wider range of injuries.
What is your advice for anyone looking to start their own business?
Go for it! If you have nothing to lose then take the bull by the horns and give it a go! Yes, it's hard work but you'll get out of it what you put in! It's a 24/7 job but the rewards outweigh the hard work.
Anything else you want to add?
Without the hard-working staff of the university, these courses wouldn't be available. The confidence I found during my time at the university and the skills I gained are priceless and have got me to where I am now.
You can find the L.E Sport Rehab and Massage Therapy website here www.lesportrehab.co.uk
You can find Lauren's business Facebook page here: www.facebook.com/lesportrehab