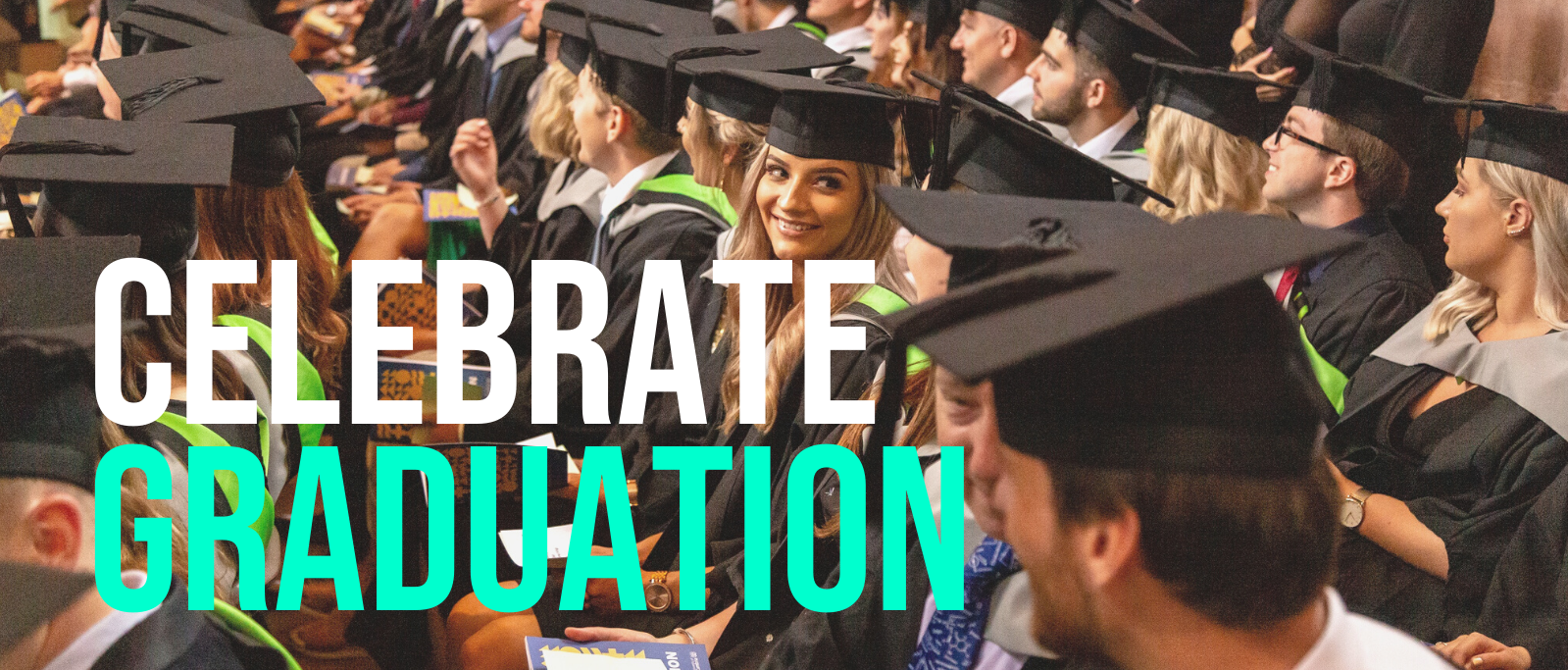 Here are some of the highlights, stories and considerable achievements of the class of 2020 and 2021. 17 graduation ceremonies took place over five days, congratulating a total of 2700 graduates, alongside the inauguration of our new Chancellor the Most Reverend and Right Honourable Stephen Cottrell, Archbishop of York.
Chancellor Inauguration Dinner
​​​​​​​Following the Inauguration Cathedral ceremony of our new Chancellor, Stephen Cottrell, around 75 Invited guests including Cumbria's Lord-Lieutenant Claire Hensman, Bishop of Carlisle Rt Revd James Newcome, university board directors, partners and key stakeholders, honorary fellows and civic mayors and dignitaries gathered at The Halston, Carlisle for a stakeholder dinner to celebrate the inauguration.

The evening began with a spellbinding performance by the University of Cumbria choir, including Lancaster-based occupational therapy student Natalie Robinson who signed some of the songs in Makaton and Sean Whytock, who provided the musical accompaniment. The songs included 'Don't Stop Believing'. It was a busy day for the choir, with members having performed at the ceremonies held at Carlisle Cathedral earlier on.

Opening speeches were also delivered, firstly by the Vice Chancellor and then the Chancellor, who was presented with his own 'Little Herdy' which had been presented to all graduates during ceremonies. The Chancellor spoke about how he is looking forward to being a champion for the university and its staff and students. He also told guests how he has already been 'incredibly moved' by the work and contributions of graduates and the university. He shared too, for the first time, details of how his life was saved by medical staff in Carlisle when he fell seriously ill as a young boy. He went on to explain how this experience means that today he already feels a close connection to the University of Cumbria, as he learns more about its education of nurses and allied health professionals, and doctors in the future through its work with Imperial College London to create a postgraduate medical school.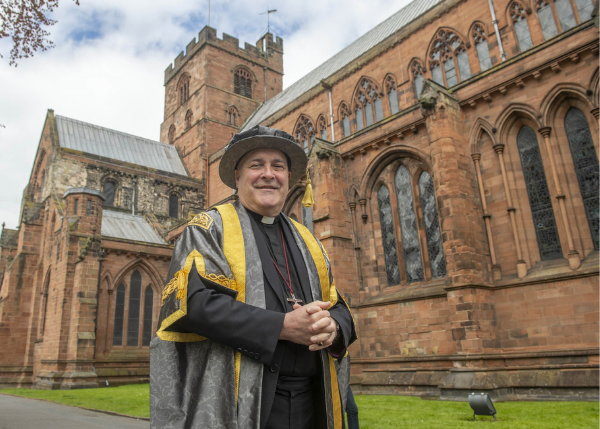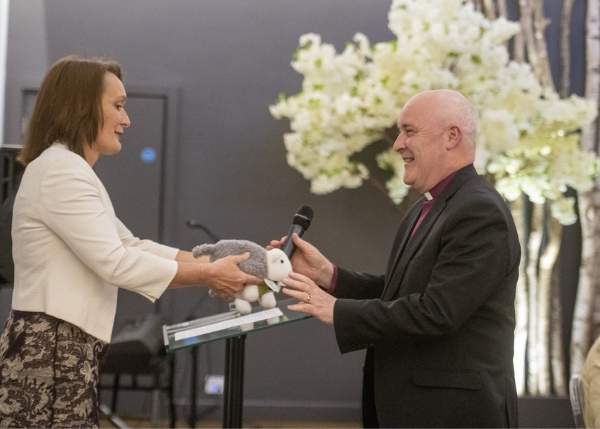 Dr Joan Howarth becomes the first to receive a PhD
Dr Joan Howarth has become the first to celebrate a special milestone at graduation last week. A Doctor of Philosophy in Occupational Therapy, she is the first to attend a UoC graduation ceremony to receive a PhD. Dr Howarth's PhD, awarded in April 2020, is among the first clutch of doctorate research degrees we have been able to award since the Privy Council granted us Research Degree Awarding Powers in 2019. A PhD is the highest level of degree a student can achieve and recognises significant contributions to research in a student's chosen field. For Joan, this is in the field of occupational therapy.
Proudly watching her graduation last week were Joan's husband Nick and her study supervisors UoC Emeritus Professor Diane Cox and Associate Professor Karen Morris.
​​​​​​​
Receiving a standing ovation, Dr Joan Howarth was the first to wear the distinctive blue robe that reflects being awarded a UoC PhD.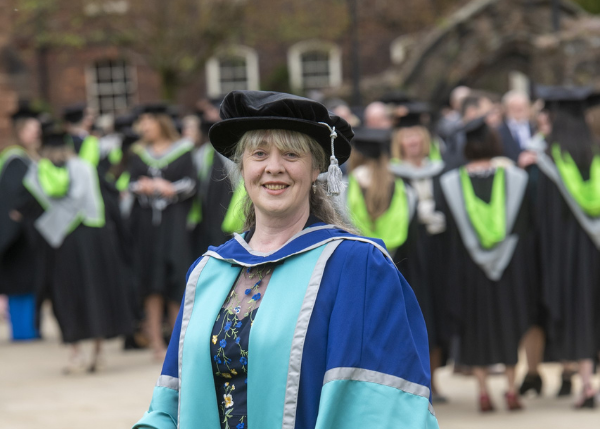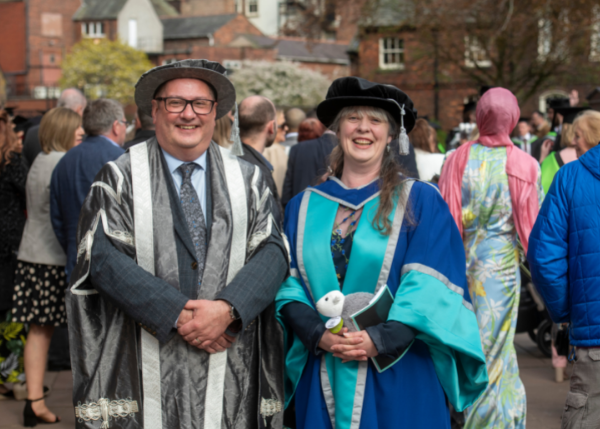 Zoe graduates alongside her own students
Zoe Butler is a senior lecturer in practice development and primary care nurse, and she was the recipient of the Nursing Times, Student Nurse of the Year award 2017. During lockdown, Zoe undertook an MSc Practice Development and a PGCE to 'keep busy'.
She joined the classes of 2020 and 2021 – including some of her own students - in graduating from these programmes during ceremonies at Carlisle Cathedral last week.
They included Jamie Chacko and Michelle Hudson, some of Zoe's assistance practitioner in health and social foundation degree students, who have been able to progress into higher education through the apprenticeship route, completing their programmes whilst working in local nursing homes.
Zoe, also wrote the People, Place and Partnership poem which was published in the back of the commemorative graduation programme which was shared with attendees throughout the week.
The poem was written during lockdown as a representation of the university's community during the pandemic and to signify what everyone has been through over the last two years.
Watch Zoe recite her poem People, Place and Partnership here.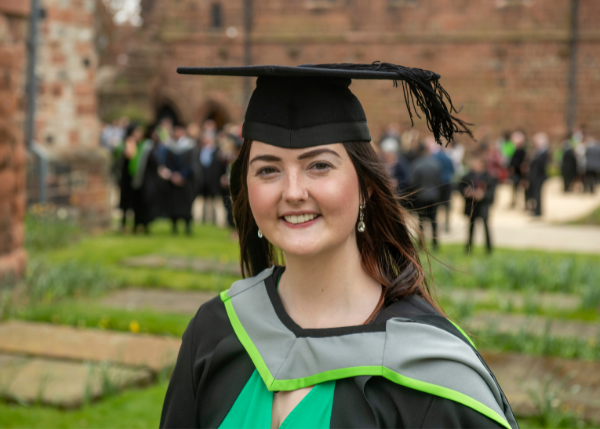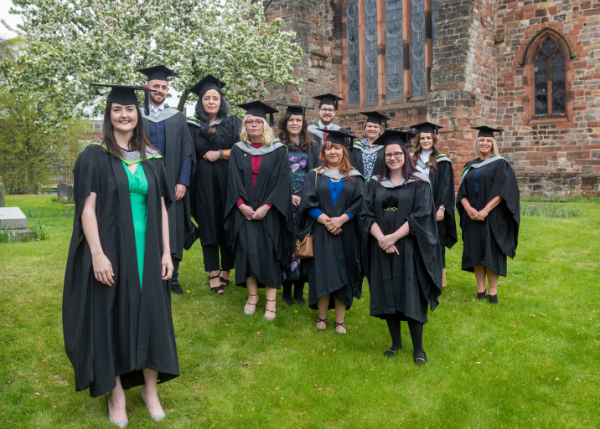 Alumnus of the Year 2021
As the classes of 2020 and 2021 join our growing University of Cumbria Alumni Association, a special honour has been bestowed upon a former student who is recognised nationally and by her peers in her chosen field - education.

Kerryann Wilson is the recipient of our university's Alumnus of the Year 2021 Award, which recognises former students who have demonstrated professional success which reflect the vision and values of our institution.

Inspired to become a teacher from her own positive experiences growing up in West Cumbria, Kerryann is now sharing her passion for learning with future generations as vice principal of Energy Coast UTC, Cumbria's only university technical college for 14-19 year olds.

She entered the teaching profession 11 years ago, having completed her PGCE in English with Media and Drama with us in 2011. She continued to progress to complete a Masters in Education, graduating in 2013, followed by specialist leadership National Professional Qualifications that supports the professional development of teachers and school leaders.
An English specialist, Kerryann's impact on her students, peers and community has led to her receiving the Gold Pearson National Teaching Award in 2021, being named 'Teacher of the Year in a Secondary School'. She was also shortlisted for 'English Teacher of the Year' in the 2020 Times Education Supplement Awards; and in October 2018 was named 'Teacher of the Year' at Cumbria's Golden Apple Awards.
Watch Kerryann talk about her Alumnus of the Year Award here.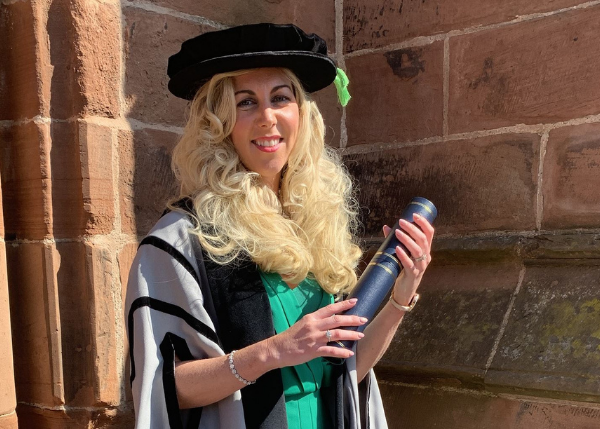 Charlotte Hey - Prize Winner
Charlotte Hey, BA Working with Children and Families graduate, was recipient of a new prize dedicated in memory Caroline Larmour. Caroline, a much loved member of the BSc (Hons) Child and Family Studies academic team, sadly passed away in 2020. This award is dedicated to her and Charlotte who was taught by Caroline was awarded the Outstanding Creativity in a Community Setting prize for her dissertation which involved working with children with special needs on a Cumbrian farm. Since finishing her course, Charlotte has secured a job working as a teaching assistant at a school in Ennerdale and she plans to stay living and working in Cumbria.

After her graduation ceremony, Charlotte had her photo taken with members of Caroline Larmour's family and her personal tutor, Dr Tracy Hayes, as well as Chancellor, Stephen Cottrell.​​​​​​​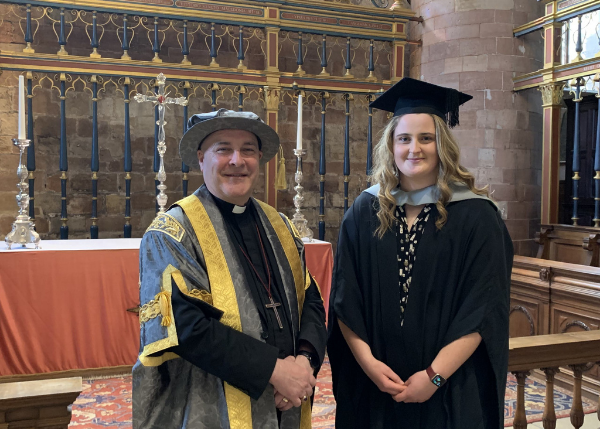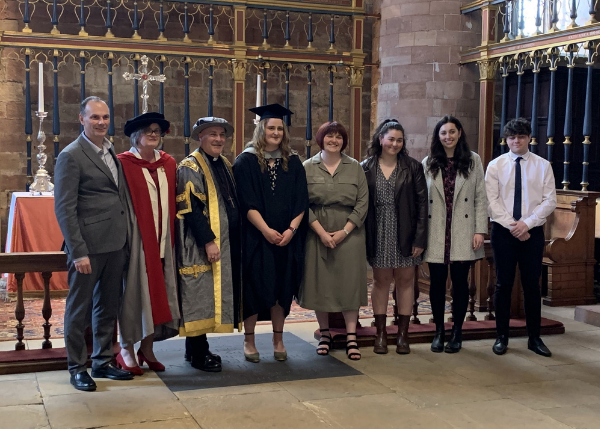 Graduation in the press
Graduation week received a lot of attention from the local press, you can see all the coverage HERE.
Graduation image gallery
The best bits of graduation week were captured by our photographer, you can see all the images HERE. Tag yourself and all your friends.
Procession videos
There were 17 graduation ceremonies throughout the week and we caught every single procession and every single graduand on video. Find your procession video in our Youtube playlist HERE.
Prize Winners 2020 and 2021
​​​​​​​Challen Prize for Ethics in Radiography
Emily Austin 2020
Olwyn Thompson Prize for Endeavour in Radiology
Rachel Murray 2020
Dr Harold Tulloh Prize for Technique in Radiology
Mabel Barclay 2020
Victoria Louise Taylor 2021
Colin Gibson Prize for Radiographic Anatomy
Mabel Barclay 2020
Amy Fisher 2021
Sport Prize for the Best Undergraduate Dissertation
Jessica Hilliard 2020
Sara Shaikh 2021
Undergraduate Sport Prize for Academic Achievement
Thomas Hepburn 2020
Freya Bennett 2021
Undergraduate Sport Prize for the Most Inspiring Student
Ben Hargreaves & Coady Scott 2020
Undergraduate Prize for Excellence in Placement
Amy Bolton & Karl Holt (Occupational Therapy) 2020
Undergraduate Scholarly Excellence Prize
Maria Inman (Physiotherapy) 2020
Undergraduate Education Programmes Highest Academic Achievement Prize
Joanne Short 2020
Laura Robinson 2021
Undergraduate Initial Teacher Education Highest Academic Achievement Prize
Nathaniel Browne 2020
Helen Haley 2021

PGCE Secondary Highest Achievement Prize
Charlotte Goode 2020
Kate Walton 2021
Postgraduate Highest Academic Achievement Prize
Phoebe Addison & Lewis Baker 2020
Kathleen Bramwell & Richard Nagle 2021
PGCE Primary Highest Academic Achievement Prize
Phoebe Addison 2020
Bethany Dobie 2021
Gordon Neill Prize
Paula Somner 2020
Lady Beleno (Adult Nursing) 2021
Jim Cox Prize for Most Inspirational Student
Jeffrey Henderson 2020
British Psychological Society Best Student Prize for Applied Psychology
Louise Askew 2020
Elleanor Gray 2021

Community Engagement Prize
Kate Robinson 2020
Project Management Student of the Year Prize
Cerys Atkinson & Laura Wilson 2020
James McCann 2021
Business Undergraduate Student of the Year Prize
Shaun Jeyes 2020
Asmita Krishna Hegde 2021
Law Undergraduate Student of the Year Prize
Kathryn Toomey 2020
Elizabeth Park 2021
Sweet & Maxwell Law Prize
Sumara Kennedy & Victoria Briggs 2020
Elizabeth Park 2021
Weightmans Solicitors Law Student of the Year Prize
Katie Scattergood 2020
Myfanwe Sequeira 2021

Weightmans Solicitors LLM Student of the Year
Laura Nienaber 2020
Luca Lattanzio 2021
Oxford University Press Law Prize
Alexandros Tzeriz 2020
Shireen del Pozo 2021
Criminology Undergraduate Student of the Year Prize
Louise Bennett 2020
Ian Williams 2021
​​​​​​​Policing Undergraduate Student of the Year Prize
Anna Merrell 2020
Stephanie Crisp 2021
Highest Academic Achievement Prize
Emily Savage (Biomedical Science) 2020
Charlotte Jackson (Applied Chemistry) 2021
Prize for the Highest Dissertation Mark
Jacob Norton 2020
Jessical Wilson 2021
Academics Prize for Recognising External Engagement and Active Contribution to the Institute
Katherine Chilton 2020
Sarah McClay Memorial Prize
Katherine Monaghan (Animal Conservation Science) & Amber Williams 2020
Amy Bradley (Conservation Biology) 2021
Prize for Dedication to Studies
Luke Harris (Outdoor Adventure & Environment) 2020
Teri Hardy (Biomedical Sciences) 2021
Royal Forestry Society Alec Pyman Best Student Prize
Henry Samuels 2020
Institute of Chartered Foresters Best Student Prize
James Burnett 2020
Andrew Newton 2021
Egger Forestry Prize
Jacob Taylor 2020
Andrew Newton 2021
Tilhill Forestry Prize
James Burnett 2020
Jessica Wilson 2021
Woodland Trust Award for the Best Student
Callum Edwards 2020
Jessica Wilson 2021
Student Prize for Innovation and Enterprise
Ffion Beavis (Marine & Freshwater Conservation) 2020