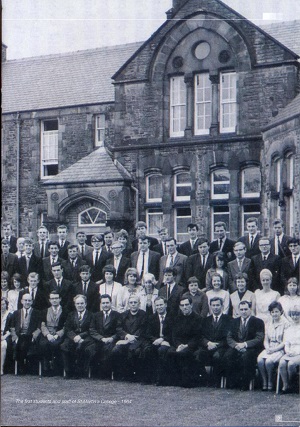 It is with great sadness that we report that William Etherington, the Dean of St. Martin's College from 1964 to 1973, died in November of last year.
Mr Etherington started his education at Craven Street, Junior School in Kingston upon Hull from 1930 to 1936. From here he received a Kingston Upon Hull City Council Scholarship to Hymers College, which he attended from 1936 to 1942. From there he gained a Hastings Scholarship to Queens College, Oxford and studied here between 1943 and 1944, then again between 1947 to 1950. From 1944 to 1947 he served in the Army, mainly in Burma with the 22 Light Regiment, West African Artillery with the rank of Captain.
Mr Etherington started his teaching career at King Edward VII School, Sheffield for his practice term, moving to King Edwards School, Stourbridge where he taught from 1950 to 52. Queen Elizabeth Grammar School, Wakefield followed from 1950 to 1957. He was then made Senior Lecturer in Education at St Johns College York, where he worked from 1957 to 1964.
In 1964 he was appointed by Principal Hugh Pollard to the post of Dean of St Martins College, in Lancaster 1964 where he remained until 1973. Following this he took up the post of Principal at Keswick Hall College, Norwich from 1973 until 1981. In 1981 the college was amalgamated with the University of East Anglia. He worked for the University in a part time role including researching it's history.
On the occasion of the St. Martin's 50th reunion event held on campus in Lancaster in September 2014, Mr Etherington shared his fond memories of his time at the college, speaking of the institution and his colleagues with great affection. Some of his recollections were shared as part of a memories exhibition at the reunion, these are copied below:
"Principal Hugh Pollard wanted me to live on campus and be a 'Sargent Major' for the students. So I moved into the former Officers Mess, College Main in upstairs rooms with my wife and two young children. Hugh Pollard and Gwen Owen also had flats in the building. We stuck it out for a year after which living on campus with young children became too difficult. We fenced off a patch of grass in front of College Main for the children in one incident my 4 year old son crawled out under the fence and had escaped through campus right to the front gate only to be rescued by a passing member of staff."
"In another incident, on one Saturday when nobody was in and everyone had gone home for the weekend, my wife was alone in the flat with the children. Again my son Philip attempted to escape, and managed to lock my wife inside the flat. Luckily she was rescued some time later after screaming for help by Tommy Haslam who happened to still be on campus."
"I have great affection for Hugh Pollard, he was so unpredictable and the most original man I have ever met. He had a habit of doing strange things to us, putting us in uncomfortable positions, 'joggling our rhythm's' he called it! We had pigeon holes for post in the common room and often they would be scattered with hand written notes suggesting we do things. He sent me once to a speech day at a school in Barrow in Furness precisely because he knew I'd hate it!"
William Etherington died on 2 November 2017.