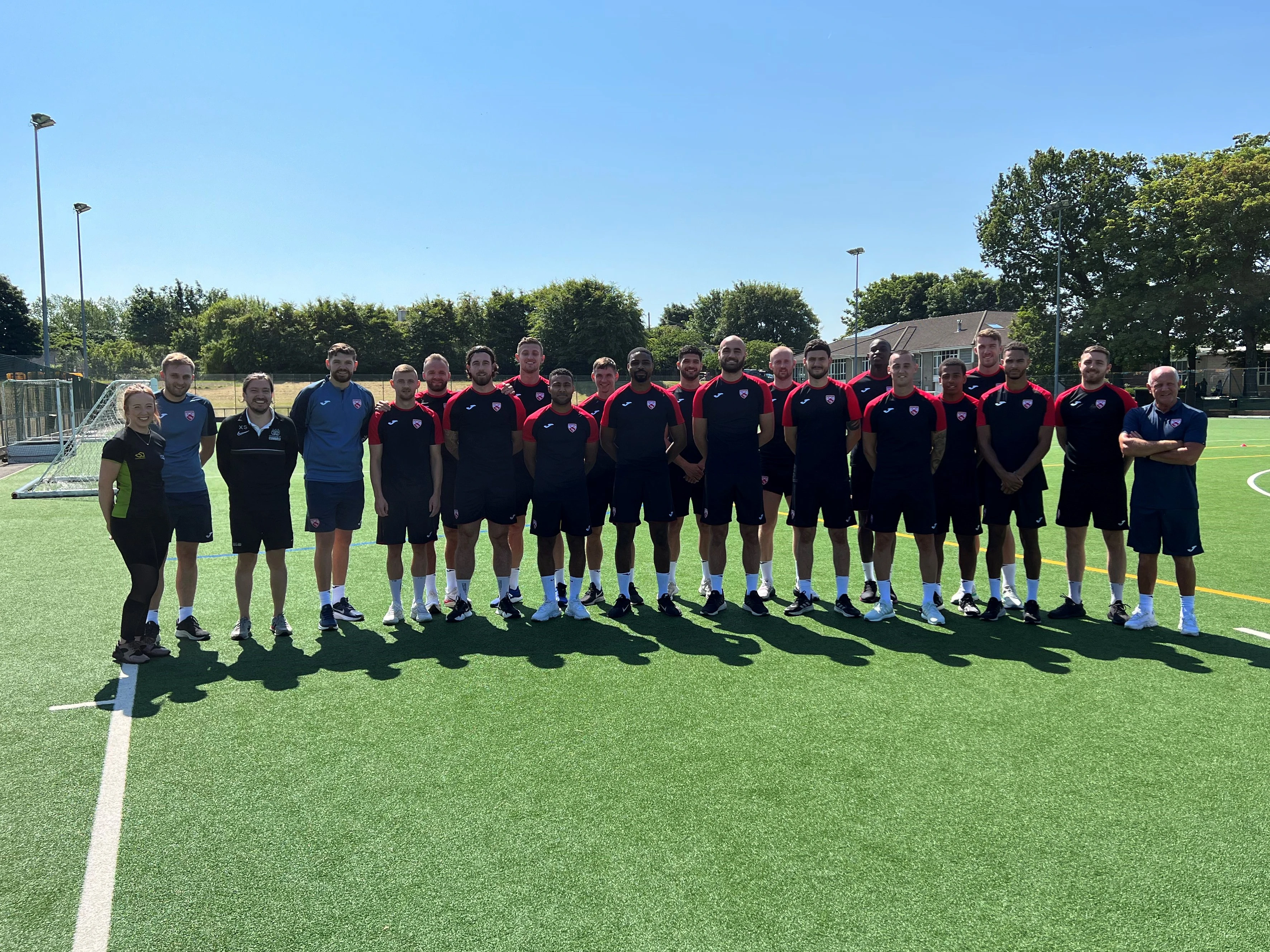 Olly Howse – Morecambe FC Performance Therapist
Having graduated with BA (Hons) in Sports Rehabilitation in 2015, Olly has gone on to become Morecambe FC's Performance Therapist, working with professional athletes playing in League One. As recently as Summer 2022, Olly returned to the University of Cumbria with the Shrimps to complete part of their preseason testing at our Lancaster Campus, supported by current undergraduate sport rehabilitation students.

Olly said: "I enjoyed my time at university. The learning environment was good, classes were quite small, and some of the placement experiences were really good in helping me with my career. I came to Morecambe FC for a season. I also went to Newcastle and got to work in a private clinic with Steve Cram and some professional GB athletes."
Oliver Saunders – Lieutenant, A Squadron, Royal Lancers
After graduating with a first-class sports degree from the University of Cumbria in 2019, Oliver took the next step in his career training at Royal Military Academy Sandhurst. Reflecting on the importance of his undergraduate degree Oliver said: "healthy, fit, hardworking soldiers are the backbone of the military and activities and events are developed to help provide a rounded approach to not only maintaining a good level of fitness but also living a healthy lifestyle."

Oliver's rise to success within the armed forces is a testament to the employability of Cumbria sport graduates and the wide variety of career outcomes on offer for these alumni.
Luke Brown – Future Secondary School PE Teacher
Luke graduated with a first-class degree in Sport Coaching and Physical Education in 2021. Whilst studying, he turned his passion for promoting social cohesion through sport into work with StreetGames. In collaboration with the renowned charity, StreetGames, Luke's Fit and Fed project engaged over 100 local children from socio-economically deprived areas, many with additional needs, inspiring development and empowerment through sport. During his degree, Luke also worked to create The Sports Leaders Academy, a virtual Sports Leadership programme accessed by over 500 students aiming to support young people and communities through sport. The initiative collaborated with guests including Becky Wolstenholme, CEO of the Cumbria Youth Alliance and Jacob Blain, Performance Analyst at Carlisle United.

After his outstanding voluntary service, Luke was invited to Buckingham Palace to receive a platinum champion award from Prince Charles. Luke is now an Early Career PE Teacher working in a at Windermere School. Looking to the future, he says "my career ambition is to become a leading sports development/PE professional."
"My BA (Hons) Sport Coaching and PE degree at the university of Cumbria equipped me with the real life knowledge and experience that has enabled to transfer the skills developed and leadership capabilities into real life settings. I've been recognised by with the Platinum champions award for outstanding service to the community. When you are really passionate about sport and the community, it is priceless to see the other people become passionate too. The academic and vocational opportunities the university of Cumbria has provided me with the confidence to really achieve my goals in life."
Discover Sport at Cumbria
Do you fancy yourself a future football performance therapist? Or an inspiring PE teacher? Take the next step by exploring our sports courses, available for September 2022 start through clearing.