Dr Katie Walker-Small, PhD
Programme Leader in Sport Rehabilitation and Massage Therapy, Department of Medical and Sport Sciences
Institute of Health
Sport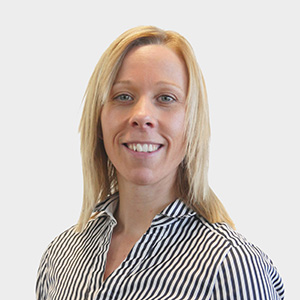 Qualifications and memberships
PhD in Sport Rehabilitation (University of Hull), BSc in Sport Rehabilitation (University of Salford)
Academic and research interests
Injury screening and prevention
Fatigue and injury risk
Endurance events
Clinical tests for injury
Exercise rehabilitation
Publications
Relph, Nicola and Small, Katie (2019) The influence of 9 marathons completed in 9 days on injury incidence and selected musculoskeletal tests. International Journal of Athletic Therapy and Training, 24 (3). pp. 115-121.
Lovell, R., Midgley, A., Barret, S., Carter, D & Small, K. (2011). Effects of different half-time strategies on second half soccer-specific speed, power and dynamic strength. Scandinavian Journal of Medicine and Science in Sports, 23(1):105-113.
Small, K., McNaughton, L., Greig. & Lovell, R. (2010). The effects of multidirectional soccer-specific fatigue on markers of hamstring injury risk. Journal of Science and Medicine in Sport,13(1):120-125.
Small, K., McNaughton, L., Greig., Lohkamp, M. & Lovell, R. (2009). Soccer fatigue, sprinting and hamstring injury risk. International Journal of Sports Medicine, 30(8)573-578.
Recent external roles
External Examiner for the FdSc Sports Therapy, York St John University