Dr Tim Donovan, PhD
Associate Professor - Medical Image Perception and Cognition
Institute of Health
Active Ageing Research Group (AARG)
Science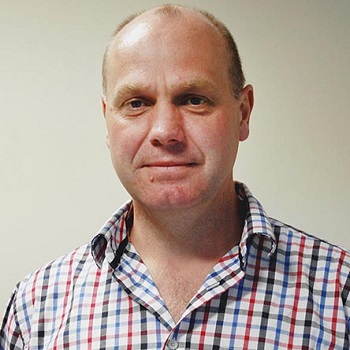 Biography
Dr Donovan is the research lead for Medical Imaging, and module leader for MSc Dissertation, BSc Dissertation, and MSc Research Modules.
His background is in Diagnostic Radiography in Nuclear Medicine, MRI and PET mainly in research settings, before moving into academia in 2002.
Qualifications and memberships
DCR, DRI, BSc(hons), MSc, PGCHE, PhD, FHEA
Academic and research interests
Image perception and visual search
In the North West for the last 20 years there has been a network of academics (Psychology, Computer Science & Medical Imaging), from the University of Cumbria, Lancaster University and Edge Hill University, researching Medical Image Perception. Most of the research uses eye tracking to gain an insight into medical image interpretation, the type of errors made, and the development of expertise. The rationale being that for some radiological tasks such as lung nodule detection and breast screening, error rates are typically 30% and have not changed for the last 60 years. The underpinning ethos of the group is to apply the rigour of experimental psychology methods to help understand medical image perception and decision making. This has led to the use and adaptation of experimental psychology paradigms to enhance our understanding of observer performance. Participant populations have been psychology students as naive observers, radiography students, clinical radiographers reporting on medical images and consultant radiologists. We are now starting to understand how clinicians adapt the perceptual skills we all have to the radiological task, and this is enabling us to refine current models of medical image perception.
Cochrane Systematic Reviews
Systematic review and meta-analysis plays a vital role in critically appraising evidence to inform evidence-based healthcare. I have a role as author and co-author contributing to reviews as part of Cochrane Airways. Systematic review techniques inform my delivery of BSc and MSc research modules.
Fetal eye movements
The use of 4D/2D ultrasound to measure fetal eye movements in response to visual stimuli.
Research supervision
Current Research Students
Frances Sapsford - The effects of stroke in hand laterality judgement
Margot McBride - Cushing's syndrome and Cushing's disease, patient perspective.
Publications
Full list at http://orcid.org/0000-0003-4112-861X
Recent articles:
Litchfield, D., & Donovan, T. (2019). Expecting the initial glimpse: prior target knowledge activation or repeated search does not eliminate scene preview search benefits. Journal of Cognitive Psychology, 31(1), 49-63.
Thomas, N.M., Donovan, T., Dewhurst, S. and Bampouras, T.M., (2018). Visually fixating or tracking another person decreases balance control in young and older females walking in a real-world scenario. Neuroscience letters, 677, pp.78-83.
S Spencer, LM Felix, SJ Milan, R Normansell, PC Goeminne, JD Chalmers, T Donovan (2018) Oral versus inhaled antibiotics for bronchiectasis , Cochrane Database of Systematic Reviews
Donovan, T., Litchfield, D. and Crawford, T.J., (2017). Medical image perception: how much do we understand it?. Frontiers in psychology, 8, p.2072.
Donovan, T., Felix, L.M., Chalmers, J.D., Milan, S.J., Mathioudakis, A.G. and Spencer, S. (2017) 'Continuous versus intermittent antibiotics for non‐cystic fibrosis bronchiectasis', Cochrane Database of Systematic Reviews, doi: 10.1002/14651858.CD012733
Reid, V.M., Dunn, K., Young, R.J., Amu, J., Donovan, T. and Reissland, N. (2017) 'The human fetus preferentially engages with face-like visual stimuli', Current Biology, 27( 12), pp. 1825-1828. doi.org/10.1016/j.cub.2017.05.044.
Kew K.M., Carr R, Donovan T, Gordon M. Asthma education for school staff. Cochrane Database of Systematic Reviews 2017, Issue 4. Art. No.: CD012255. DOI: 10.1002/14651858.CD012255.pub2.
Lunn, J., Donovan, T., Litchfield, D., Lewis, C., Davies, R. and Crawford, T., (2017) Social attention in children with epilepsy. Brain and Cognition, 113. pp. 76-84
Thomas, N.M., Dewhurst, S., Bampouras, T.M., Donovan, T., Macaluso, A. and Vannozzi, G. (2017) 'Smooth pursuits decrease balance control during locomotion in young and older healthy females', Experimental Brain Research, , pp. 1-8.
Thomas, N.M., Bampouras, T.M., Donovan, T. and Dewhurst, S., (2016). Eye movements affect postural control in young and older females. Frontiers in Aging Neuroscience, 8.
Litchfield, D. and Donovan, T. (2016) 'The flash-preview moving window paradigm: unpacking visual expertise one glimpse at a time', Frontline Learning Research, 5 (3). pp. 80-94. doi: 10.14786/flr.v5i3.269.
Lunn J, Donovan T, Litchfield D, Lewis C, Davies R, et al. (2016) Saccadic Eye Movement Abnormalities in Children with Epilepsy. PLoS ONE 11(8): e0160508. doi: 10.1371/journal.pone.0160508
Litchfield, D., Donovan, T. (2016). Worth a quick look? Initial scene previews can guide eye movements as a function of domain-specific expertise but can also have unforeseen costs. Journal of Experimental Psychology: Human Perception and Performance, 982-994.
Davis, A. E., Lewandowski, A. J., Holloway, C. J., Ntusi, N. A., Banerjee, R., Nethononda, R., ...Donovan T, & Rider, O. J. (2014). Observational study of regional aortic size referenced to body size: production of a cardiovascular magnetic resonance nomogram. Journal of Cardiovascular Magnetic Resonance, 16(1), 9. (Society for Cardiovascular Magnetic Resonance)
Donovan, T., Crawford, T.J. and Litchfield, D. (2012) Negative priming for target selection with saccadic eye movements. Experimental brain research, 222(4), pp. 483-494, DOI: 10.1007/s00221-012-3234-1
Donovan, T. and Litchfield, D. (2013) Looking for Cancer: Expertise Related Differences in Searching and Decision Making. Applied Cognitive Psychology, 27(1) pp. 43-49, DOI: 10.1002/acp.2869
Litchfield D, Ball LJ, Donovan T, Manning DJ, Crawford T, (2010) Viewing another person's eye movements improves identification of pulmonary nodules in chest x-ray inspection, J. Exp Psych: Applied, 16(3), 251-262
Donovan T, Manning DJ, (2007) The radiology task: Bayesian theory and perception, BJR, 80, 389-391
Recent external roles
NIHR Research Development Service, Frontline Advisor.