Mark Magas
Programme Leader for Biomedical Sciences Senior Lecturer: Pharmacology
Institute of Science and Environment
Science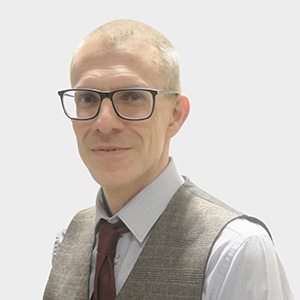 Biography
I'm a Senior Lecturer, at the University of Cumbria and the Programme Leader for Biomedical Sciences. I am also a Fellow of the Institute of Biomedical Science. As a pharmacist I am registered with the General Pharmaceutical Council and a member of the Royal Pharmaceutical Society.
As a module leader, I lead on a suite of level 3,4,5, and 6 modules including, Essential Chemistry, Chemistry for Forensic Scientists, Anatomy and Physiology, Toxicology, Clinical Biochemistry, and Introductory Biochemistry. I also support the Institute in facilitating areas related to medicines and medicine that occur in other modules such as microbiology.
I began my career as a hospital pharmacist, before moving to a small community pharmacy and gained a post with Boots in 2001. I became a consultant pharmacist and then took a secondment as a pharmacist resource manager, which involved quite a large amount of teaching and co-ordinating the teaching of pharmacy staff and continuing professional development for pharmacists. I've continued this supporting role by mentoring colleagues within the Institute.
When the secondment ended, I decided I would take-up teaching because I'd enjoyed it so much. I left Boots to work as a locum while studying for a postgraduate certificate in chemistry education at St Martin's College, Lancaster, qualifying in 2003. I then spent time as secondary school science teacher for three years. I did enjoy working with young people and teaching then allowed me to really hone my skills in being able to explain difficult scientific concepts effectively and in interesting and imaginative ways.
I'm passionate about healthcare and the support that we can give clinicians to ensure accurate diagnosis, prompt treatment and public health improvement. I'm very proud to work with some great colleagues and support students to gain a degree in biomedical sciences. There is plenty of evidence that Biomedical Scientists are central to the UK healthcare industry attributing to the health and wellbeing of the nation from cradle to grave. Despite making up just 5% of the workforce 70% of all diagnoses are attributed to the work of Biomedical Scientists. This is a phenomenal contribution from a scientific discipline.
Qualifications and memberships
MSc
PGCE (Chemistry)
BPharm (Hons)
Registered member of the General Pharmaceutical Council
Fellow of the Institute of Biomedical Sciences
Member of the Royal Pharmaceutical Society
Associate Member of the Royal Pharmacological Society
Senior Fellow of the Higher Education Academy
Academic and research interests
Biomedical Sciences
Pharmacology
Pharmacy
Health Sciences
Life Sciences
Forensic Chemistry
Biochemistry
Anatomy and Physiology
Medicines
Publications
Magas, M. (2014) Cumbria Asthma Medication Use Reviews Project Final Report. Internal NHS Cumbria Clinical Commissioning Group.
Magas, M. (2013) Technology Enhanced Learning Adoption and Spread of e-Learning (TELASE). Internal NHS report. Unpublished.
Allan, S. and Magas, M. (2012) 'The ripple effect: developing a peer network for cascading digital skills practice', 17th Annual SEDA Conference, November 2012, Aston University, Birmingham.
Magas, M., 2011, 'New Drugs and Developments in the Research into Diabetes Treatment', The Pharmaceutical Journal, 286, p.p. 311-312. https://www.pharmaceutical-journal.com/opinion/comment/new-drugs-and-developments-in-the-research-into-diabetes-treatment/11070733.article
Magas, M., 2011, 'Flexibly Embedding Authentic Assessments Throughout the Learning Experience', Improving Students' Experience of Assessment & Feedback Event. University of Cumbria, Cumbria 11th January.
Recent external roles
External Examiner to the University of Hull 2014 - 2018
External Examiner to the University of Coventry 2016 - 2021
External Examiner to Oxford Brookes 2021 - 2025