Richard Ensoll
Senior Lecturer, Outdoor Studies
Institute of Science and Environment
Outdoor Studies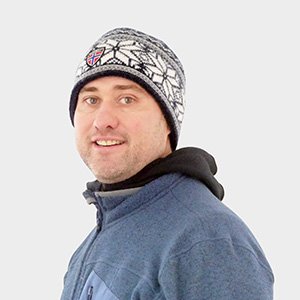 Biography
After a spell in the retail industry and completing an HND in Business and Finance I decided to try combining a lifelong interest in having adventures in the outdoors with an interest in people and their development. After three happy years in the outdoor sector I trained to be a primary teacher with outdoor education as a specialism and subsequently taught in a local school. This was followed by an MSc in Outdoor Education at Edinburgh University where I focussed on the assessment of mountain leadership skills. Five busy years were then spent as a senior manager at Lakeside YMCA National Centre equipping staff to deliver stimulating, outcome-lead sessions in a managed context. Since arriving at the University of Cumbria I have completed a PgC in Teaching and Learning in Higher Education, a key aspect of which was a study of: The Use of Imagery to Accelerate the Learning of Novice Kayak Rollers. I am currently a full member of the Association of Mountain Instructors and the British Canoeing as well as a trainer/assessor in Mountain Leadership and some Paddlesport areas.
Outdoor interests
As an enthusiast with a range of interests I tend to become 'fired up' for the activity that I am currently most engaged with. When there is water in rivers I will be white water kayaking or canoeing; when it's dry and sunny rock climbing while snow in the mountains is a strong signal to ice climb. I may also be found running, cycling and orienteering when time is more limited. Key themes have been personal challenge and efficient movement through challenging environments. The opportunity to introduce my three children to the outdoors has allowed me to combine my interest in outdoor activities with my passion for coaching others and the strong sense of 'releasing potential' that goes with it. I was also intrumental in developing a fleet of upwind capable sailing canoes and have enjoyed exploring their potential in multi-mode journeys, stringing together rivers, lakes, sea crossings, mountains and cities to link people and places in fractured world.
Current projects
My main areas of interest surround motor skill acquisition, coaching processes and experiences of time and space in journey contexts.
I teach a range of modules focussing on aspects of coaching and leading outdoor activities. Key areas within this broad topic include: leadership, coaching processes, risk management, experiential learning, skill acquisition and sport psychology.
Qualifications and memberships
Fellow of the Higher Education Academy
Association of Mountain Instructors
MSc Outdoor Education, Edinburgh
PgC Learning and Teaching in Higher Education, University of Cumbria
BA (QTS) Primary Studies - Outdoor Studies and Environmental Science, Lancaster University
Level 5 Canoe, Level 4 Inland Kayak, Level 3 Sea Kayak
Winter Mountain Climbing Instructor
Academic and research interests
Risk related decision making & unsupervised student expeditions
Rhythm analysis as a research method
Rhythmic/Slow adventure in a fast world: ethical and environmental applications
Canoe sailing and trolleying as model of low carbon and ethical adventuring
Spatiotemporal critique of outdoor facilitation and current OE practice
Innovative approaches to specific outdoor areas: e.g. GSEC Descent, Deweyian approach to becoming a climber, The Heroes Journey as a model for programme design, embracing canoe portaging
Open sea crossings by canoe
Publications
Ensoll, R. (2011). 'Going up': understanding and developing efficient uphill walking. HORIZONS. pp.30-33 No. 53
Barry, M & Ensoll, R. (2016). Searching for Serendipity. HORIZONS. PP.20-23 No. 75
Ensoll, R. (2017). Because we're worth it! An exploration of some issues around a family canoe trip. PATHWAYS: the Ontario journal of outdoor education, 30 (1). Pp.25-30. ISSN: 0840-8114.
Ensoll, R. Lawton, M. Towers, D. (2017). Paddle to the Sea. EOE Conference Presentation.
Ensoll, R. (2017). An exploration of upwind canoe sailing in traditional canoes capable of transitioning between wide ranging environments and their potential for extended journeys. In: English Canoe Symposium, 10-12 November 2017, YMCA Lakeside, Windermere, Cumbria, UK. (Unpublished).
Ensoll, R. et al. (2018). Paddle to the Sea. Book of Extended Abstracts. Plymouth Marjon University.
Ensoll, R. (2018). The outcomes of autonomous adventure learning; or If you love someone set them free. LED Conference Presentation.
Ensoll, R. (2018). The outcomes of autonomous adventure learning; or If you love someone set them free. HORIZONS. P.24-26 No. 82
Ensoll, R. (2019). The entangled rhythms of a canoe journey: Rhythm analysis, speculative fabulation and a tidal micro-adventure. 7th International Adventure Conference, Dumphries and Galloway. 17-21st June.
Ensoll, R. (2019). Canoe Commute: an everyday adventure through time and space. HORIZONS. P.33-35 No. 86
Ensoll, R. and Towers, D. (2020). Being a climber: Progressive lead coaching. The Professional Mountaineer. 32-33 No 29
Ensoll, R. (2020). 'G.S.E.C. Descent' and Coaching with Threshold Concepts. The Professional Mountaineer. With publisher.
Recent external roles
Speaker at Canoe Symposium
Conference workshop leader for Institute for Outdoor Learning