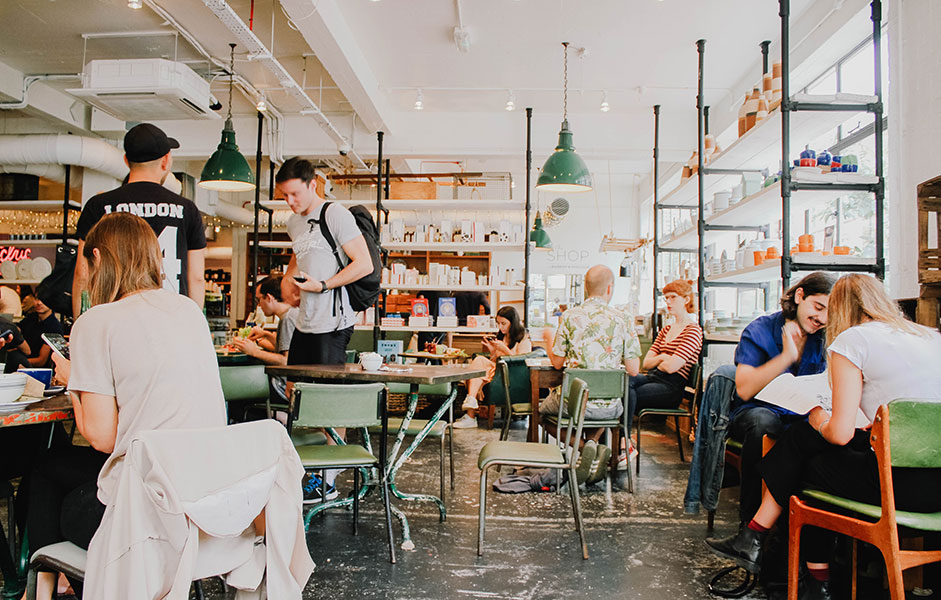 This article includes all the best places to eat, drink and have fun in our campus locations, including Lancaster, Carlisle, and Ambleside.
Lancaster
Our Lancaster campus is in the heart of the city and whether you live in University halls or private accommodation you're just a short walk or bus from the places on our list. We have gathered below the best places to eat, drink and have fun when living in Lancaster.
Top 3 Places to Eat and Drink
Wagon and Horses
Fresh, local produce with homemade relish and a rooftop herb garden makes the Wagon and Horses a Lancaster staple. Located on the banks of the River Lune, the atmosphere is the perfect balance of country city living.
The Crypt – The Royal Kings Arms
If you're looking to step up the class with your student nights, you can try The Crypt at The Royal Kings Arms Hotel. Newly renovated, The Crypt offers a taste of metropolitan city life right in the heart of Lancaster. This cocktail bar offers a wide range of alcohol and even serves great food to help soak up your Mojito before that 9am lecture.
Whaletail Café
The Whaletail Café is located in the city centre and offers a wide range of vegan-friendly food and drink. Hugely popular with the student community, this café's ethically sourced produce is a real winner.
Top 3 PAID Activities
Lancaster Escape
Escape Rooms have become Instagram famous in recent years, with friends and families teaming up to escape in the shortest time. This could be a great flat or course bonding activity and who knows, you might find the Watson to your Sherlock.
Lancaster Brewery Tour
Any tour that lets you sample the produce is a tour worth going on and Lancaster Brewery Tours are just that. A chance to glimpse how the ales and ciders are made and of course time to sample your favourites. Tour prices range from £12 to around £34, a great way to have fun without breaking the bank.
VUE Cinema
The cinema can be quite expensive, especially when you're a student but never fear, the £4.99 saver is here. The Vue Cinema in Lancaster offers saver tickets throughout the day so you can watch the latest Disney remake without spending all of your rent money.
Top 3 FREE Activities
Morecambe Beach
Did someone say beach day? Morecambe Beach, although with less sand and more stones than California, is the perfect sunny day destination. With panoramic views of the coast and plenty of places to get your Fish & Chips fix, it's definitely worth a visit. Best of all, visiting the beach is completely free, all you need is a couple of £'s for your cone of chips.
Williamson Park
Full of history and beautiful buildings, Williamson Park is a must-see when you live in Lancaster. There is even a Butterfly House and Meerkat Café. The park hosts various events throughout the year including fun days, charity runs, and outdoor cinemas.
Lancaster City Museum
The City's museum is housed in the former Town Hall, which dates back to the 1700s. With free admission and regular exhibitions, the museum offers a great way to learn about the history of Lancaster. Located in the centre of the city, it is easy to find and there are plenty of great spots to grab lunch.
CARLISLE
Carlisle is home to two of our campuses, Fusehill Street and Brampton Road. We have gathered below the best places to eat, drink and have fun when living in Carlisle.
Top 3 Places to Eat and Drink
Penny Blue
Carlisle's newest bar offers food for every time of day and even has an afternoon tea for those family visits. Located in the city centre, it is a convenient and contemporary place to spend time catching up with loved ones. The building used to be the old post office making the interior ideal for those Instagram shots.
The Old Bank
Perfect for your Sunday roast, this self-proclaimed "meat lovers paradise" has everything you will need for those cosy Sunday dinners. The award-winning gastro eatery is in central Carlisle and offers a range of craft beers, wine, and Craft Gins.
John Watt and Son Coffee Shop
This top-rated coffee shop even comes with an in-house bakery offering lots of freshly baked goods. A favourite amongst the locals, this is not just a standard coffee shop. John Watt and Son are coffee roasters and tea blenders, with their products available to purchase at their cafes.
Top 3 PAID Activities
Vue Cinema
Movie night is a must through University, it gives you something to do on those rainy days and helps you stay in the loop with the latest MARVEL releases. Lucky for you, VUE Cinema in Carlisle offers saver tickets for just £4.99, making it an affordable and chilled night out.
The Old Fire Station
The Old Fire Station is the local music and events venue for Carlisle, bringing in all the latest talent across the region, including the new Carlisle Collective Fringe festival. Ticket prices vary depending on performance but start from around £12.
AMF Bowl
Bowling is always a good ice breaker, so grab your flatmates and head to AMF Bowl. If you fancy taking your bowling to the next level, you can join the Bowling league and partake in tournaments.
Top 3 FREE Activities
Hadrian's Wall
A fantastic piece of preserved history spanning over 80 miles from coast to coast. This is something everyone living in or visiting Carlisle should see. A great excuse to get out into nature and explore the local history.
Tullie House Museum & Art Gallery
Are you a bit of a culture vulture? If you are then the history, art, and exhibitions at Tullie House are the perfect way to spend a weekend. There are a wide variety of events happening across the year for you to get involved with.
Talkin Tarn Park
You're never far from nature in Carlisle and if you fancy a day out to explore local woodland and finish off with tea and cake then Talkin Tarn Park is the perfect place. You might even be lucky enough to spot some of the local wildlife.
AMBLESIDE
Our Ambleside campus is the only campus in the UK that is part of a UNESCO World Heritage site. We have gathered below the best places to eat, drink and have fun when living in Ambleside.
Top 3 Places to Eat and Drink
Zeffirellis and Fellinis
Zeffirellis and Fellinis are Ambleside's answer to dinner and a movie. These sister restaurants offer Italian and Mediterranean vegetarian cuisine to suit everyone and even have a cinema attached. With the latest blockbusters on show and plenty of fresh vegetarian food to choose from, you can't go wrong. Their dinner and a movie deal offer 2 courses plus your cinema ticket ranging from £16.50 for an Early Bird ticket up to £24.75 for dinner at Fellini's and the cinema.
Rattle Ghyll Café
Rattle Ghyll is a cult favourite with our Ambleside students. The café offers fresh food and drink in a cosy and spacious venue – perfect for catch-ups and studying. The coffee is pretty great and even comes with a FREE Biscotti. To find out more about the best coffee shops in Ambleside, visit our student's blog here.
ES Bar
If you're looking for something a little different – perhaps a society social or flat night out? ES Bar is a Mexican Tapas Bar, perfect for groups of friends or date nights.
Top 3 PAID Activities
Beatrix Potter's House
An unofficial mascot of the Lake District, Beatrix Potter is a huge part of the local culture. Whether it's visiting the World of Beatrix Potter Museum in Bowness-on-Windermere or exploring Beatrix's home at Hill Top, there is plenty to explore.
Windermere Outdoor Adventure Centre
Throw yourself in with various Outdoor and Water Activities. You can choose from group or individual experiences and personal lessons.
Click the link for more information: https://www.better.org.uk/leisure-centre/south-lakeland/windermere-outdoor-adventure-centre
Lakeland Pony Trek
Animal lovers rejoice – you can take part in 1-2 hour fell rides or lead rein lessons with trained instructors. The ride takes you up through some fantastic Lake District countryside and is a spectacular way to take in the sights.
Top 3 FREE Activities
Loughrigg Fell
If you're looking for a walk to take in the views of the National Park, then Loughrigg Fell offers you just that. Set in amongst the Lake District's Central Fells, the 9.4km walk is suitable for walkers of all experience levels and the perfect introduction to fell walking.
Lake Windermere
Ambleside is situated North of Lake Windermere and the Lake is just a 20-minute walk from campus. Here you can enjoy the views of the Lake or you can hop on a Windermere Lake Cruiser to head down to Bowness-on-Windermere.
Bridge House
An Ambleside must-see. Bridge House is a 17th Century building that can be found at the North entrance to Ambleside, next to Rydal Road Car Park. This tiny house is filled with history and it is a very popular tourist photo spot.
Questions?
If you have any questions about living on or around campus, our team is here to help. Visit our campus pages on our website or call our team on 0333 920 9936.
Clearing
Don't forget Clearing is now open, if you haven't secured your place yet or are thinking about changing university/course, we've got you. Our Clearing hotline can support you with your decision, call +44 (0) 3722 912 992.
Want to find out more?
You are ready to take that next step. Ready to make that life-changing decision and work towards your career goals. By downloading our prospectus you will have the world at your fingertips.

You can browse our 100+ unique course options and have access to finance and support information to get you started. Discover all of the courses available to you from Arts to Zoology – we're excited to see what you choose.