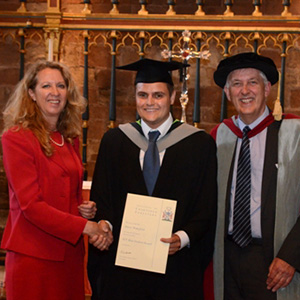 Harry Wakefield
BSc (Hons) Forest Management (with placement)
Class of 2014
Originally from Norfolk, Harry wanted a change of area when coming to university, choosing the National School of Forestry for its reputation within the forestry sector.
"I love working outside and being in a job that has great specifications and lifestyle. Also a job to change and make a difference to England's landscapes."
Harry most enjoyed the camaraderie at university, "meeting and talking to people in the same profession and gaining knowledge and experience from them. I also really like the placement year and the variation of modules, especially urban forestry and tropical forestry. The placement year taught me 70% of what I know now and opened many doors for me with the help of the forestry lecturers."
I chose UoC because it's home to the National School of Forestry, and well known in the forestry sector.
Harry now works for Pryor and Rickett Silviculture, doing forest and woodland management as a consultant, which he credits his course in achieving. "Being at university made me more mature, opened doors to get jobs and taught me the basic knowledge of forestry management."
BSc (Hons)
Forest Management (with placement)
Want a career as a professional forest manager? Then, our degree - the only professional forestry BSc (Hons) in England - is the qualification for you.
Find Out More
Book An Open Day