Listed below are a range of inclusive apps, software, and information pages collated by the University to improve your digital experience. If you require further assistance accessing information, please contact itservicedesk@cumbria.ac.uk
To view other University of Cumbria Accessibility Statements for other systems visit the Accessibility Statements Page
My Computer My Way
Help make your device easier to use.
The AT Toolbar
Can change the look and feel of web pages, read text aloud or check your spelling
Apple Accessibility Guide
Visit Apple Accessibility Guide
Android Accessibility Guide
Visit Android Accessibility Guide
Live captions Google Chrome
IOS and Google Play Apps
Claro MagVR

3D high-definition visual magnifier for your screen.
Search for: 'Claro MagVR' on the App Store (iOS) or Google Play (Android)
Claro MagX

Mobile app that can magnify and improve contrast.
Search for: 'Claro MagX' on the App Store (iOS) or Google Play (Android)
ClaroPDF

PDF Reader for your mobile device with features to increase readability of documents.
ClaroPDF is free by default, however you can buy ClaroPDF Pro for a one-off cost of £9.99.
Search for: 'ClaroPDF' on the App Store (iOS) or Google Play (Android)
Use Chrome Browser Accessibility Extensions
Learn more about Chrome accessibility extensions.
Universal Accessibility Toolkit

The Universal Accessibility Toolkit provides users with a comprehensive selection of tools to fulfil all their accessibility needs in one easy to use extension.
Search for: Universal Accessibility Toolkit App Store (IOS) or Google Play (Android)
ClaroRead Chrome Extension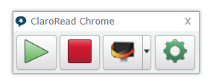 Listen to web pages read aloud.
Visit ClaroRead Chrome Extension
Read&Write Extension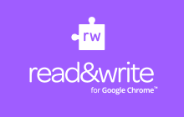 Boost reading and writing confidence across all types of content and devices, in class, at work, and at home.
ATbar Accessibility

Cross-browser toolbar to help users customise the way they view and interact with web pages.
Alternative Formats
If you are struggling to access any digital content on this site and require an alternative format please contact itservicedesk@cumbria.ac.uk
There are a variety of formats that can help to overcome specific accessibility barriers, below are some suggested formats linked to specific disabilities:
visual impairments – audio, audio description, Braille, Moon, telephoneAltFImg.png
learning disabilities and literacy difficulties – audio, audio description, easy read, easy access, , subtitles
hearing – British Sign Language, Makaton, subtitling, textphone, SMS
co-ordination difficulties – large print, audio, audio description, telephone
If you are a member of the University and hold a University staff or student email account you can use our alternative format service directly.
For more information visit the My.Cumbria Alternative Formats Page