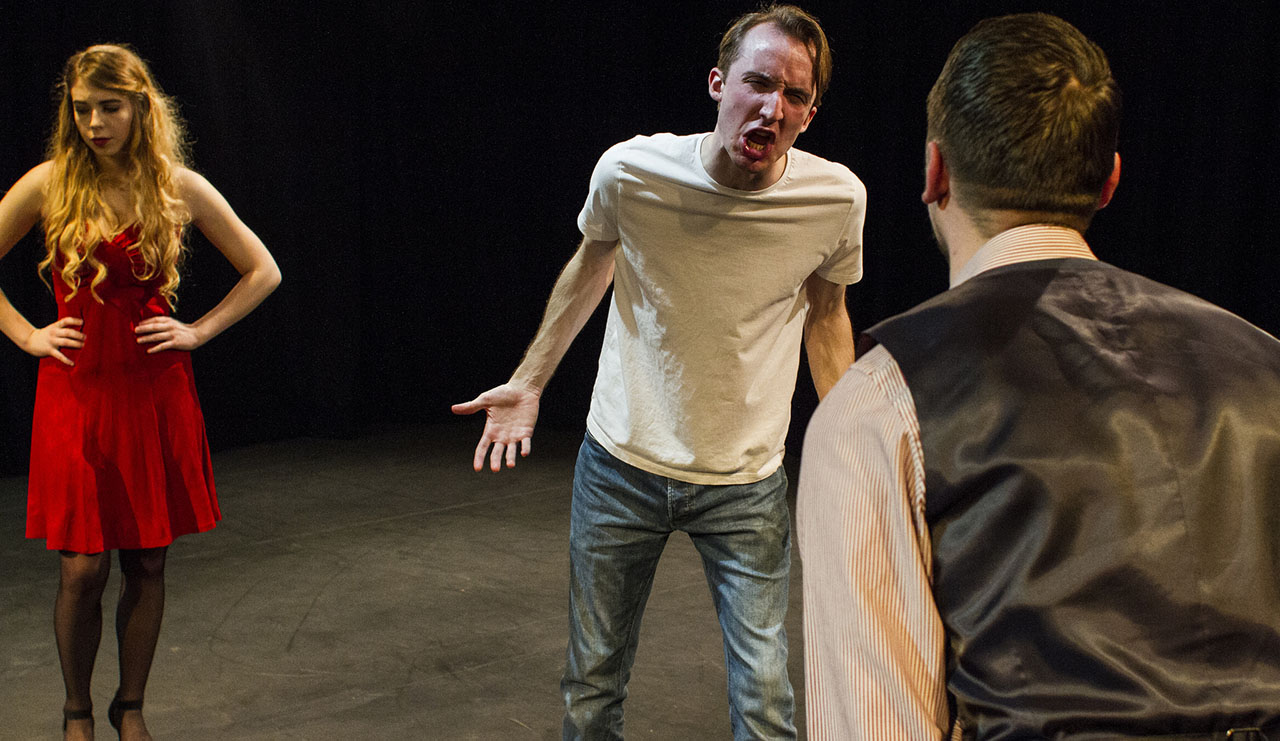 Describe how and/or why you followed your career dreams
This may come as something of a surprise to those who know me and particularly how much I like to be organised; but I would be lying if I said there was any grand design behind my career. I was very fortunate to be born into a creative family; My Mum and Sister were both painters, My Dad was a photographer, and my brother, sister, and my mum all played musical instruments to a good standard. My school however was very traditional in its curriculum and offered little by way of encouragement or opportunities for students who were interested in the creative or expressive arts. I found this particularly frustrating as a dyslexic student because I also struggled to express my ideas through traditional forms of assessment. I was so disillusioned with the idea of education that after I completed my A-Levels, I was seriously considering not going to University at all.
Fortunately, what I discovered at the universities I went to visit was that they offered a much wider variety of subjects and teaching styles than I had previously experienced at school. I was delighted to find I could take three subjects in my first year at Uni. (I took English, Drama, and Art) and that I could work towards a joint honor's degree (English & Drama) in my final two years. I was overjoyed that I could also study Creative Writing as part of my English Literature studies, and that I could specialise in Directing whilst studying Drama. The ability to explore different options at University was just as important to me as the skills I learned and the knowledge that I acquired. More than anything though I was delighted to find that my Lecturers genuinely cared about and were interested in their students. They were willing to support us while we were still figuring out who we were. Because, truth be told, even when I graduated, I still didn't have a plan.
I did however know now that I had two great passions in my life; writing and directing. Directing was fascinating to me because it allowed me to work in so many different areas and ways. As a director, I get to work with actors, writers, designers, and technicians and I am challenged, every day to discover how best to bring together all these disparate elements and combine them into one coherent artistic experience. Directing is very immediate and collaborative and this really appeals to the magpie in me.
As a writer, I get to be more reflective and focused on how I work. I also have more creative control over what I produce. Writing can be a far more solitary and contemplative experience, and this appeals very much to the hermit in me. I wasn't exactly sure when I graduated how I was going to pursue these passions, but I was certain that I should.
And even if I didn't have a plan, University was still a transformative experience for me. In three short years, I had gone from being someone who was, in truth, a poorly motivated underachiever at school and I became someone who had directed their first play in a professional theatre, had their first piece of writing published professionally, and was about to graduate with a first-class degree. I had gone from being disillusioned with the very idea of Higher Education to someone who would eventually hold an undergraduate degree, a Master's degree, and a Ph.D. Someone who would spend the majority of the next 25 years of his life working within Higher Education.
I don't know if I really did follow my dreams. And I am not convinced that careers should be built on dreams anyway. I discovered what I enjoyed doing by trying and exploring as many different things as I could until I found the things that I was most interested in doing. In doing so I discovered that there were some things I could also do well: Not because I found them easy or because I was instantly successful, but because I found in writing and directing two things that I enjoyed doing so much, I wanted to spend all the time I had practicing them. And so, I got much better at writing and directing than anything else I was doing. If anything, I take far more pleasure from the process of creating, than I do from the thing that I end up creating. So, I am driven to keep on creating, driven to keep on practicing and learning even though there is no Grand Design.
Woody Allen once said, "If you want to make God laugh, tell him about your plans." I like that. I think it is important that when you do make your career plans you don't let them blind you to the opportunities that arise at the moment. At certain stages in your life, you will be presented with opportunities that you didn't expect or asked to make choices you don't want to make. All you can do is make the best decision you can with the information you have at the time and move on. And then re-draft your plans. Your plans should not be set in stone, certainly not at 18 or 21. Your plans should always be your latest draft, waiting to be rewritten.
Describe the best experience in your career
As an artist the things that I remember most fondly are the firsts; the first play directed professionally, the first piece of writing published, and the first public exhibition of my photography. But I am very fortunate in my chosen career in that every new project is a chance to start again and do something new for the very first time. Every play and each cast is different. Every opening night is a new experience. Every blank piece of paper or reformatted memory card is a blank canvas waiting to be filled.
As a Lecturer your best experiences come from your students. I was fortunate enough to be nominated as Lecturer of the Year a few years ago in the Student Union Success awards and that was a huge highlight for me personally. But just as important as something like that are the thank you cards you receive from your students at the end of three years, the letters you receive from former students telling you their news, or the emails you receive from parents expressing their gratitude and appreciation. We are also very fortunate in that as Lecturers we get to see the progress our students make in the classroom every day and the confidence being built through every performance they give. But for me the biggest thrill is when you see one of your former students being successful in their chosen careers once they have left; whether they are making their west-end debuts, promoting their BAFTA-nominated films, or receiving their Teacher of the Year awards, you cannot help but feel proud of the students you once taught.
Describe some challenging moments you have experienced
The most challenging thing I have ever done professionally, on the other hand, was to oversee the closure of a course that I had not only taught for over 20 years but that I had also studied as an undergraduate. This was the very course that had such a transformative role in my life and set me on the career path I still walk today. One of the downsides of having so many fresh starts in your job is that you also have just as many endings. At the end of 4 nights the show you have been working so hard on, closes. At the end of three years a cohort you have been working so closely with, graduates, and sometimes old degree courses are closed to make way for new courses.
We live in a world that is constantly changing and this can be a big challenge at times, particularly given the emotional investment we make in the work we create and the jobs that we do. In this respect, one of the great lessons my job has taught me over the years is that you have to be flexible. It is important to honour the past and learn from it, but it is also important to let the past go when it is time to move on. When I was a student, I would hate it when a show closed, I missed the intensity of the work and the comradery that developed between the cast and crew, but I quickly learned that the only antidote to this was to focus on the next project.
What do you wish you could tell your younger / student self
If I could give my younger, student-self some advice it would be this: Take the time to appreciate and enjoy the opportunities that you have been given. Live in the moment. Don't sweat the smaller stuff and worry about the things you don't have yet. You have plenty of time, take advantage of it. Be flexible and don't hold onto the past. Be ready to move on or you never will move forward. The next project can always be better than the last. By all means, make plans but be ready to rewrite them at a moment's notice. But most of all, don't let fear drive your decisions. Everyone worries that they might not be ready. Everyone worries that they might not be good enough. There will always be someone better than you. But none of these things should stop you from doing what you love or trying something new.
Want to find out more?
You are ready to take that next step. Ready to make that life-changing decision and work towards your career goals. By downloading our prospectus you will have the world at your fingertips.

You can browse our 100+ unique course options and have access to finance and support information to get you started. Discover all of the courses available to you from Arts to Zoology – we're excited to see what you choose.