"Teaching five to six year-olds at Westgate Primary puts a smile on my face every single day," says Emily, who points to her PGCE for the life changing push.
"I had considered joining the Army full-time as an officer, working in education, but figured if I stayed in the reserves I could achieve my ambition to teach primary children and have the best of both worlds."
Having experienced Westgate as one of her three placements last year, she didn't hesitate to apply when a permanent post came up and went to the moon and back when she got it.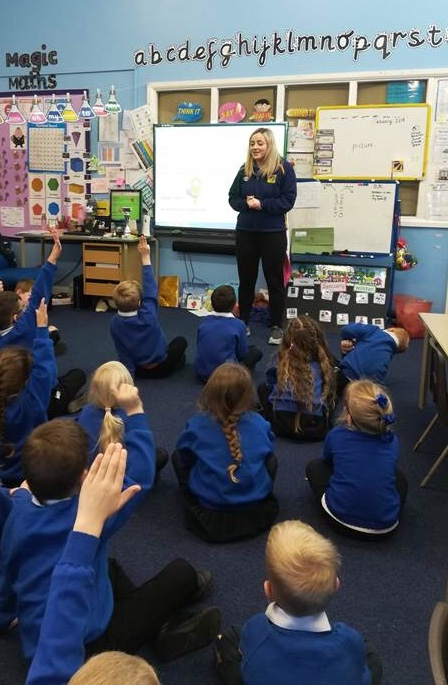 "The fact that I spend six hours of my day with children who are funny, smart, unique, imaginative and curious is a great privilege," she says. "I love being the person responsible for encouraging them to reach their potential - and to never stop believing."
A BSc in Outdoor Education with PE from Liverpool John Moores University took Emily on world work experiences, but her heart was set on teaching early learners.
"I needed a PGCE and because of UoC's excellent reviews, I didn't look at any other university. The interview was calm and informative and I got a very good vibe about the place, course and staff.
"Lancaster's location was great too, accessible to the Lakes and I could easily travel home to Northern Ireland via Liverpool or Manchester.
"I liked how the programme was divided up into three placements with School Embedded Learning (SEL) throughout the year. I was also drawn to the opportunity of completing one of my placements back home and, although it didn't happen, it was comforting to know it would boost my chances of a job locally."
Emily pays tribute to "approachable tutors" and the support they provided throughout the whole year, especially when it came to assignments, job applications and interviews.
"I certainly wouldn't be where I am today without them," she says.
"I really enjoyed the course. It was very manageable with the three block placements, putting into practice everything we'd learnt, and provided time to go to classes in between. Class sizes were perfect and friendly. Our group was very welcoming to one another.
"Each placement brought challenges, but I enjoyed every second of all three. My first was so good, it's where I applied for a job and thankfully now find myself working."
Emily says she was a bit dubious of a shared placement with another student, but had found it very beneficial as they bounced ideas off each other and shared planning.
"I particularly enjoyed studying at the Lancaster campus as it's fairly small with good library facilities. The location is great, so close to the Lake District, perfect for me as I enjoy walking and climbing, and not far from Manchester."
Recommending others follow her PGCE lead, Emily said UoC prepared her well.
"I definitely made the right decision in my choice of university and course. It was all good, even the seminars were very interactive and practical, showing what it would be like teaching in classroom."
As for future goals, Emily is clear.
"I want to continue helping children feel happy, safe and to never stop being curious. Also, I want to share my passion and experiences with future educators. Thank you University of Cumbria for fulfilling my dream and giving me this fantastic career."
If you would like to take aprt in a rewarding and fulfilling career as a teacher like Emily, why not take a look at our PGCE course in Primary Education and find out what we can offer to get you started?
Want to find out more?
You are ready to take that next step. Ready to make that life-changing decision and work towards your career goals. By downloading our prospectus you will have the world at your fingertips.

You can browse our 100+ unique course options and have access to finance and support information to get you started. Discover all of the courses available to you from Arts to Zoology – we're excited to see what you choose.