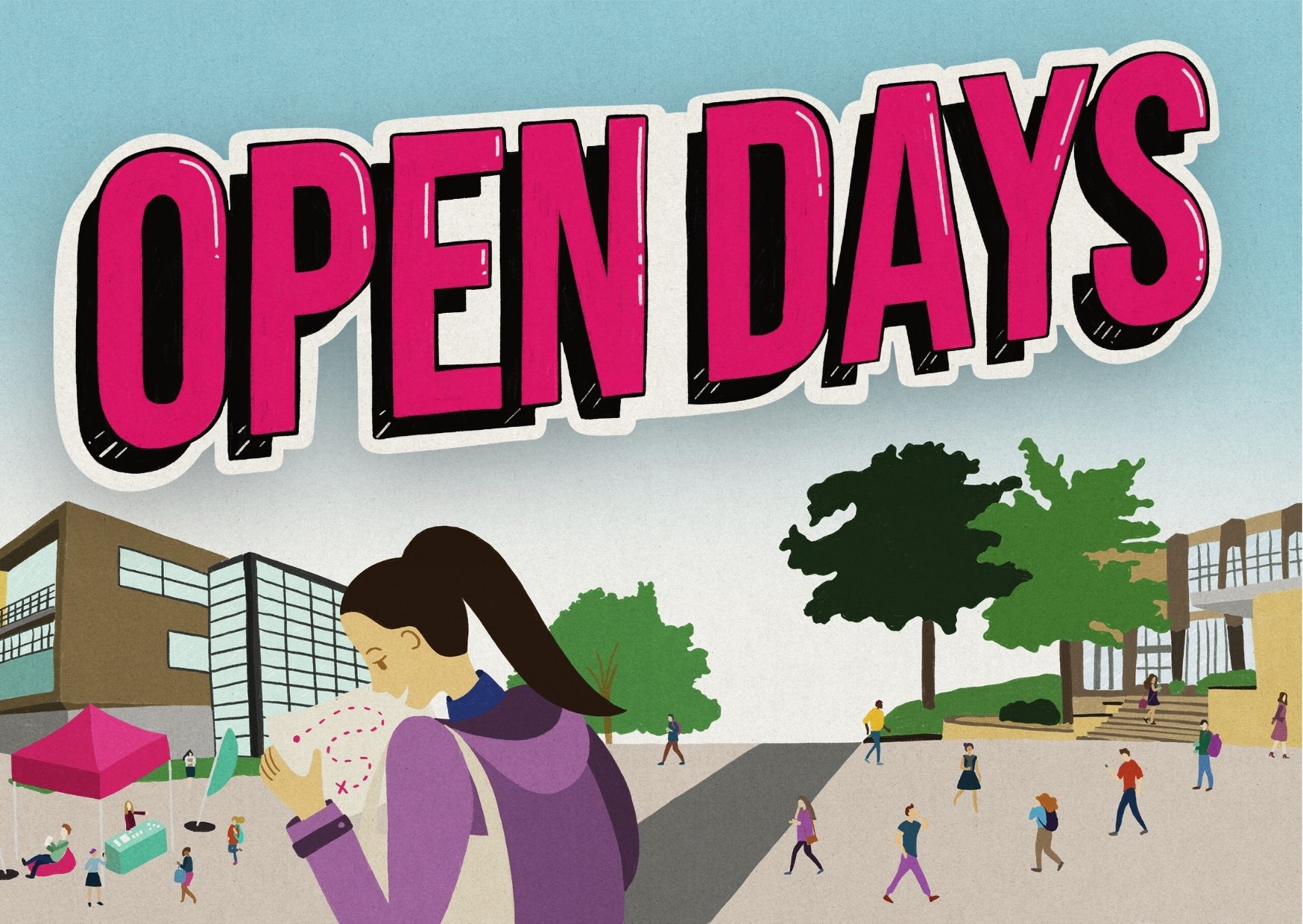 As well as being helpful, the University of Cumbria open days are fun. We are proud to offer authentic, interactive experiences full of honest chat and super friendly advice. You'll be meeting students from a broad range of subjects and engaging in vibrant uni life, all over the course of one unique day.
So in the spirit of academic adventure, let's explore 5 ways you can wring every last bit from your open day at the University of Cumbria. After all, there's a lot of ground to cover, what with Carlisle, Lancaster, Ambleside, and London at your disposal, and we're very proud of our diverse curriculum and stunning campuses. Cumbria and Lancaster are jaw-dropping in their beauty; irresistible to curious minds and enthusiastic explorers. With its unique history and innovative spirit, London offers outstanding cultural and learning opportunities. Be rest assured that we are fully committed to helping you tailor your professional and personal development with the full university experience.
Are you ready to challenge yourself and take on the world from one of Britain's most beautiful and inspiring regions?
Let's go.
Plan your visit
Aimless wandering has its place in life's great experiences but we strongly recommend planning your open day experience so you don't miss a thing.
Here at the UoC, we like to make planning easy. With a comprehensive itinerary of walks and talks, all of which are repeated throughout the day so you don't miss anything, and a downloadable programme sent to you ahead of the day, you can curate your perfect open day experience. Armed with your own personal schedule, you can discover with confidence. We'd also recommend familiarising yourself with the campus map included in your programme, so you don't waste precious time getting lost, (although there will be plenty of help at hand if you do!)
Don't forget your travel plan. Depending on the open day you choose to attend, each campus will have its own specific parking, so we strongly recommend you research parking facilities and public transportation. We'll have plenty of information to help you finalise these small but important details, all of which will contribute to a more relaxing experience.
We want you to share your open day experience with family and friends; it's great to have company and they might have questions you hadn't considered. The great news is you can take as many people as you want with you. And even better, we provide free tea, coffee, and biscuits for everyone.
Finally, prepare some questions in advance of your open day. Visiting a university campus can be pretty full-on and important questions about your course, finances and accommodation might slip your mind.
Wear comfortable clothes
Casual, comfortable clothing is key to a full and enjoyable open day. We don't expect you to dress up to make an impression; keep it comfy and you'll be able to soak up the university vibes and explore our institutes with ease.
We know a comfy outfit might sound a tad obvious, but we thought it was worth a paragraph or two. After all, we want you to get the most from your visit.
Talk to as many people as possible
You're about to make a potentially life-changing decision, so arm yourself with as much information and advice as you possibly can at this crucial open day event. We recommend making a list of courses you're interested in, visiting each respective institute, and sitting in on course talks and workshops with a notebook and pen in hand.
There will be opportunities to talk to students and lecturers about each course, so you can ask questions and use the information gleaned to confidently make informed decisions. We are a welcoming bunch and completely understand how intimidating choosing a university course can be, so please feel free to question us and share any concerns you may have. The great news is that you can change your mind. You might even discover a course that you'd previously not known about!
Remember that university is more than academic learning
University life is so much more than study and academia. We encourage students to dive into fun and challenging activities and explore new interests. Our open day will give you a flavour of our extracurricular activities like volunteering, sports clubs, social events, and so much more. Our amazing Student Union representatives will be on hand to tell you everything you need to know and introduce you to societies you might want to join.
If possible, make university accommodation factor into your open day plan. Where you live, at least for your first year, is pretty important and we want all of our students to understand their options. Have a good look around the different types of available accommodation and chat with your student tour guides, all of whom will be only too happy to help.
Explore the area
Outside of lectures and learning, you'll want to make the most of your free time by sampling the best that your new city or town has to offer.
We don't have to remind you just how gorgeous Cumbria is; if you decide to study at our Fusehill, Brampton Road, or Ambleside campuses you'll be surrounded by nature at its finest, with fresh air and fells in every direction.
Historical Carlisle is a buzzing, easy to navigate city with new bars and restaurants popping up on a near constant basis. Take it from us, you'll never get bored. If you want to take life at a slower, more relaxing pace, then pop onto the train and explore the Lakes and Cumbria's dramatic coastline. If you're studying at our Ambleside campus, you'll have nature on your very doorstep, with its ever-changing landscape and rich wildlife.
Further south, at our Lancaster campus, you'll be steeped in beauty and history. Gawp at Lancaster's iconic medieval castle, revel in its lively pub scene, pick up a bargain from its many quirky shops and enjoy some local live theatre.
What more can we say about London, one of the world's most exciting cities? Our small, friendly campus in the heart of East London is close to Canary Wharf and home to a cosmopolitan blend of eateries, shops, and entertainment.
A final word of advice
We understand that there is a lot of take in on an open day. Please remember to look around you and get a feel for the campus and the area. If it feels inviting and 'just right' then everything else will follow. Note things down, ask questions, and live the student life, even if it's only for one day, and you'll be ready to take that next step.
We can't wait to welcome you.
Book Today
Ready to book your place? We can't wait to meet you!
Don't miss out. Explore our available dates and book your place.