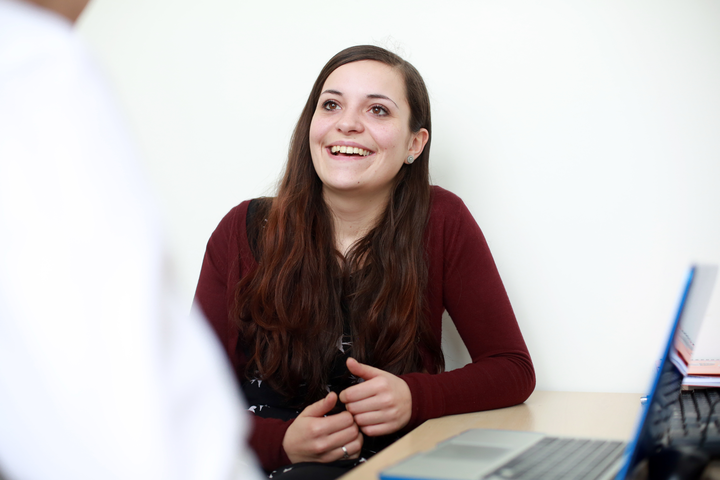 It's the age-old question: can you really 'have it all' in life? If you've decided to enrol for a university degree, you're probably worried that juggling your studies with work and family commitments might mean you've bitten off more than you can chew. Daunting as it may seem, it really is possible to combine all three and give family, work and studying the time that each deserves.
It won't require a superhuman effort and it won't take up all of your time, but it will require finding a balance and working out what matters most in the here and now.
Learn to let go
The quickest way to reach burnout is to be a perfectionist in everything you do. Nobody can be 100% perfect all the time, so the sooner you learn to let go, the better you'll feel. At some point, you are going to fail – whether that's missing out on top marks or not getting the kids' dinner on the table on time. Neither means the end of the world. Work out what really matters to you and learn not to sweat the small stuff, because at the end of the day being 'good enough' is good enough.
Learn to be flexible
You can draw up all the schedules and timetables you like, but at some point, they're going to go out the window. It's good to have a rough idea of what you need to do and when, but it's just as important to adapt to new situations as they arise. You never know when a crisis at work might happen, when one of your children might get ill and miss school, or when the car might break down so you miss your lecture. Life can get in the way, but that's inevitable and the sky won't fall in when it does. You can always find time to catch up.
Learn to prioritise
Juggling work, family and studies is all about prioritising, and all will make demands on your time and energy at some point. If you can learn to prioritise effectively then you'll find managing your commitments become a lot easier. Take things day by day, asking yourself which requires most of your concentration in the here and now, and letting the rest sit on the back burner. You only have a finite amount of energy you can pour into things, so see that it's going to the right place.
Use technology
There are all sorts of apps out there which will help you plan and keep track of things. Try downloading Any.do, My Study Life or TimeTree, to help you remember deadlines and commitments outside your studies. They're a great asset when you have a lot on your plate and most of the calendar apps available are free to download and easy to use.
Plan your budget
There can be no doubt that juggling these three different areas can put additional strain on your budget, and money worries can make it hard to remain focused. If you have to work and have lectures to attend, you may need to fork out more money on babysitters, for example. If you can work out where the biggest expenses are going to lie, you can plan more effectively and take some of the stress out of the balancing act.
Make time for the people who matter
Who are the most important people in your life? However busy you might be, you need to make time for the relationships that matter, both friends and family. Try to set aside some 'protected time' each week to spend with your nearest and dearest, because the last thing you want is for your relationships to suffer as you try to do too much. Even if it's something as simple as meeting a friend for a coffee or taking the kids to the park, make time for the people you care about.
Make time for yourself
Just as importantly, you need to make time for yourself! It's not selfish to want some me-time when you're working so hard, it's a way of ensuring you don't burn out mentally and physically. Make time to indulge in a hobby you enjoy which is not study, work or family-related, to take yourself away from any worries about all your commitments. Even if it's just a soak in the bath on a Friday night, look after yourself as much as you do others.
Ask for help when you need it
There's no shame whatsoever in asking for help if you don't think you can manage. Call in favours from friends, ask to take some time off if you desperately need it and never suffer in silence. University life is great fun but it's also hard work. The university has support services for anything and everything, whether it's financial worries or speaking to a trained counsellor. Remember that you don't have to do everything yourself and there are always people around you to give you the backup you need.
There can be no doubt that finding the time and mental resources to juggle work, family and study is hard. The key is to plan, prioritise and still remain flexible at all times. All three aspects of your life will require something from you some of the time, so it's simply a case of working out which is the most pressing and putting aside time for each.
Always remember that your university is there to help and offer support, so never be afraid to ask. If you can use these tips to help you juggle all three, you could have the time of your life as you work towards your degree.
Want to find out more?
You are ready to take that next step. Ready to make that life-changing decision and work towards your career goals. By downloading our prospectus you will have the world at your fingertips.

You can browse our 100+ unique course options and have access to finance and support information to get you started. Discover all of the courses available to you from Arts to Zoology – we're excited to see what you choose.