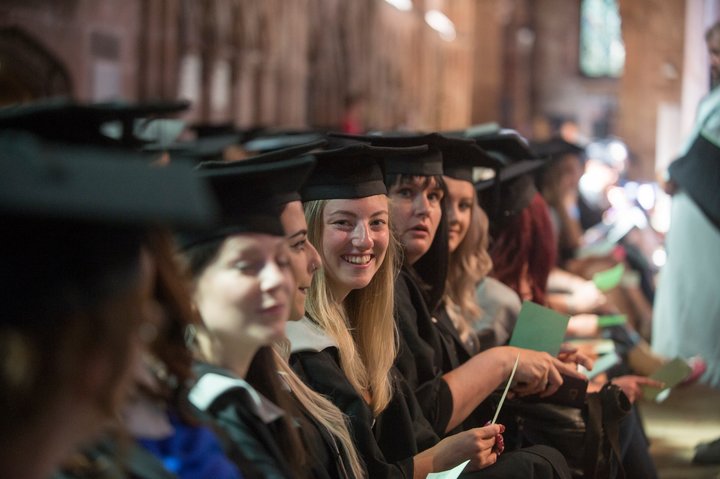 A postgraduate qualification is a serious benefit in any field. By studying at this level you will cultivate in-depth knowledge and expertise, as well as useful professional skills, that will be valuable assets in your career or further studies. We offer a wide range of postgraduate options that span a variety of industries and disciplines – browse our courses to find the right choice to help you move forward into a successful future.
Why study a postgraduate course?

Studying at postgraduate level will give you the skills and knowledge to develop your career and pursue your ambitions. Whether you are looking for further development in your current field or you want to branch out into something completely different, you will gain valuable insight into your chosen subject through the focus of a postgraduate course. That genuine expertise will lead you to a variety of opportunities and put you well on your way to building an impressive professional reputation. Whatever your industry, studying with us on a postgraduate course can help you to make important connections and build a network that opens up even more options, putting you on the path to success.

A postgraduate qualification also helps you to stand out in an increasingly competitive job market. Postgraduate study shows your commitment and focus – two attributes that will really impress hiring managers. Added to that, studying for one of our postgraduate degrees will help you to develop essential transferable skills. Whether you need to work on your communication, leadership, or time management skills, our courses will give you valuable opportunities to improve, helping you to gain an edge over other candidates.

In turn, your improved skills and knowledge can enhance your earning power. In the UK, people with postgraduate qualifications earn an average of around 9% more than those with undergraduate degrees over the course of a lifetime. A similar pattern can also be found in countries throughout the world, so a postgraduate qualification is a great asset whether you want to stay in the UK after studying or you have ambitions somewhere further afield.

For some students, the postgraduate level can be a valuable second chance at higher education. In 2015 it was estimated that 33% of students felt they had chosen the wrong undergraduate degree. If you feel the same way then studying a postgraduate course is a chance to turn things around.
Who can study a postgraduate course?

Whether you are returning to education after a break or you're progressing straight from undergraduate level, a postgraduate course at the University of Cumbria is an excellent opportunity to continue your education and gain experience. With full time, part-time, and flexible study options available, our courses can fit into any lifestyle – you can immerse yourself completely into your studies or easily balance them alongside your career or other commitments. Although our postgraduate courses generally require that you have an undergraduate degree, other qualifications and relevant experience can be considered – contact our Enquiry Centre for more information.

While a postgraduate course is a great way forward for people who want to advance their career, studying in one of our courses also gives you an ideal academic foundation for continuing with further study. The skills you'll gain and detailed knowledge that you'll develop through your course will give you an advantage in whatever ambitions you wish to pursue afterwards.
What can I study?
The University of Cumbria has a comprehensive range of postgraduate courses, so you can find a subject that really appeals to you and will help you reach your potential. You can choose a course that lets you hone in on a passion you've discovered through previous work or study, or you can use the postgraduate stage as an opportunity for a fresh start by pursuing the career you've always dreamed of. Whatever course fits you best, you will graduate with a specialism that will make you stand out from the crowd.

Whether you want to move up in education, social work, business, or finance, our high quality and focused courses offer you the facilities and resources to excel at postgraduate level and develop the skills you need to keep progressing after you graduate. Discover the ideal course for you and contact us or come to an Open Day to find out more about what our postgraduate courses have to offer.
Want to find out more?
You are ready to take that next step. Ready to make that life-changing decision and work towards your career goals. By downloading our prospectus you will have the world at your fingertips.

You can browse our 100+ unique course options and have access to finance and support information to get you started. Discover all of the courses available to you from Arts to Zoology – we're excited to see what you choose.