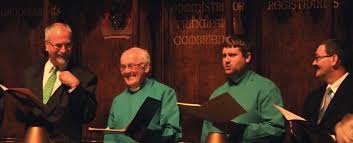 Describe how and/or why you followed your career dreams
Music and performing have always been a part of my life. One of my earliest memories is putting a toy screwdriver in the top of the fire-guard at home and pretending I was on 'Top of the Pops' – yes, I'm that old! My career really began when I was auditioned and accepted into the Cathedral Choir in Carlisle at the age of 7. It was here that I learned to read, sing and perform choral music. 30 years later, I still get the same joy out of performing music in that amazing setting – although my voice now has a rather deeper tone! Throughout school and 6th form I regularly performed and continued this through to the University in Lancaster. Whilst studying for a degree and Masters in Performance and Musicology I pursued performing but also teaching, musical directing, and composition and was even in a few bands, one pretty successful too. I taught myself Percussion, Guitar, Bass, and various other instruments to supplement my singing and piano skills. This was all a great experience but where I got the most satisfaction was in working with others and sharing experiences. I think this is why I went into teaching. Don't get me wrong, performing will always be a part of me, but helping others to achieve their potential is amazingly rewarding. It's hard work, but seeing a young person have that epiphany moment or showing renewed confidence because you have worked with them is an incredible thing.
Describe the best experience in your career
I have so many incredible experiences I could share here but I think one of my personal experiences that I will never ever forget is the first performance of a composition I wrote. It was not the first thing I had written, nor the first to be performed but it was a piece I was connected to and when writing, just seemed to flow out of me, almost like I was imprinting myself on the page in music. Hearing your music performed is one of the most humbling experiences you can have. To hear the colours and expressions and emotion you put into something on paper come to life in performance; the feeling is a mix of pride, humility, gratitude, and joy, it's almost overwhelming. Not only that but for people to want to perform your music around the world is incredible. The piece in question can be heard here: https://soundcloud.com/jonathan-millican-1/o-sacrum-convivium-by-jonathan-millican and has been performed locally by the Cathedral choir, The Herdwyck consort – who made this recording – and in Budapest by the Gabrieli Choir. It has also been accepted to the London Festival of Contemporary Music to feature in their suite of new music for 2019.
Describe some challenging moments you have experienced
Life throws up many challenges and these are often particularly personal and can feel quite isolating. In teaching, there are many of these moments; moments of self-doubt, crises of confidence, especially in performance. The moments for me that I feel are most challenging are when I am working with a group of students and we collectively get 'stuck'. Whether it be a key piece of knowledge they are struggling with or a concept that has given them particular trouble or some technical issue that just won't seem to go away no matter what you try. These moments are frustrating for the student and kryptonite to a teacher or lecturer, but we get through them by going back to basics, examining how we have got to this point, and finding a different way through to success.
What do you wish you could tell your younger/student self
Don't sweat the small stuff. Don't concern yourself with things you can't control, focus instead on that which you can influence.
Want to find out more?
You are ready to take that next step. Ready to make that life-changing decision and work towards your career goals. By downloading our prospectus you will have the world at your fingertips.

You can browse our 100+ unique course options and have access to finance and support information to get you started. Discover all of the courses available to you from Arts to Zoology – we're excited to see what you choose.