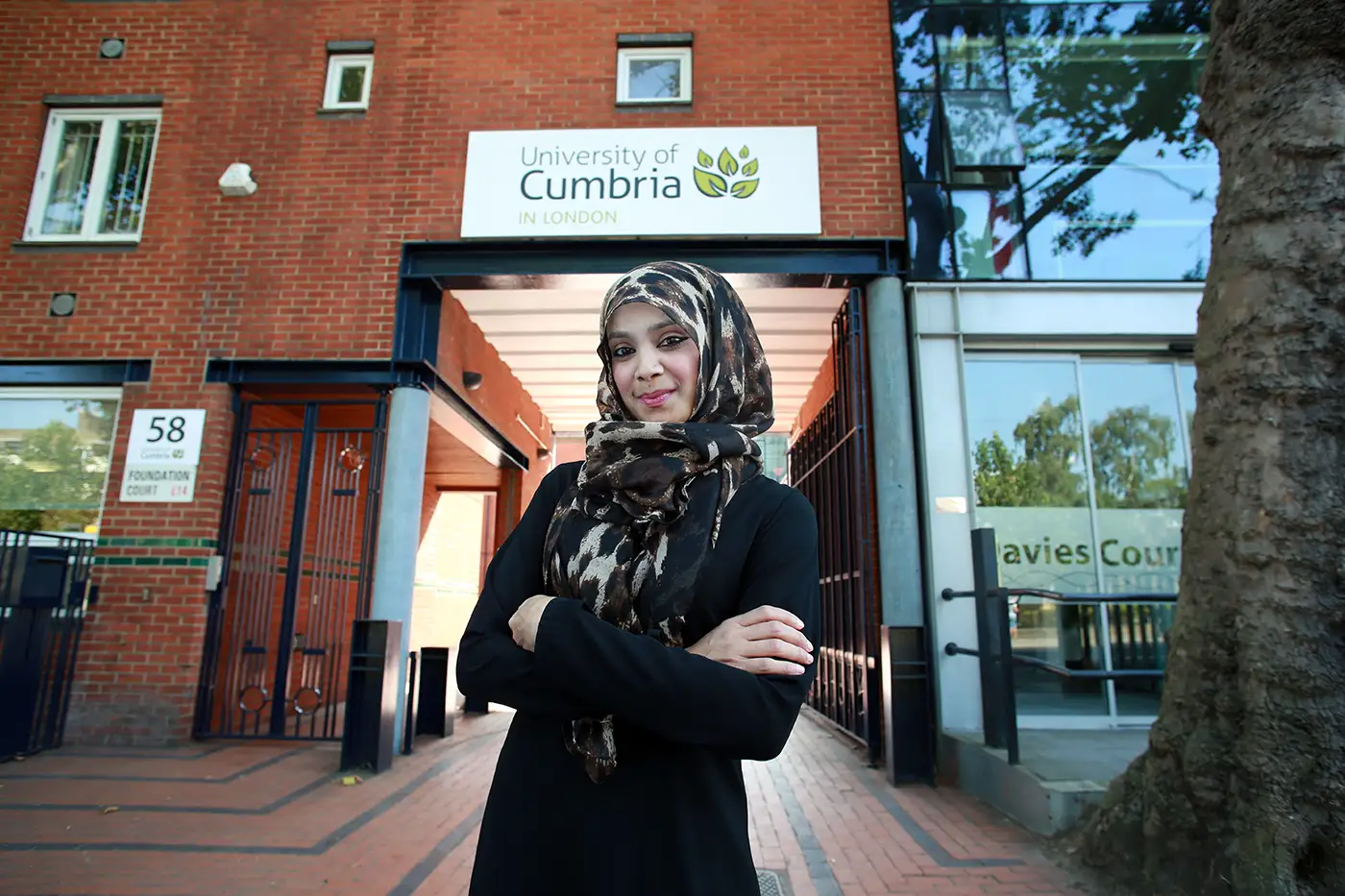 As a student at our East London campus, you'll never run out of things to see or do. From exploring street markets, taking in the culture at local museums, or winding down after lectures at the Crossrail Roof Gardens, there's something for everyone to enjoy in the area. Here are just some of our top picks.
The London Docklands
The London Docklands is a fantastic place to study! It is rich in history and very well connected to the city. Back in the day, it was the world's largest port, welcoming cargo ships from all over the world. In the 1980's there was a vast regeneration programme of the area, and it became the vibrant business and residential area which we see today!
In Westferry, where our London campus is based, you will find that you are in the heart of the docklands with amazing views of the city skyscrapers combined with quiet local parks.
Conservatory Café
We have a beautiful conservatory café on campus where you can enjoy a selection of hot and cold food with halal, vegan and vegetarian options available. It is also a great space to hang out and watch music videos on the TV screen whilst enjoying a coffee or muffin.
Limehouse Cut
If you prefer to branch out for lunch, you are a 5-minute walk to Limehouse Cut – a small canalside walk where you can sit and enjoy lunch in the sun as well as stock up on snacks from nearby Lidl or Tesco. On this street you will also find an array of fast-food shops and cafes including a popular dessert spot, Cotton Candy, for your ice cream and waffles fix!
Close to campus you will also find Noodle Street restaurant, which is great for Asian dining and bubble tea.
Chrisp Street Market
Branching out another 10 minutes or so, you will find yourself in Chrisp Street Market, a Victorian-era-style market, where you will find food from around the world under one roof. Whether it's Chinese or Indian food, you'll never be short of options to choose from. Around the corner, you'll find a staff favourite, Maureen's Pie and Mash Cafe, selling traditional English dishes.
Lansbury Micro Museum
At Chrisp Street Market, you can soak up some local history by visiting the Lansbury Micro Museum. Opened in 2016, it is the world's smallest Victoria and Albert Museum sitting at the base of Frederick Gibberd's 1951 Clock Tower. The museum explores the area's rich cultural and political history through its evolving exhibitions and is free to visit.
Mile End
Heading back to campus, you will find that there is a bus stop directly outside that connects you to more of the local area, including Mile End – which is popular with students and has more chain restaurants and cafes such as Nandos, Costa and Starbucks. Here you will also find the local café Two Magpies, which many of our students frequent to enjoy the coffee and local atmosphere.
Mile End is also stocked up with loads of sporting facilities if this is your thing, such as leisure centres, gyms and climbing walls! Mile End Park is also a nice spot for a walk, which includes a tranquil lake that is home to ducks, herons and bulrushes, meandering gravel paths and a wind turbine.
Bank
If you are looking for something more vibrant and buzzing, you are within a 5-minute walk to Westferry DLR station from campus, which connects you to the rest of the Docklands area and Bank – London's historic and financial centre, named originally after the Bank of England. From Bank you can access most of the city easily and explore the attractions that Bank has to offer including the old Bank of England and Royal Exchange!
Canary Wharf
The most popular place in the Docklands, however, must be Canary Wharf! It's world-famous as one of London's main business districts and full of city skyscrapers, you will find that you can easily walk here from campus or take the DLR a few stops to access its many attractions.
Crossrail Palace Roof Gardens
In Canary Wharf, and only opened several years ago, there is a place called Crossrail Place Roof Gardens – an indoor garden which has an oasis of plants and is free of charge to the public. Here you can sit and enjoy some peace and quiet on the many benches scattered inside the gardens.
Museum of London Docklands
Canary Wharf is also home to the Museum of London Docklands. This is a great place to visit if you would like to learn more about the history of the area and it is a completely free Museum! The museum also collects a huge variety of objects relating to London, its history, and its people, past and present.
And, as if that's not enough, you can be in Shoreditch or Central London in under forty minutes!
Want to find out more?
Studying at our London campus is very rich and rewarding, it allows you to experience city life and explore all the different cultures and attractions available to you, as well as benefit from a cosy campus feel where you can relax and study taking life at your own pace.

Why not find out more about our London campus and browse our London-based courses?
Explore the University of Cumbria in London