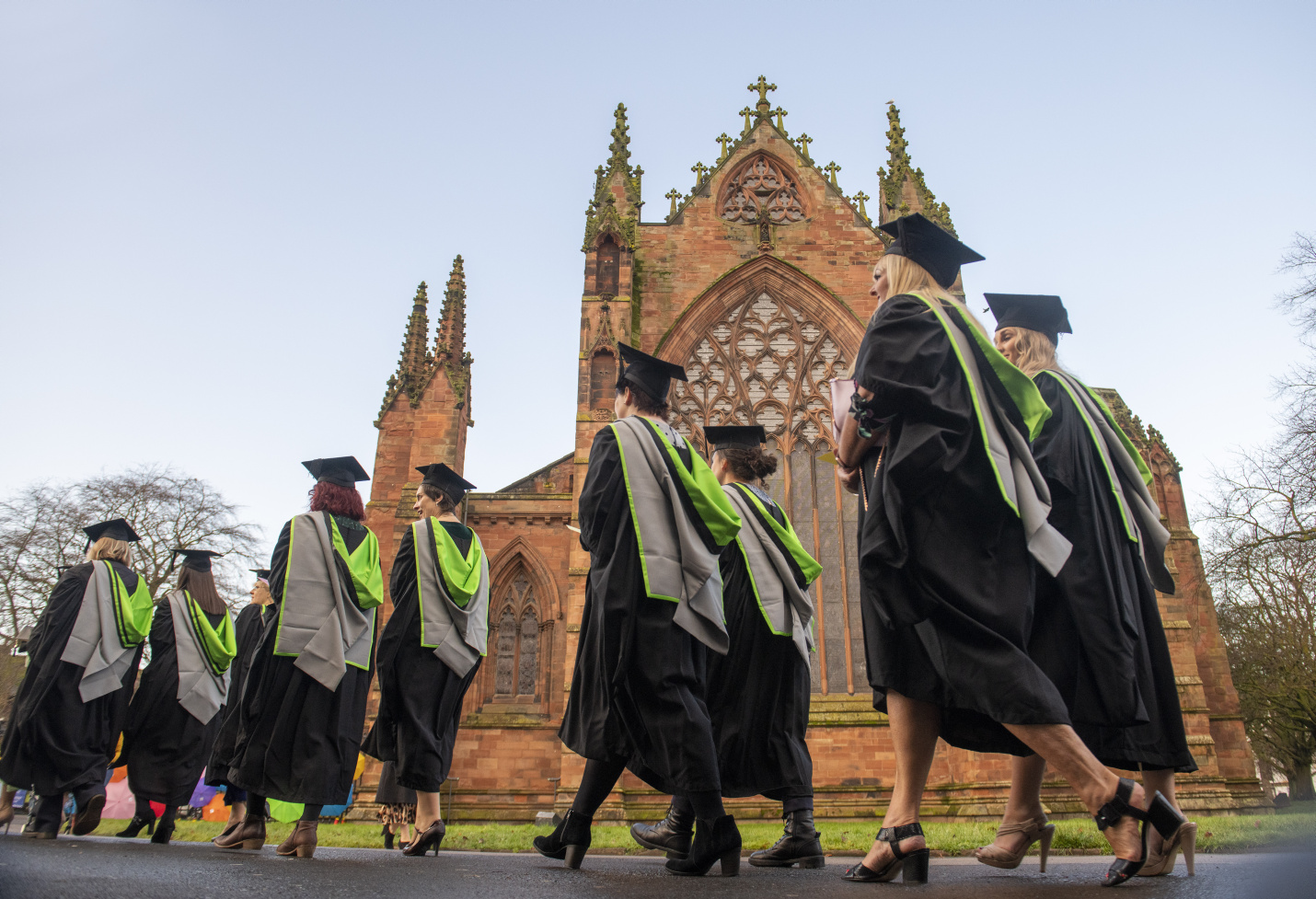 Every year the University of Cumbria hosts our Winter graduation ceremony in Carlisle. Our students are led proudly, in a procession, through Carlisle city centre to the Cathedral. Carlisle Cathedral stands tall above Carlisle, a prestigious venue that we are honoured to have as the centerpiece of our graduation ceremony.
With so many students with unique journeys and stories to tell, we want to highlight some of the success stories from the three days of Graduation.
Student Showcase
Firstly we have Luke Smith who graduated with a BA (Hons) Musical Theatre. His passion for performance really shone through during our interview, but that passion extended beyond his area of study. He spoke at length about his appreciation for his tutor's and guest lecturers. Their nurturing and supportive nature allowed him to push himself in the industry that he loves. Luke also discussed the benefits of studying in the Carlisle area. Carlisle is situated on the main train line, allowing Luke to travel to Manchester and London for auditions and workshops with relative ease. The accessibility of trains also meant that Luke could travel home to visit family and friends most weekends. Luke has secured work performing in cabaret shows and looks to grow his portfolio of work.
Next, we would like to look at Naomi Millington who has graduated in Adult Nursing from the University of Cumbria. Inspired by her mother, an already practicing nurse, Naomi started studying Adult Nursing. Guided by the arrival of her two children, Naomi has already started her role in the Special Care Baby Unit at Furness General Hospital in Barrow. Naomi highlighted during her interview that the support of her partner, family, and course tutors, coupled with her strong work ethic, have been major factors in her current professional success.
Luke and Naomi represent just two examples of successful University of Cumbria Journeys. Many of our graduates have found further work or are gaining experience in their chosen field.
Business to Business
The University of Cumbria also works with partners to re-train current staff members. The Mersey Care Trust team has just graduated from a year of practice development and is one example of our business to business partnership. The group studied and worked together over the last year and their respective roles cover Nursing, Rehab and Therapy. As a team, they were able to bring their varying experience and knowledge together during their studies and have been able to put learning into practise at work, demonstrating a positive impact on patient care.
In addition, our business partner Sellafield saw 8 of their students graduate with Bsc (Hons) Project Management Top Up. This course runs for 1 year and allows employees at Sellafield to attend the course on day release to the University of Cumbria. Neil Crewdson, Head of Project Management & Capabilities at Sellafield Ltd said "We are delighted to work alongside the University as part of the Project Academy for Sellafield. The nuclear industry is vitally important to West Cumbria and I'm so proud we have made a commitment to prepare the next generation of talented people for future careers in the sector. "
This Project Management course has enabled Sellafield students to further their careers and bring new skills and ways of working back to the company. "I originally joined the organisation as an apprentice and I know first-hand how much of an impact work-based education can have on the confidence and career prospects for young people today. Attending the graduation ceremony is one of my favourite times of the year – seeing what our students have achieved. I'm really looking forward to continuing our partnership with the University to help Sellafield and Cumbria as a whole reach its full potential".
Partners/Conclusion
Graduation always highlights the very best of the university. Our staff, students, supporters and academics all come together to celebrate the conclusion of an exciting chapter, but the beginning of the next. Although we are sad to see you all go, we truly cannot wait to see the success you all have in the future. The University of Cumbria wishes you all the best.
We would like to thank our various partners for helping make this event possible. The support of businesses and institutes within the Carlisle area makes us truly humble and thankful. We encourage people to support the following local businesses, with the same passion that they support us: AW Blake Ltd, Cubby Construction, Herdy Sheep, Square Share, Carlisle Cathedral, Crown and Mitre, Tullie House, The Lanes, Carlisle City Council, Cumbria Marquees, Cumbria County Council, Discover Carlisle, St Cuthberts, Faithful Flavours, Bruce and Luke's coffee, Foxes Café Lounge, The Old Bank and The Crown Wetheral.
Want to find out more?
You are ready to take that next step. Ready to make that life-changing decision and work towards your career goals. By downloading our prospectus you will have the world at your fingertips.

You can browse our 100+ unique course options and have access to finance and support information to get you started. Discover all of the courses available to you from Arts to Zoology – we're excited to see what you choose.