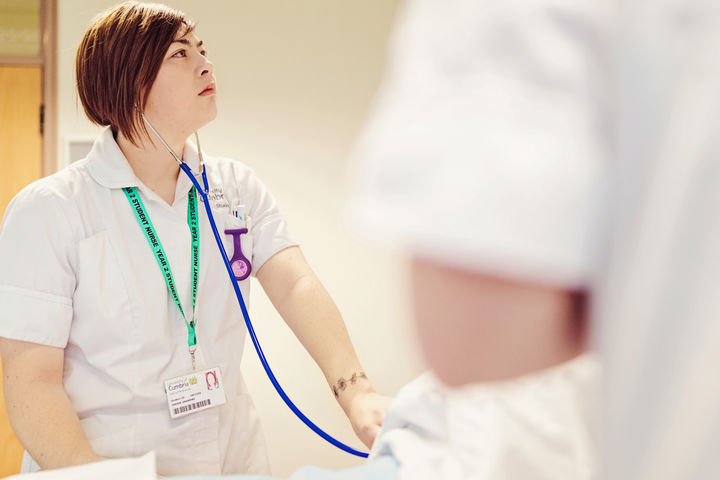 As a member of the nursing profession, you are in a very privileged position and will have the opportunity to support children and adults with a range of needs. You will develop organisational and management skills, become a critical and analytical thinker and enhance your knowledge and understanding of the complexities of managing and delivering care.
A Clear Career Trajectory
A career in Nursing will give you the opportunity to work within a range of specialist areas of practice from the inpatient, hospital setting, in the community and within the private and voluntary sector.
Nursing Education
Students studying towards nursing degrees need to decide whether to specialise in adult nursing, children's nursing, mental health nursing or learning disability nursing. Each of the four fields will focus on developing specialist knowledge and skills alongside working in unison to form the foundational building blocks to become a competent nurse.
Why Become An Adult Nurse?
As an Adult Nurse, you will meet adults from the age of 18 with varied health histories and a range of conditions. The career opportunities are far reaching and include supporting individuals who are acutely unwell, due to illness or trauma and supporting individuals who are living with long term, chronic conditions through to end of life care and a role in public health. You would be increasingly focused on supporting individuals in the community setting as care provision developments are advocating this.
Why Become A Child Nurse?

The role of a Children's Nurse is incredibly diverse, it involves caring for children, young people and their families in a wide range of settings. This includes hospital wards, intensive care, A&E, the family's own home, hospices and community settings. Children's nursing includes caring for children and young people with a wide range of conditions which might include cancer, surgery, respiratory conditions, safeguarding issues and diabetes. The health of children and young people underpins that of society in general, as a children's nurse your role will be to support the development of healthy behaviours and support those with long term conditions to live fulfilling lives.
Why Become A Mental Health Nurse?

Mental Health Nurses provide support and advice to individuals who are experiencing various challenges with their mental health conditions and emotional welfare. They have a chance to dramatically improve their client's level of well-being and will need to draw on their own personal compassion, integrity and resilience in order to work collaboratively to help individuals to feel more independent. It can be extremely rewarding to know you have made a difference to someone who had previously been considering self-harm or coping following traumatic life experiences. You may choose to specialise in working with vulnerable young people, adults orolder adults, with specialist areas such as Eating Disorder Services, Substance Use Services, Memory Assessment Dementia Services, Rapid Intervention Teams and Perinatal Mental Health Services, some examples of many available.
Why Become A Learning Disability Nurse?

Do you want a varied and exciting career where no two days are ever the same? Learning disability nurses think differently and do things differently. Working with people across a range of ages they support the health and well-being of individuals, their families and supporters. Imagine the satisfaction of knowing that a person is physically healthy, mentally well, and feels heard and supported because of your involvement. There is a demand for more learning disability nurses in the UK to continue providing this life changing support. Learning disability nurses work in many environments including community, hospice care, children's wards, prisons, hospitals and a variety of other settings. If you enjoy championing human rights, fighting injustice and inequality, if you are creative, curious and enjoy a fresh challenge every day, this is the field for you.
Nursing Motivations – Heading For The Top!
Once you have been a nurse for a few years, you may wish to advance your career further in order to achieve higher job satisfaction – and a higher salary to match. As a nurse, you'll be able to follow a clearly defined career trajectory. Progress will be achieved as you gain experience and embark on extra training to expand your nursing education. You may, for example, choose to become a senior staff nurse – a role which attracts a salary of around £25,065.
Those with higher nursing motivations may attempt to reach a more advanced position in the NHS. Nurse consultants, the highest possible nursing position, can take home up to £69,168.
Want to find out more?
You are ready to take that next step. Ready to make that life-changing decision and work towards your career goals. By downloading our prospectus you will have the world at your fingertips.

You can browse our 100+ unique course options and have access to finance and support information to get you started. Discover all of the courses available to you from Arts to Zoology – we're excited to see what you choose.