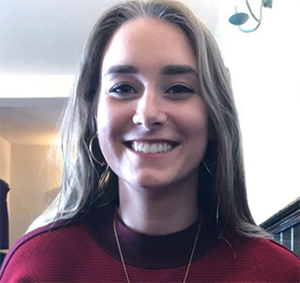 Emily Gill
Occupational Therapy (Pre-Registration)
"Originally from Galway, I was interested in doing a Master's degree in occupational therapy in England, due to limited opportunities to study in Ireland. I chose the University of Cumbria because of its location, closeness to the Lake District and the friendly atmosphere in the university and from lecturers. Ideally located, Manchester, Newcastle, Glasgow and Edinburgh are all within a two-hour journey. Carlisle is also on the main train line to Scotland and London. It's a lovely university for any student, especially if you have an interest in hiking and outdoor activities, being so close to the Lake District."
It wasn't just the location that Emily enjoyed though. "It's a small university, and coming from a large university in Galway, I was apprehensive about this move. It was my first move from home too. I found UoC extremely supportive. The size allows an extensive support network from lecturers, students and any extracurricular needs. This support enables a sense of wellbeing."
The placement opportunities were also a big aspect of the course. "Placement experiences have been invaluable and I will use the skills acquired from each placement in my career. Studying in the UK compared to Ireland has introduced me to a range of potential services which are not available in Ireland."
"Experience gained through placements has been invaluable to me for my future career. The overall support network and friendly atmosphere created a sense of belonging to both the university and local area."
Emily made a special connection to her tutors on the course. "The support and availability of tutors throughout my two years have been fantastic. Even if I had to go back to Ireland, tutors were willing to have Skype calls which enabled me to stay in touch with university work and get assistance whilst away.
"During lectures, tutors maximise students' learning opportunities by facilitating a self-directed approach encouraging all students to perform to the best of their ability. Each student is linked to a personal tutor for the duration of their course. Students can meet their tutors for both academic and any personal issues. Also, other lecturers who you come into contact with are more than willing to meet with students.
"My research supervisor has been very helpful throughout my project and course. All tutors strive to provide the best experience for all students. Having a supervisor and tutors you have trust in and feel comfortable with was crucial to my success in university."
Occupational Therapy (Pre-Registration)
If you want a rewarding career as an occupational therapist, one who confidently enhances the lives and well-being of people facing physical, mental or social challenges, then our masters course is for you.
Find Out More
Book An Open Day