Click here to edit using the old editor
MSc - Occupational Therapy (Pre-registration)
Enhance the lives and wellbeing of people facing physical, mental, or social challenges. Use your existing scientific knowledge to maximise people's ability to move and function in a work environment.

This RCOT and HCPC accredited course is designed to equip you with all the academic know-how and valuable hands-on skills you will need to become a qualified occupational therapist and make a difference in the lives of others.
Apply Now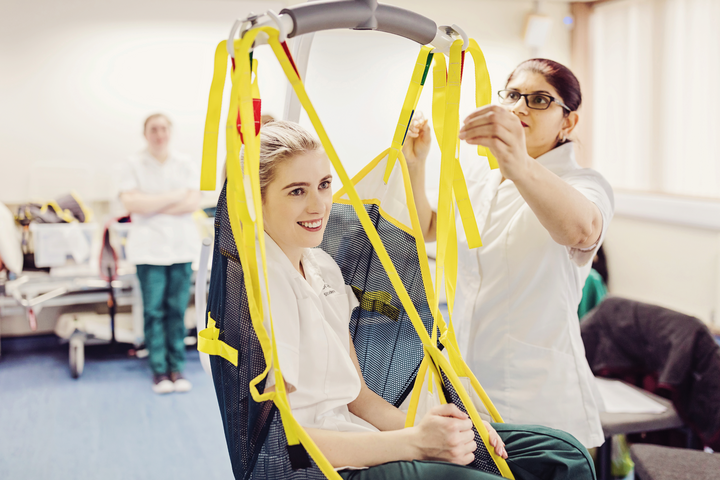 Course Overview
Building on your existing academic skills, you will learn profession-specific practice which meets the needs of your future employers. This will be achieved through academic learning, hands-on learning and a range of clinical practice. This includes working in a variety of settings with children and adults with physical, social or mental health issues. You'll complete over 1000 hours of clinical practice placements, taking advantage of our exceptional partner links.

Our professionally-experienced tutors provide you with theoretical backing and hands-on opportunities in our varied facilities. You'll utilise our simulation labs, home space, creative spaces and more to develop your skills before going on placement. Whilst learning, you will be able to work with other Institute of Health students, as you would in a professional role.
On this course you will...
Work in learning teams with your peers, developing teamwork and networking skills. You will have the opportunity to collaborate and engage with clinicians and service users whilst linking in with other disciplines.
Experience a variety of OT placement experiences in a range of settings including the NHS and social care environments, exploring community engagement, group work and role emerging placements alongside qualified occupational therapists.
Develop analytical and research skills to support your practice as an evidence-based Occupational Therapist.
Become part of an active and vibrant community of allied health students within our Institute of Health. We get to know you personally and our staff and students have great relationships, allowing you to feel fully supported as you study.
Gain a qualification that you can take all over the world to work as you will be eligible to register with the world federation of occupational therapists.
What our students and graduates say
I went into the course thinking that I was going to emerge as an Occupational Therapist only; which I did. However, I hadn't accounted for all the transferrable skills that I would pick up, a real interest in advocating for occupational therapy (and other health professions perhaps sidelined by the medical model) and a strengthened passion for addressing health inequality. Occupational therapy is wonderful because it looks at all the needs of an individual and what is meaningful for them in their lives.

Judy Freeman (Class of 2018)

Founder of Maisha Outreach Therapy Organisation, Tanzania
Location

Carlisle - Fusehill Street Campus

The Fusehill Street campus has been the setting of life-saving treatments since World War I. Now, it's home to world changers, life-savers, crime fighters, and entrepreneurs with access to high-quality facilities and innovative thinking.

Find out more
Carousel skipped
Find out more about studying with us
Attend an Open Day
at Cumbria
An Open Day is your opportunity to explore one of 5 campuses, meet your lecturers, and find out how the University of Cumbria could become your new home.
Take the next step towards achieving your dreams.