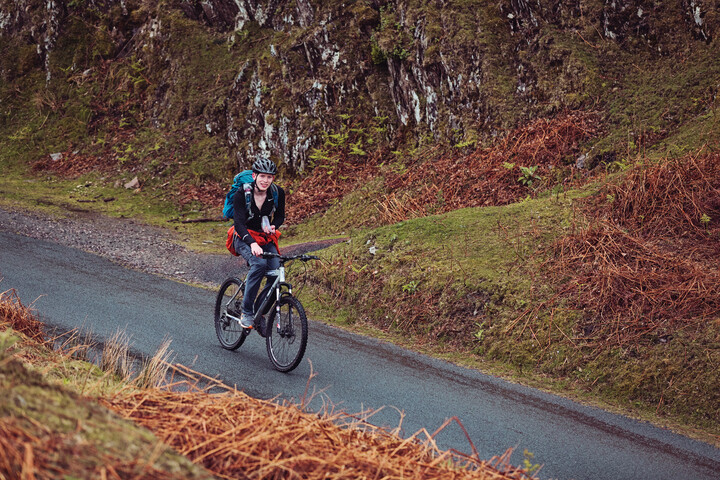 Jen Ager
MA in Outdoor and Experiential Learning
Applying to study for my MA in Outdoor and Experiential Learning was a big career decision for me. I'd qualified as a primary school teacher in 2002, but despondent with the current educational climate, it was time for a complete career change.
Deciding to go for a masters
Living and working in Cumbria, the geographical location of Ambleside campus was perfect for me. I had completed my undergraduate degree in Ambleside too and the reputation of the staff in the department was a definite draw. From my initial meeting with the programme leader once I had successfully been accepted onto to the MA course, I knew that I had made the right decision. I wanted to pursue something that would be transferrable outside the world of teaching. With the support of my employers, I reduced my teaching timetable further and embarked on the MA on a two-year, part time basis and continued to teach two days a week.
Flexibility of the programme
As the programme was module based, and as my workplace were so supportive in giving me leave to attend face to face modules, I agreed to choose some modules where I could use the expertise to develop my pedagogy and share research related practice with colleagues. Due to a pre-organised teaching commitment I was not able to attend the first compulsory module and it was arranged that I would complete that module in year two of my studies.
I eventually spent three years studying part-time for the MA and the university were very flexible in this extension. Whilst studying I also qualified as a Level 3 Forest School Practitioner and covered the assistant headteachers maternity leave for four days a week. Working whilst studying will always present with unplanned challenges but the open communication with the programme staff allowed for flexibility and understanding. What I had not expected from the MA was the community that evolved; both from students and staff. I felt so incredibly supported and although found the work challenging, the tutors were able to facilitate sessions which enabled me to critically reflect on a personal and professional level. The expertise of the teaching staff was first class on the modules that I attended.
Deciding on next steps after my degree
After initially thinking the MA would be an opportunity for me to consider a career change, I have found it has broadened my educational view and encouraged me to look beyond my own setting at wider educational practice. Since graduating I have become an assistant headteacher and also relished the opportunity to present at conferences disusing outdoor learning in primary schools. The knowledge, skills and experience gained by completing the MA have been life changing. I have grown in confidence; developed my own teaching and learning strategies; made new professional connections; widened my world lens and become excited and motivated in looking for new opportunities.
Undoubtedly the MA was hard work, in terms of course content and managing it alongside my life and a career. Unquestionably I loved every minute of it and cannot recommend the course highly enough. Undeniably it has had a positive impact on my career and continues to do so.
Visit our MA in Outdoor and Experiential Learning in the Institute of Science and Environment!
Sophie with a crocodile and an exotic bird
Outdoor and Experiential Learning (Pathways)
The programme has been designed to support people involved or interested in Outdoor Studies or Experiential Learning to develop the knowledge and skills relevant to the development and provision of effective and inspiring courses in a wide range of settings.
Find Out More
Book An Open Day