Professor Chris Loynes, PhD
Professor in Human Nature Relations
Institute of Science and Environment
Centre for National Parks and Protected Areas (CNPPA)
Outdoor Studies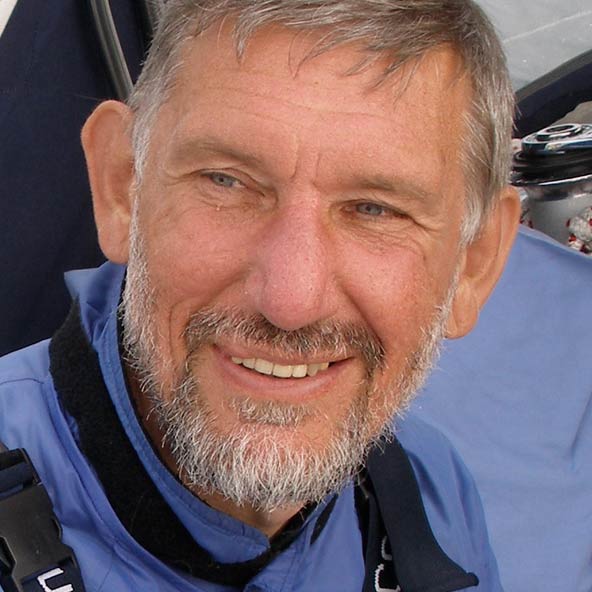 Biography
My own research interests include understanding the impact of Outdoor Education in schools, the outdoors as a vehicle for youth development, understanding the various ways in which people engage with nature and the role of local communities and other communities of interest in their environments. I recently led the Erasmus Mundus international MA Transcultural European Outdoor Studies. I currently lead the Human Nature Relations theme of the Centre for Research in National Parks and Protected Areas. This includes the national Outdoor Learning research hub project in partnership with the Institute for Outdoor Learning. I am research advisor to the Institute for Outdoor Learning and the Bay Trust.
In my career I have been a teacher, youth worker, director of a social enterprise and political activist and so my interests are rooted in helping people with an interest in the environment understand and improve the quality of their activities. I am also a keen sailor, sea kayaker and mountaineer.
Qualifications and memberships
PhD
Fellow of the Royal Geographical Society
Churchill Fellow
Academic and research interests
Human nature relations
Youth transition and Outdoor Experiential Education
The impact of residential experiences for schools
A critical historical and cultural analysis of UK Outdoor Education
Research supervision
Co-convenor of the 9th International Outdoor Education Research Conference, Ambleside, UK. 2022.
C0-convenor of 'Landscapes for Nature Recovery' online conference. 2022 with RSPB, Nature North and the Lake District National Park Partnership.
Principle investigator, Moss of Many Layers a multidiscipliary arts and sciences project in partnership with Nsatural \England and the Place Collective and funded by NERC. 2021-present.
Principle investigator, Learning Away comparative attainment study (partner Learning Away Consortium). 2017-2019.
Principle investigator, Outdoor Learning, Outdoor Learning Regional Research Hubs (partner Institute for Outdoor Learning). 2017-present.
Coordinator of the Learning Away research group. 2017-2020.
Lead Supervisor
Kate Breeze - Study of Residential Experiences and Family Interventions examining 'home-grown' programmes in three contrasting organisations
Dave Harvey - The capacity, impacts and potential of Cumbria's Outdoor Learning provision, a case study
Amy Smallwood - A Multidisciplinary Enquiry into the Phenomenology of Place Encounters in the Outdoors
Publications
McCabe, G., Harvey, D., Loynes, C. & Dhalech, M. (2021). Lake District for Everyone: finding common ground. Penrith, Place Innovation Ltd.
Anderson, N., O'Brien, K., Dhalech, M., Duffy, A., Loynes, C. & McCabe, G. (2021). Inclusivity in the Outdoors. Warwick Bridge, Institute for Outdoor Learning.
Harvey, D., Loynes, C., Morgan, A. & Passy, R. (2021). Schools Emerging from Lockdown. ASPE Bulletin.
Loynes, C. (2020). The Legacy of Maps: breaking the link between maps and navigation in order to experience place. Journal of Outdoor and Environmental Education, 23(2), pp. 137-151. DOI: 10.1007/s42322-020-00055-6
Loynes, C., Dudman, J. & Hedges, C. (2020). The impact of residential experiences on pupils' cognitive and non-cognitive development in year six (10 – 11 year olds) in England. Education 3-13. DOI: 10.1080/03004279.2020.1722199
Loynes, C. & Towers, D. (2019). Knowledge construction in outdoor education. In: Kahn, P. & Anderson, L. (eds.) Developing your teaching towards excellence, 2nd edition. Key guides for effective teaching in higher education series. Abingdon, UK: Routledge, Taylor & Francis.
Hedges, C., Loynes, C. & Waite, S. (2019) Research hubs: the theory-practice nexus. In Humberstone, B. & Prince, H.E. (2019) Research Methods in Outdoor Studies. Abingdon: Routledge.
Loynes, C. (2018). What would a post humanist, post growth outdoor education practice look like?. Japan Outdoor Education Journal, 21(2), 45-47.
Mitten, D., Loynes, C., Justin, I. H. & Hirohide, N. (2018) For the future of the outdoor education. Japan Outdoor Education Journal, 21(2). 33-44.
Loynes C. (2018). Leave More Trace. Journal of Outdoor Recreation, Education and Leadership. 10(3), 179-186. doi: 10.18666/JOREL-2018-V10-I3-8444
Loynes, C. & Towers, D. (2018).Finding New Ways: developing a co-constructed approach to excursions in Higher Education Journal of Experiential Education. 41(4), 369-381. doi.org/10.1177/1053825918808329
Becker, P., Humberstone, B., Loynes, C. & Schirp, J. (Eds.) (2018). The Changing Face of the Outdoors in Europe. London: Routledge.
Loynes, C. & Pedersen Gurholt, K. (2017) The journey as a transcultural experience for international students. Journal of Geography in Higher Education. 41 (4). 532-548.doi.org/10.1080/03098265.2017.1337734
Loynes, C. (2017). Theorising of Outdoor Education: theory and practice. In Jeffs T. & Ord, J. (Eds.) Outdoor, Experiential and Informal Education: beyond the confines. London, UK. Routledge.
Loynes, C. (2017). The Renaissance of Residential Experiences: their contribution to outdoor learning Chpt 16 pp. 209-221. In, Waite S. (Ed.) Children Learning Outside the Classroom: from Birth to Eleven 2nd ed. Los Angeles, Sage.
Prince, H.E. & Loynes, C. (2016). Adventure, Nature and Commodification. in Davis, P. & Convery, I. (Eds.) Shifting Interpretations of Natural Heritage. Boydell & Brewer: Newcastle University 'Heritage Matters series'. pp. 231-237.
Backman, E., Humberstone, B. and Loynes, E. (Eds.) (2014). Urban Nature: inclusive learning through youth work and school work. Stockholm, Sweden.
Loynes, C. (2013). Globalization, the Market and Outdoor Adventure. In Beames, S. & Pike, E. (Eds.) Outdoor Adventure and Social Theory. Taylor and Francis.
Loynes, C. (2010). Journeys of Transition: 'the role of narrative within the Stoneleigh Project'. Journal of Adventure Education and Outdoor Learning; 10 (2), pp. 127-145.
Loynes, C. (2010). The British Youth Expedition: cultural and historical perspectives. In Beames, S. (Ed.) Understanding Educational Expeditions. Rotterdam, Netherlands; Sense Publishers.
Link to full list of articles, conference papers and books
Recent external roles
Trustee of the John Muir Trust.
Member of the Outdoor Learning Strategic Research Network, Natural England; 2015 – present.
Member of Nature Connections Research Network; 2015 – present.
Vice-chair of the European Institute for Experiential Learning and Outdoor Adventure Education; 2018 - present.