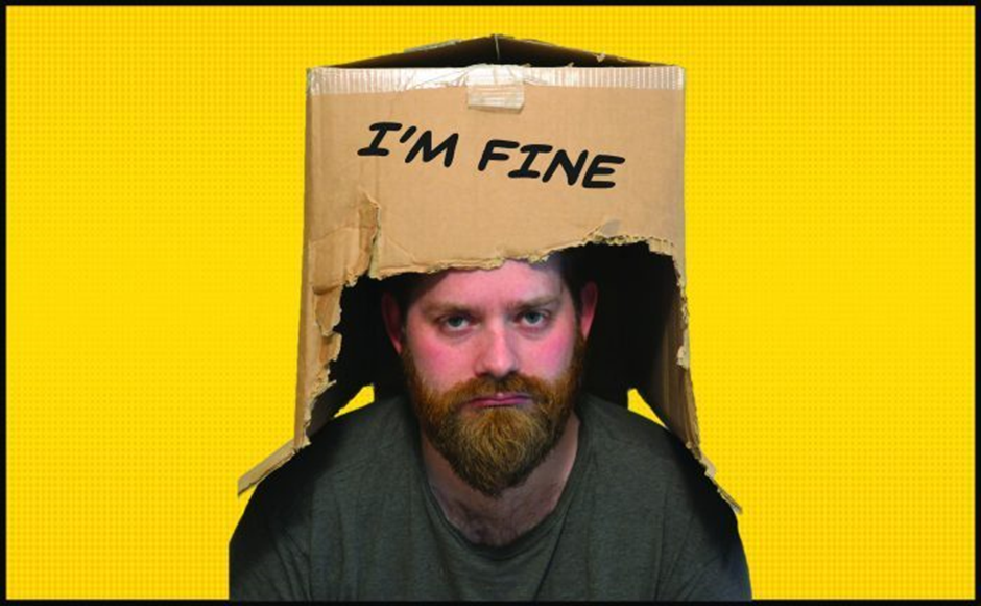 Colourful Photo of Ashleigh Owen looking thoughtful about her sexuality. We have seen an increase in national awareness campaigns and the appointment in October 2018 of a Minister for mental health, inequalities, and suicide prevention. The complexity of Mental Health begs questions of not only how you can help yourself but how you can help support others around you? Creativity, art, and performance are an avenue many explore for an outlet and therapy for mental health. The ability to reflect and express personal feelings and emotions is also a platform to educate spectators in representing and reflecting on mental health.
Every person's mental health journey is personal and unique to them, therefore therapies will have varying effects. Performance art is one specific way to address an individual or collectives reflection of the reality of a condition and express their journey. Through the subject matter of the performance, the portrayal of another, or partaking in the activity of performance itself; it is an opportunity to express themselves through verbal and physical performance. Historically, some of the most prominent writers, poets, painters, actors, and singers have struggled with mental health, this may have been reflected in their work or acted as a driving force within their performance.
Performance art can act as a tool in stamping out the stigma attached to any Mental Health conditions. Representing how conditions can manifest in a variety of ways, how one remedy will not work for everyone, and how research and theories of coping mechanisms and possible cures can fundamentally work toward an open and supportive environment.
The physicality of performance arts such as dance and acting has the ability to draw people out and into participating in what can be positive physical, emotional and social activities. Working with others can grow confidence and act as a release of energy or focus people's attention on something positive. The opportunity to rehearse and hone their craft is a powerful tool in taking back an element of control.
Statistically, 1 in 4 people will experience a mental health issue in their lifetime. Therefore, the likelihood of a family member; partner, or friend requiring support at some point is almost inevitable. UK Mental Health Charity Mind agrees that although art and creative therapy are deemed to be beneficial to many, they require more in-depth research to look at particular conditions or problems and how therapies act as a support or treatment for mental health.
Developing an understanding of prominent mental health issues such as anxiety, depression, and eating disorders allows people to become educated in understanding the plight of others. Equally normalising mental health resonates with others so they realise they are not alone.
Creativity as a tool within Mental Health Nursing
Steve McCarthy-Grunwald, Senior Lecturer of Mental Health Nursing Studies at the University of Cumbria, highlighted how University of Cumbria courses are utilizing creativity within their teaching and profession:
"The mental health-nursing helps students to develop a healthy appreciation of creativity in helping others in exploring mental health and wellbeing. From assessments and presentations in a role-play style to looking at contemporary works of fictional novels and poetry alongside Films and documentaries which include themes of mental illness stigma, discrimination, and positive health and wellbeing."
"There are at least three reasons why creative arts are important for our mental health:
Firstly, creative arts can be therapeutic in their own right. Aspects of creativity involving art, drama, poetry, and music offer a forum where individuals can develop a sense of value and meaning in their personal experiences.
Secondly, building such creative arts into education and training provides an alternative approach, addressing areas of personal development such as self-expression, confidence, and authenticity. Artistic pursuits offer a way of developing positive energy, through the creation of a piece of art, or performance, which offers a level of productivity to our lives.
Thirdly, many artists find inspiration for their work in their own experiences of mental health concerns. Many poets, painters, actors, and musicians have experienced mental illness and stigma, although, through such adversity, they have still found a way to channel their creative powers, which has, in turn, led to a positive, meaningful, and ultimately more hopeful understanding of mental illness.
Live Performances on Mental Health
This July, University of Cumbria's Lancaster Campus plays host to the Festival of Mental Health. A new performance will take place each Friday for three consecutive weeks. Each piece explores a journey of an individual's experience of Mental Health. As they delve into the diverse areas of grief, Post Traumatic Stress Disorder (PTSD), and the stigma attached to a diagnosis. They are able to reflect on personal situations in a powerful and entertaining way.
The Performances stem from direct or observed experiences of mental health and the stigma that has been experienced by the writers.
To find out more or purchase tickets visit www.cumbria.ac.uk/events
If you are interested in learning about a challenging and rewarding career, find further details on BSc Hons Mental Health Nursing at www.cumbria.ac.uk/mhnursing
Want to find out more?
You are ready to take that next step. Ready to make that life-changing decision and work towards your career goals. By downloading our prospectus you will have the world at your fingertips.

You can browse our 100+ unique course options and have access to finance and support information to get you started. Discover all of the courses available to you from Arts to Zoology – we're excited to see what you choose.