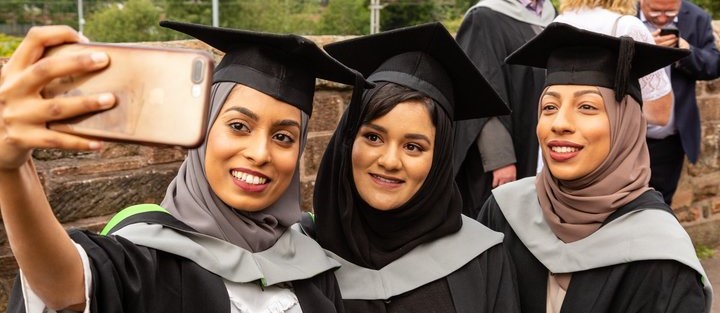 CHOOSE YOUR COURSE
One of the easiest ways to narrow down your choice of universities is to choose which course you want to study. How specialist the course you want to study is will depend on how many providers you will have to choose from. For example, If you want to study Psychology, you'll have 181 providers* to choose from! However, if you want to study something more specialist like Outdoor Leadership, you'll have 9 providers* to choose from. This is a great first step to narrowing down your list. Check out our course listing to explore the wide range of courses we offer.
*According to UCAS
HOME OR AWAY?
When you're considering which university to go to, you'll likely also be deciding if you want to stay at home whilst you study, or if you want to move somewhere new. It's important to weigh up the pros and cons of each and decide what works best for you.
By living at home you'll have access to the support of your friends, family, or guardians more readily, you'll be staying in an environment you're familiar with and it may cost you less to stay at home and commute to your university of choice. If this sounds right for you, you'll need to think about how far you'll be willing to commute for your studies so you can shortlist the universities that sit within that area.
However, you may want to move away from home to try somewhere new. Firstly you need to think about how far away from home you're willing to travel, you might want a taste of freedom with the ability to travel home on weekends, or you may want to move to the other end of the country - it's your choice! By moving away from home you'll likely stay in student accommodation or halls, and you'll be able to see what it's like to live independently. You'll also have the opportunity to explore your new home in your free time, who knows what you'll discover!
CAMPUS OR CITY?
Campus and City universities can offer you a very different living and learning experience.
Campus universities generally have a much closer community feel to them, they're often based around cities and towns and their grounds and buildings are usually maintained by university staff. Most students and facilities are usually based in one location, making it easy to get between your classes, the library, and other buildings. There's often on-site security too, so you'll feel a little more secure in your new home. Why not check out our campus locations here?
City universities are usually located within a city or town centre, students can live and work around a city centre. City university facilities will often be placed in a variety of different locations across a city rather than in one place, so it may take slightly longer to get between your classes. However, being at a city university means you'll be at the heart of all the action, you'll be surrounded by the hustle and bustle of city life whilst you're moving between your classes. Check out our London campus here.
ENTRY REQUIREMENTS
Entry requirements vary hugely between universities. Before you start shortlisting keep to hand your predicted grades so you can compare them to what universities are asking for. You'll also need to consider if they're asking for any specific subject requirements. For example, if you want to study Nursing, some universities may require you to study sciences at level 3 (A-level or equivalent), but others may accept level 2 (GCCE or equivalent). Universities will often also have advice on what they're looking for in your personal statement, so make sure to check out the entry requirements when you're shortlisting. Unsure of how to start your application? Check out our personal statement guide.
AVAILABLE FACILITIES
The facilities available at each university may have an impact on student life and your studies. Think about what kinds of facilities you'll want to be able to access when you're studying at your chosen university. You may want to make sure they have a specialist piece of equipment you can use in your studies, or you might want to make sure the sports facilities are up to scratch. Why not make a shortlist of what is important to you so you can check them off when you're shortlisting? If you're not sure, then attending a few Open Days to see what different universities offer is a great way to get an understanding of what you might want to look for
You may also want to consider if the university is planning on investing in any facilities over the next few years; there may be developments you may benefit from as a student which might not yet exist!
ACCOMMODATION
If you're thinking of moving away for university, accommodation might be an important part of your decision when thinking about where is right for you. Have a look if the university offers accommodation to its students and whether this accommodation is owned and run by the university itself or by private providers. It's also worth considering the location of accommodation; if accommodation is campus-based you'll likely not need to spend much money on transport, but if it's a 20-minute bus ride away from your classes you may need to take this into account in your budget.
Different universities offer a wide range of accommodation types, including shared bathrooms, en-suites, self-contained flats, and houses. These different types of accommodation will come in a wide range of prices, depending on where you want to study will depend on how expensive your accommodation is. For example, our accommodation at Cumbria ranges in price from £80 to £127.50 so there's something for every budget.
MAKING FRIENDS AND SOCIALISING
Have a look at the activities and opportunities on offer outside of your studies. Check out each university's student union and see what they're doing for their students, as they will often host events for students to socialise, offer welfare support, provide volunteering opportunities, and will be involved in the running of student societies.
Student societies are a great way for you to meet new people, socialise, start a new hobby or keep active when you're at university. Most students' union websites will provide a list of all the exciting societies you could join as a student.
Although you can find a lot of this information online, the best way to get a feel for whether a university is the right place for you is to visit in person. An open day is a great way to explore your potential new home. If you'd like to find out more about our university, explore our open days below.
Book onto our open day
An Open Day is your opportunity to get on to campus, meet your institute, and start to decide whether the University of Cumbria could be the place that you call home for the next few years.