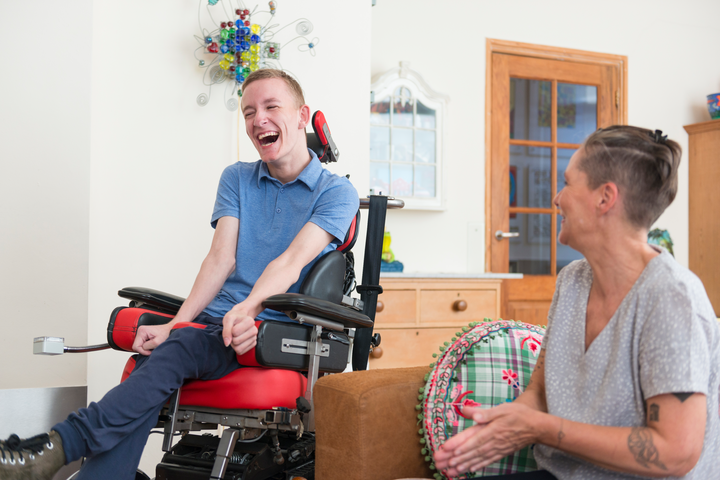 "It's not just about what learning disability nurses do, it's what they prevent being undone." Megan Ford, January 2020
Learning disability nurses not only work in a wide range of settings. The flexible aspect of the role, means they need to hold a wide range of skills, knowledge, and values that they will use to meet the complex mental and physical health needs of both adults and children. We've listed below some key aspects of the learning disability nurse role that shows some of the things that they do.
They have advanced communication skills
Learning disability nurses are creative communicators. They utilise a variety of skills and resources such as signs, pictures, symbols, and easy read to make sure the people they support can understand and be understood. They really do listen.
They are always person-centered
A learning disability nurse makes sure that the person is at the heart of everything that they do and that the person's wishes, hopes, dreams, and desires, drive the support delivered to them.
They are advocates and activists
Learning disability nurses are not someone's voice but they are there to protect it. We make sure that the person's voice is heard, their human rights are protected and that discrimination does not occur. Empowerment and partnership are at the top of their agenda.
They are innovators
Learning disability nurses are problem solvers, they can find new and creative ways around any obstacle or hurdle placed in the person's path.
They work across the lifespan
They work with young children, older adults, maternity services, end-of-life care, and everything in between. Sometimes they can work with people long-term, putting them in the privileged position of getting to know a person and their families and/or supporters.
They make a difference
Learning disability nurses can have a big impact on improving a person's situation and support. Always acting in the person's best interest, they can coordinate care, treatment, and services ensuring that reasonable adjustments and good communication make for a good experience.
They have many opportunities
Learning disability nurses are employed wherever there are people with learning disabilities, and that is everywhere. Community to inpatient, prisons to hospices, GP surgeries to acute hospitals, their specialist skillset is welcomed across the board.
They are in high demand
There is recognition of the specialist skills of learning disability nurses and growing demand for more of them across services. Not only are they in high demand but in 2020 learning disability nursing students were given an extra £1000 on top of the existing £5000 training grant to encourage more people to study to become learning disabilities nurses (Find out more here). There has never been a better time to become a learning disability nurse.
Are you interested in studying Learning Disabilities Nursing?
We offer a BSc (Hons) Learning Disabilities Nursing course. Here at the University of Cumbria, we will enable you to gain all of the knowledge and practical skills you need to become a confident and qualified Nursing and Midwifery Council registered learning disabilities nurse. It's time for you to make a difference, visit our course page today for more information on the course, call 0845 606 1144, or email enquirycentre@cumbria.ac.uk to speak to an expert and plan your career.
Want to find out more?
You are ready to take that next step. Ready to make that life-changing decision and work towards your career goals. By downloading our prospectus you will have the world at your fingertips.

You can browse our 100+ unique course options and have access to finance and support information to get you started. Discover all of the courses available to you from Arts to Zoology – we're excited to see what you choose.