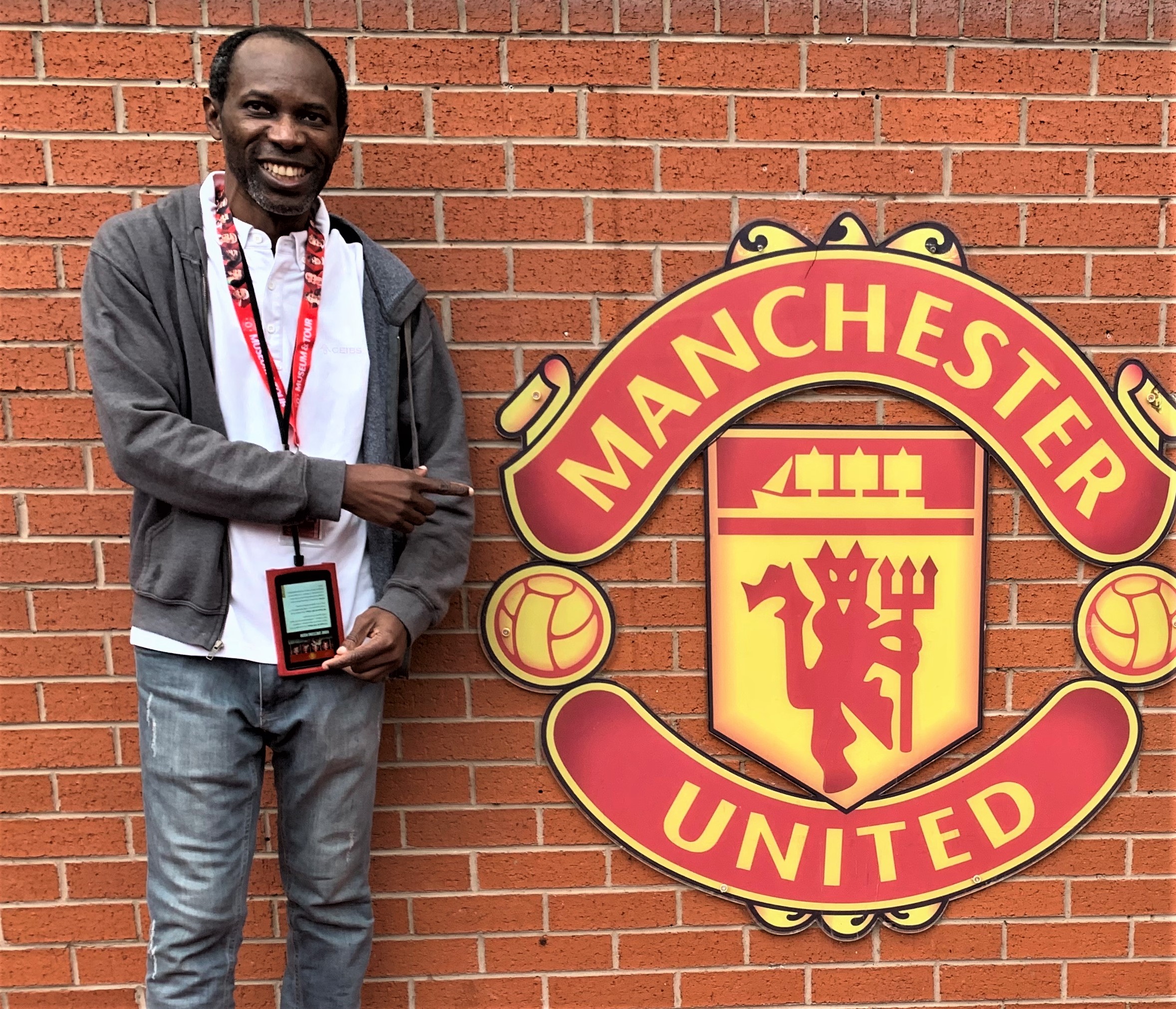 Anderson Uvie-Emegbo
MBA Lancaster
Anderson Uvie-Emegbo talks about his journey from Lagos to Lancaster and the many things he loves about being an MBA student at Cumbria – his new home away from home.
My top 10 reasons to love Cumbria
1. A home away from home
Before moving to the UK for study with my wife and son, I lived in the megacity of Lagos in Nigeria – home to around twenty million people. I am used to a chaotic, busy, big city atmosphere with lots of noise - so moving to Cumbria was quite a culture shock initially. Still, we have all quickly become accustomed to a new, quieter way of life in the UK, and my family and I are embracing the differences in our new home in Morecambe, the seaside town in the City of Lancaster district.
We love strolling along the promenade enjoying ice cream and the sweeping views across the bay.
2. Lagos to Lancaster in 6 hours
I chose to come to Cumbria against all odds.
We made the six-hour flight from Lagos during the Covid-19 pandemic when Nigeria was under the strictest 'red list' travel restrictions. It was a nerve-wracking time to be undertaking international travel, but we were determined. It was a cold, windy and rainy day in January when I arrived in the UK and landed at Manchester International Airport. I remember it well.
A smile broke out on my face when we (and our eight suitcases!) were personally welcomed at the airport with a free pickup saloon.
The University had arranged everything, it was no stress, and the driver took us straight to Lancaster. Despite everything, I already felt I was home away from home, and to Cumbria's credit, they paid us the full fee for our quarantine hotel. This was very welcome and very reassuring.
3. Self-Development
I'm bettering myself, and the life of my family.
Originally from Nigeria, I am a medical doctor by training, but moved into management consulting 15 years ago and have been working and teaching in Ghana and Nigeria ever since, but I felt like sometimes you just want to be in someone else's class and expand your own personal knowledge and life experience to make your friends and family proud.
4. Opportunities to challenge yourself
I had already completed an MSc at a different university, but I wanted to expand my knowledge and experience with a Master of Business Administration at Cumbria and be challenged to raise my business, management, and leadership skills.
I am committed to learning and improving myself and have always been keen to study the MBA prestigious qualification. Studying in the United Kingdom has always appealed to me, but it was not until the new Graduate Route was announced by the UK Government, where Nigerian students can work for two years after Graduation it finally became a reality for me and for which I am most grateful.
5. Live Your Best Life
I think I got a good deal, and my MBA will open doors for me to work anywhere in the world. It has been a great four months for me so far on the MBA programme. I have completed my first set of modules and I already feel like the 4.0 version of me.
I am living my best life. Kudos to my teachers - Karam, Justin, Jo, and David.
If I had to pick one thing that stands out; it would be the 'Sustainability Issues in Business' module and lecturing staff – a real highlight of the course for me.
This module gave me a very great perspective and has encouraged me to involve sustainability in everything that I do, and everything I will do in the future when I return home to Nigeria – that is a very big driver for me.
6. Phenomenal Support
Like every student, a faculty member from the Business School was assigned to support me as my Personal Tutor from the start of the programme. His role is to provide guidance and support around any issues I may have. Being in a new environment, I had a few issues, but I have really enjoyed the responsive and empathetic support of Dr Raye Ng – he is phenomenal!
My advice is to make use of this personal tutor service – it is for every student. This member of the academic team does not teach you but is a source of support, help, and guidance throughout your studies. I have been to Raye several times – and he is a strong 'value add' to the programme and the University.
7. Study in a Safe City
I feel safe in Lancaster.
Even when I've been out and about at 1am in the morning on several occasions, I feel safer here than in the over ninety cities in eighteen countries I have been to. Everything we need is within easy reach and we can move around easily.
The cities of Manchester and Liverpool are very close by and there are also great parks all around the cities to hang out in and relax.
Though I enjoy the calm, tranquillity, and serenity of Lancaster it is good that when I feel like it, I simply hop on a 1.5-hour train ride or car drive to Manchester or Liverpool.
A special day out was when my wife and I took our son on a Manchester United Football Stadium tour to walk in the footsteps of football heroes and hear about the history of the club. My son enjoyed it so much!
There are three bus stops within one minute of my house.
I like walking along the seafront and taking walks around Lancaster. I go to Marketgate and enjoy shopping in the city centre. I also visit the local African market in Lancaster and worship at a local church where my family has found many new Nigerian friends and a supportive, caring community network.
8. Explore the Lake District
Next, I am planning to explore the local nature, get a Northwest Explorer Bus Pass, and visit the Lake District National Park – it is one of the great attractions in Cumbria, where tourists from all over the world visit for its scenery, history, culture, and wildlife.
9. Fast, Responsive Admissions
I went on the Cumbria website, chose Lancaster and the rest is history. I tell everyone I know that Cumbria is the University that has the fastest admission process. I found them to be very responsive.
I had a long conversation with an Officer in the International Admissions Office and because I had a UK Masters, I did not need to show any language proficiency. Right from the first email correspondence, I felt like Cumbria wanted me to join them to study. They talked me through exactly what would happen after each stage in the process. There are no unpleasant surprises around requirements for CAS and timelines. The process was quick, simple, and straightforward.
10. Increased Employment Prospects
When I came to Lancaster, I did not know anyone, but I quickly settled into student life and academic life and am now an International Student Ambassador helping to recruit overseas students and offering advice and guidance which I very much enjoy and hope to do more of during my studies. I would like to support it to grow its strategic international student recruitment goals in underrepresented countries.

I look forward to completing my Master's and taking advantage of the two-year work opportunity available for me in the UK, gaining valuable in-country work experience to kick start my career - who knows, maybe even as a Lecturer in the Business School at the University of Cumbria? The possibilities are endless.

As you can tell, I am a great fan of the University of Cumbria and the North of England. I feel like we belong here and look forward to what next semester brings…

<![endif]-->